Making Tax Time Work as a Blogger and Direct Sales Rep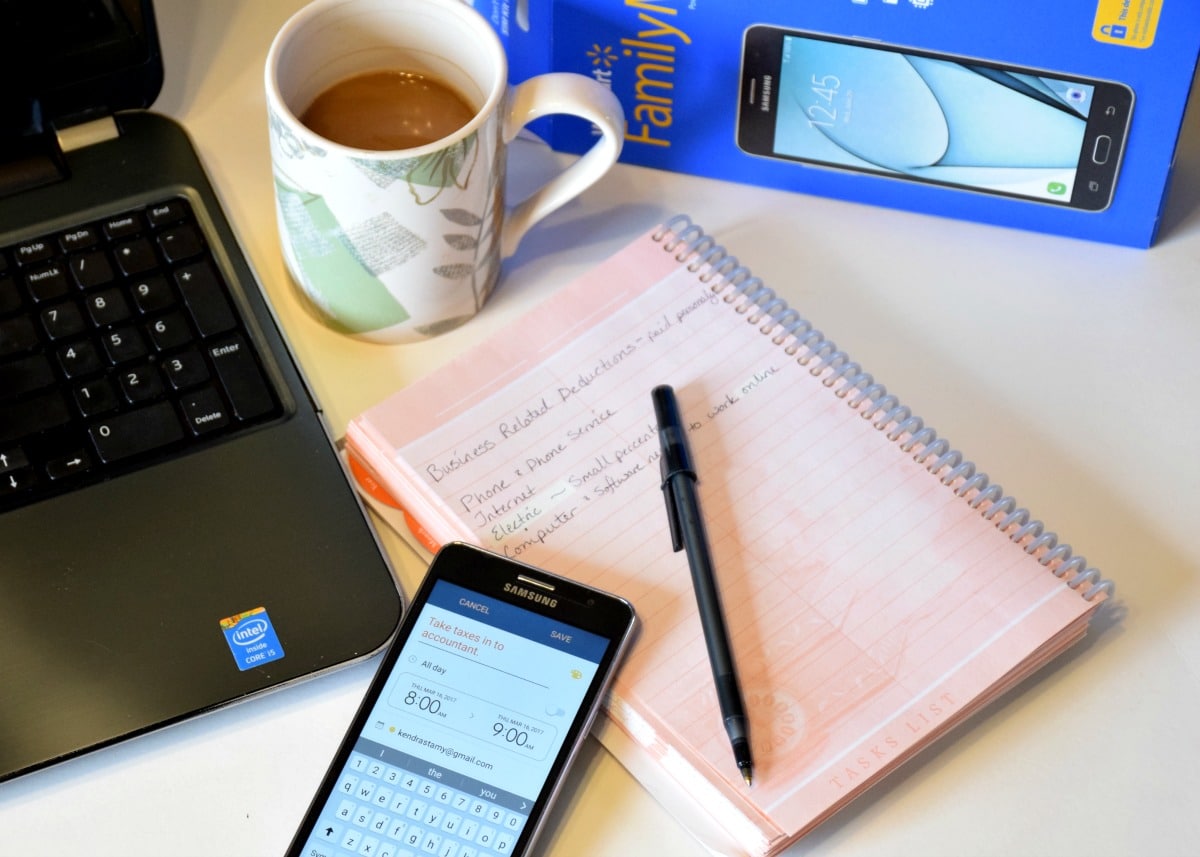 This shop has been compensated by Collective Bias, Inc. and its advertiser, Walmart Family Mobile. All opinions are mine alone.  #CollectiveBias #YourTaxCash #sponsored #FamilyMobile
Making Tax Time Work as a Blogger and Direct Sales Rep
Being self employed is amazing. You set your own hours, work around your family's schedule, and even put things on hold if life is going crazy, because you know that when things settle down, your "job" will still be there for you.
As both a blogger, and a direct sales rep with Norwex, I'm very familiar with the perks of being self employed. But it's not all a bed of roses. When tax time comes, the self employed aren't looking at a refund, but rather trying to figure out how to pay the taxes they owe!
2015 was my first year really earning much of an income from blogging. When we filed our taxes for that year, I discovered that our refund wasn't near what we were used to! At least we didn't need to pay, but what a bummer to get so little back when we were expecting a lot more.
In 2016 I took charge of the situation. I needed to start making tax time work as a blogger and direct sales rep. I needed a plan to have the taxes covered because I knew the blog would do better in '16 than it did in '15.
[clickToTweet tweet="Learn how to make tax time work for you, even when self employed and create your own refund! #ad #YourTaxCash" quote="Learn how to make tax time work for you, even when self employed and create your own refund! #ad #YourTaxCash"]
Making Tax Time Work as a Blogger and Direct Sales Rep
Step 1: Open a separate checking account for your business.
You need to separate business from personal. Unless you want a mess at the end of the year, open a separate checking account for your business. I have an account for the blog, and one for my Norwex sales.
Also make sure you have separate files for each business you run.
Whether you use Google Spreadsheets or a program like Quicken (I use both), you MUST have good records of what you spend and earn. DS companies don't always send out 1099-misc forms, and many blogging companies don't either. YOU are responsible for tracking this so find a way that works for you and use it.
Also keep track of expenses like computer, internet, printer, paper, ink, cell phone etc. These are items I pay for out of my personal account and when tax time comes I give these totals to my tax consultant and explain that at least 50% of the use is for business.
Don't forget miles. Driving somewhere on a blog related mission (photography, picking up supplies, blog conference, etc.)? Log the miles. Driving somewhere for a DS related event or party? Log the miles.
Even food bought while attending a business related even is partially deductible. Talk with a tax professional about different deductions available to you and keep track of everything!
Step 3: Open a Savings account.
The savings account is where making tax time work as a blogger and direct sales rep comes in. I keep a certain amount in my business accounts at all times.
Once the account has $1,000 over the amount I want in there, then it's payday! I pay myself $1,000 out of the business account but only $700 goes into my personal checking. The other $300 went into the savings account I mentioned above.
30% of my income is enough to cover the taxes I owe. However Jason has a lot taken out of his checks and we have two children. You may need to hold back more than 30% in order to come out even or have a "refund".
What does this mean? I have an account with money going into it to pay my taxes. Tax time this year was fun! Instead of fretting about having to pay taxes or being bummed that we weren't getting a refund, I used my secret weapon and even had money left over. THAT was my refund!
Step 4: Enjoy your "refund"!
We are still working extra hard to pay off our home, so 50% or more of our refund goes to it. However we also use it for a few both fun and "necessary" items.
One such fun and necessary item is a new phone (tax deduction!!!). I use my phone HARD. Some for personal use, like those hour long chats with my mom at least once a week, but mostly for blogging and Norwex related work.
Making sure I have a good phone that works well for me is important. While a new phone is fun, I truly consider it an investment into my business. I need to make sure my phone is reliable and ready to handle the work load I throw at it.
We've been with Walmart Family Mobile for 2 plus years now, and if their service is strong in your area, I cannot recommend it enough! The phones are crazy affordable and the plans are the best I've ever come across.
5 Reasons we Prefer Walmart Family Mobile
No hidden fees or contracts. I pay for what we need and use plus any applicable taxes
Since Family Mobile bills you later, you only have to pay $19.88 when you sign up.
4 simple plans to chose from for each phone you add. + a $5 savings on each new line added to your plan!
The Plus plan is only $49.88 and includes Unlimited talk, text and data, with 10 GB of 4G LTE data then 2G !
Unlimited Talk, Text and Data (10 GB of 4G LTE data then 2G ) PLUS plan also includes a free VUDU movie credit each month (valued at $7, same as a new release rental).
Totally excited about the VUDU movie credit each month! I found a lot of fun, family friendly movies available when I did a quick search using my new phone. Now to sign in with my computer and find a REALLY good one to watch!
*Disclaimer: All prices for phones and plans included in this post are accurate as of the date of posting; however, these prices are subject to change. Please refer to Walmart.com or your local Walmart for current pricing.
I ended up choosing the Samsung Galaxy On5 as my new phone. The 5″ display makes it a large phone without being huge, and the 5mp flash camera means I have a great little camera on me most of the time for capturing blogging moments and just those thousands of everyday life moments with my boys!
I found the Walmart Family Mobile phones in the electronics department. As you can see, there are a good variety of phones to choose from down there and all at pretty good prices!
The price on the Samsung Galaxy On5 had pretty decent appeal as well. I mean who wouldn't get excited about a $119.00 phone being on RollBack for only $69.00?! Talk about making that tax refund reeeeaaally stretch!
Which phone will you choose to max your tax cash?
And that VUDU credit! I'm pretty excited about this, family movie night with newly released movies? Sounds fun! So tell me, what is a newly released, clean, family friendly movie that you would recommend for a family movie night? Either one for Jason and I to enjoy together, or one that that an almost 3 year old would also enjoy.
Let me know what movie you recommend in the comments!