Marriage ~30 Days of Thankfulness day 6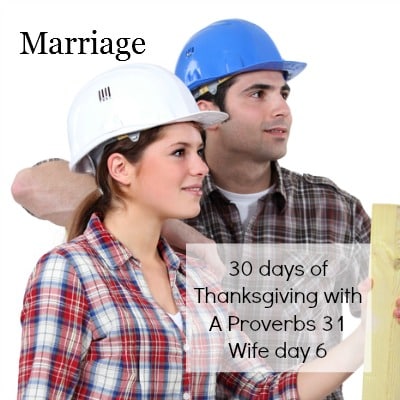 Marriage… It's such a blessing to many of us, and yet we all know that marriages take work. A healthy marriage requires dedication, trust, love, respect, teamwork and so much more.
Ecclesiastes 4:9-11 Two are better than one; because they have a good reward for their labour. For if they fall, the one will lifts up his fellow: but woe to him that is alone when he falleth; for he hath not another to help him up. Again, if two lie together, then they have heat: but how can one be warm alone?
Marriage:
Our marriages if properly maintained are a wonderful blessing. From Jason and I's marriage has come a son. This child is with me most of the day, but how I appreciate the evenings when "daddy" comes home and can give me a break from the constant demands of a small child.
I understand that no marriage is perfect and Jason and I's really lack at times. However, I am beyond thankful for the many blessings we have together.
I was talking with my grandma the other day and she admitted that going places was going to be really hard now that grandpa had passed away. They had always went places together, as a couple. It got me to thinking about Jason and I and it was very clear to me that this was a blessing I had taken for granted.
Walking up to a crowd of people is not near as hard when you have someone with you.
Chores are accomplished quickly when we work together. Whether we are working inside or outside, the teamwork of marriage can really lighten each others load.
So on day 6 of our 30 days of thanksgiving:
I am thankful for marriage.
I am thankful for teamwork.
I am thankful for imperfections.
I am thankful for acceptance.
I am thankful for support.
I am thankful for a shoulder to lean on.
I am thankful that I can also offer a "leaning shoulder"
I am thankful for the life we have created together.
I'm pretty sure I could keep going. However, my point is this, even though we don't have it all figured out, we are willing to figure it all out together and I count myself blessed.
What is something about your marriage that you are exceptionally thankful for?