5 Mess Free Toddler Activities to Give You a Break!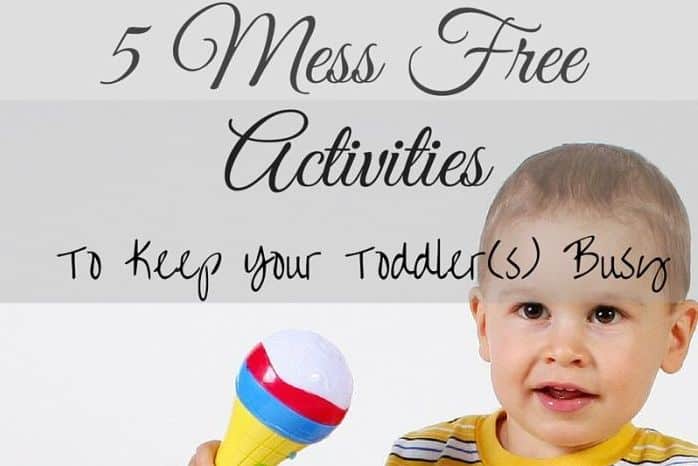 I adore the toddler stage, it truly is a favorite of mine. I do not adore the messes! When Alonda offered to share 5 mess free toddler activities I was all about it!
With everything going on right now, I cannot spend as much one-on-one time with my toddler and he does well playing by himself, but the mess! Oh the mess!
Below are some great ideas that both you and your child are sure to love. Just keep in mind, toddlers can turn anything into a mess if unsupervised, so definitely keep them in eyesight while they are playing! 🙂
Here is Alonda with 5 Mess Free Toddler Activities:
With Spring Break just a few weeks away, I thought I would share some tips for the moms out there carrying the weight of the world and then some on their shoulders.
I know we all have different circumstance we are living through. Some of us are working moms (outside of the home), some stay at home moms, some work at home; some single moms some married moms. Others have multiple kids to share our love with and some kids are blessed to get our time and attention to themselves.
Whatever the case we can all agree that parenting takes a ton of effort and now and then we could use a break. A break to rest, a break to get stuff done; a break for the sake of having one.
So today I am going to share 5 mess free activities to keep your kids busy so that you can get your much-needed (and very much deserved) break.
You may also enjoy 10 Ways to Bring Relief to an Overwhelmed Mom
Mess Free Toddler Activities that You AND Your Child will Love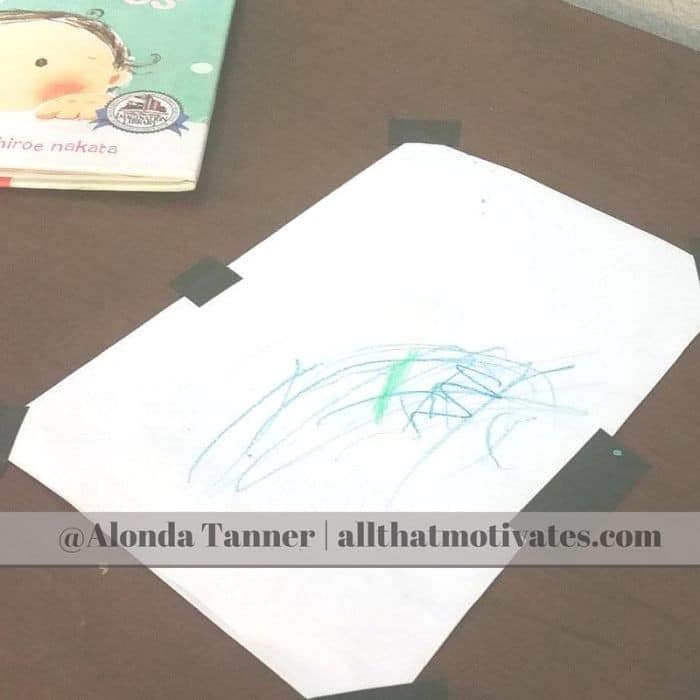 1. Table Side Coloring.
This is my grand secret to getting through important phone conversations uninterrupted. Take a piece of paper and tape it to the work surface your little one will be working to. This keeps the paper from flying everywhere and allows the kids to have use of both hands while they color.
I usually only set out a few crayons (otherwise I am just asking for a mess) and I simply let them color until their heart's content and my bills are paid and all appointments have been made.
2. Finger Paints!
I know what you're thinking, "this doesn't sound mess free at all!" Well, it is! Simply add the paint color of your choice to a gallon sized Ziploc bag and seal it (be sure it is sealed tight!). Tape it firmly to the table like we did with the table side coloring.
This is where the clean fun comes in! Your child can now "finger paint" and create shapes and all kinds of fun designs by moving their finger or hand across the Ziploc bag (as if they were writing in the sand).
3. Quiet Time Box.
I got this idea from a friend. All it requires is a box (big enough to fit a few items in) and some of your kids favorite quiet time toys. Here's what we put in ours: 2 board books (so they can't rip the pages), 2 toy cars, a ball, and a toy flashlight.
In the end it's your call, but I strongly suggest limiting the quiet time box to 4-6 items and allowing only one of those items to be electronic (in our case that would be the flashlight).
I'll share why. I've noticed that my son gets really creative in his room and has developed quite the imagination. That's a good thing! In fact that's what I aim for. It's my goal to raise kids who can create fun and opportunity on their own, without the help of a kazillion battery operated toys, a tv screen, or sugar high.
4. Hop Scotch
This is a new favorite at my house and it's really simple to put together. All you need is some tape. Again, we used electrical tape because it was better for our wood floors. We used a basic hopscotch design but you can use any design you want.
This is a great tool for working on counting skills without "working" on counting skills. My boys loved counting as they jumped from square to square. At one point they were trying to sing the ABC's while jumping from square to square.
It also doubles as a race car track.
5. PBS Kids! We are not a TV driven family (in fact we are going on 3 years of being cable free) but we make special exceptions for PBS Kids. My boys are huge fans of Daniel Tiger's Neighborhood, Arthur, and Sid the Science Kid. And I'm pretty ok with that. They have learned to sit still, listen, sing along, and dance along. They are being educated on from manners and social etiquette to self care, pre academics, and beyond. Shows like hat keep learning fun and exciting and my kids stay occupied. They enjoy them.
So when you are out of ideas, you've tried everything on this list, and you still have a few hours left in the day; don't feel bad for setting your kids down to watch a 3o minute episode of Daniel Tigers Neighborhood. It;s quality content, they enjoy it, and they are LEARNING!
There you have it! I hope these tricks will give you a moment or two to catch your breath and relax this Spring Break!
You may also enjoy: 6 Simple Ways to De-Stress
Do you have any tricks for keeping your kids "busy" while you take on the world or get in some rest? I'd love to hear about them in the comments!
Alonda is a Christian wife and homeschool momma of 3 boys. She is the author at All That Motivates, a blog for moms who need a kick of inspiration when it comes to living the "mom life."
She shares faith builders, parenting tips, diy fun, and other encouraging words.
When she's not in "work mode" Alonda likes to make small moments into big moments and find joy in the simple things; like evergreen candles, fuzzy socks, a glass of orange juice, and a good book.
Blog: Facebook: Pinterest: Instagram: