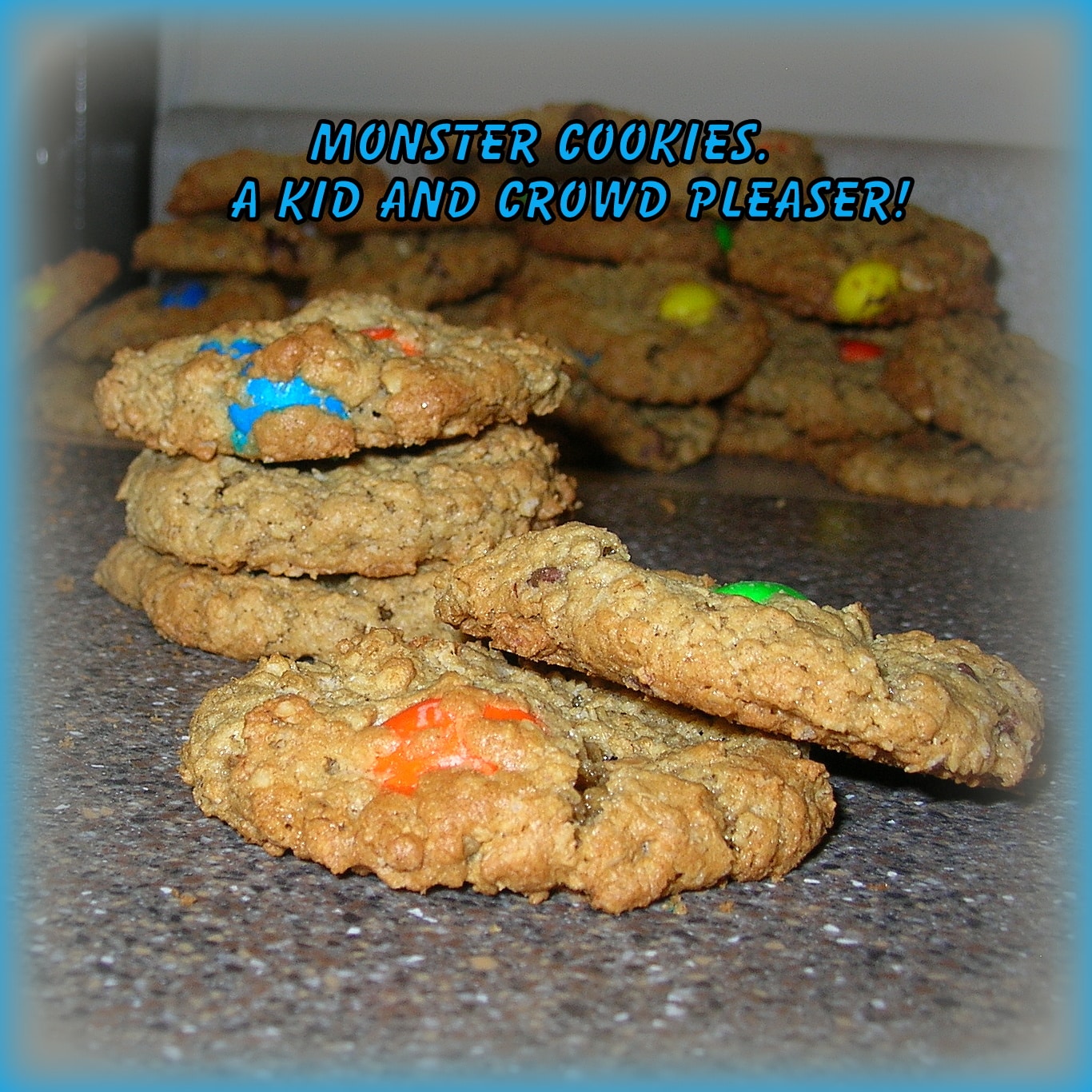 Back around Christmas time, we made a batch of cookies, that we are still eating on! I thought you would be interested in the Monster Cookies recipe!
Why are they called monster cookies? Well, they are big, and the recipe makes a big batch. If you don't believe me, just realize that I cut the recipe in half before I posted here!
Monster Cookies Recipe.
Ingredients:
6 large eggs
2 cup granulated sugar
1/2 lb. Light brown sugar
1 1/2 teas. vanilla
4 teas. baking soda
1/2lb (2 sticks) soft butter
1 1/2 lb chunky peanut butter
9 cup quick oats
1/2 lb chocolate chips
1/2 lb of peanut M&M's
In a large mixing, stir together the eggs, both the sugars, vanilla, and baking soda. Then stir in the butter and peanut butter, followed by the oats. Lastly, stir in the chocolate chips, and M&M's. Let the dough rest for 30 minutes.
Drop the dough by 1/4 cupfuls onto baking sheets. (If weighing, each ball of dough should be approx. 2.5 oz or 70 gram). Use your fingers to flatten the dough balls slightly. Bake for 10-12 minutes, or until the cookies are golden brown.
Cool on a rack and then store in an airtight container at room temperature. They can also be frozen for several months and will still taste nice and fresh when thawed and slightly warmed.
This is a large recipe, and I've never been able to get an appropriate count for how many cookies this makes. But if you make them the large size you should get at least 6 doz and if you make them in tbs. size balls like I do, you should get close to 10 dozen. Of course, all of this depends on your ability to resist eating cookie dough!
If you want to print out the Monster Cookies recipe, you should be able to do so using the print button at the bottom of this post. If you don't want to look for the button, here is a printable you can use!
Peanut free version:  Use regular M&M's instead of the peanut ones and substitute sunflower butter for peanut butter. The cookies were a bit dryer when I made them this way but still tasted great and the kids with peanut allergies loved them!