DIY Mounted Photos. It's Easy!
Easy  Mounted Photos you can make yourself!
Mounted photos make great decor, and as I discovered, they are very easy to make.
We have this lovely flowering bush in our back yard.  A couple weeks ago when my mom came up and we all went for a walk and took photos, she took a photo of my bush. Then she put a verse from the Song Of Solomon on it and printed it for me. So pretty and springy, and I decided that it had to be displayed. So I made a mounted photo, it was really easy and I'm pretty sure if I can do it, so can you. 🙂
I really recommend using solid board for your mount, rather than doing what I did and going to the shed and finding "something that would work".  You will see why in a moment.
My photo was 8 1/2 by 11 and I wanted 1/2 in of board around the edges. So without really thinking it through, I asked Jason to cut it 10×12 for me. Oops, as you can see, there is more board showing on the top and bottom than there is on the sides. Oh well.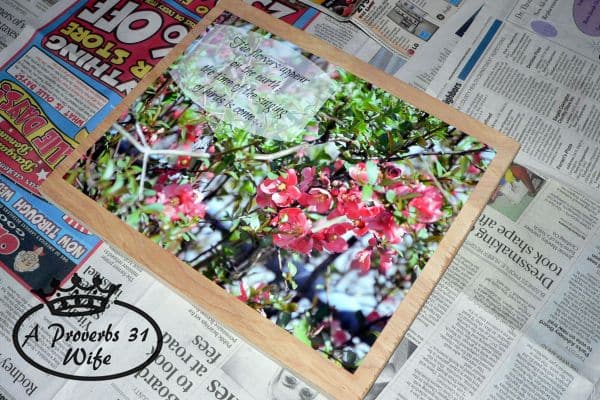 I sanded my now cut board, and put my first layer of paint on it. Pretty sure I used trim paint, since I think that's the only white paint we have in the garage. But hey, it works! 🙂  If you look at the photo below, you will see, why I recommend using solid wood instead of plywood like I did.
Yup, that wood soaked up my paint and you can see how rough the edges became again.  Oh, and another thing, don't lay your board directly on top of your newspapers or drop cloth when painting edges. It doesn't work so well. 😉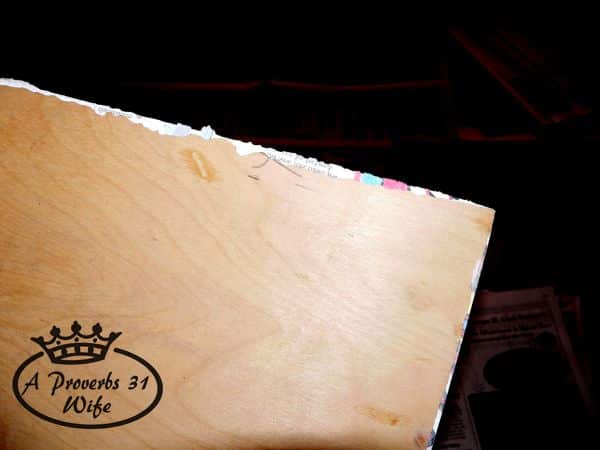 Paint stuck to the underside, I had to take a knife and scrape the newspaper off.  That was the first coat of paint. Once it dried, I sanded it really good. Tried to get the edges really smooth as well. And when I went to paint on the second coat, I sat the board on a huge roll of duct tape. Worked like a charm.
Two coats of paint was all I needed to use. Depending on your board, paint, and how thick your put your layers on, you may need more than two layers.  This time I very lightly sanded the top of the board, and them sanded the top edges pretty hard. It gave it a somewhat distressed look and really defined the board.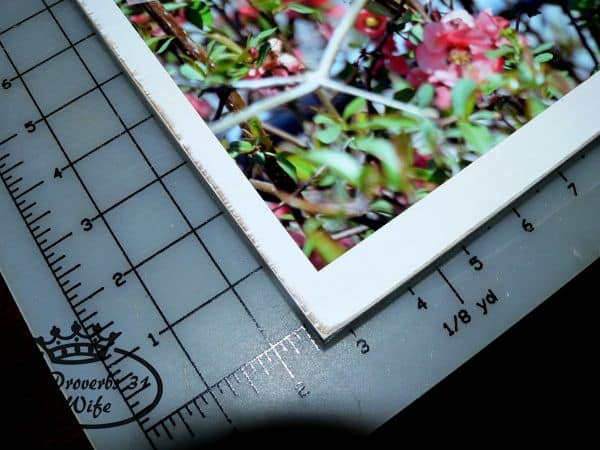 Make sure you measure and mark in pencil where the edges of your photo should sit on your board. Once that is all lined up and ready, take the photo back off, and using a brush, spread Modge-Podge in the lines where your photo will go.  You want a thin layer, and make sure there are no lumps or bumps in it.  I left a small little lump in the Modge-Podge because I figured it would dry and disappear. However, it did NOT disappear. In the right lighting, I can still see that little bump. 🙁
Once your Modge-Podge is spread, care-fully lay your photo in place and gently smooth it flat. Be very careful not to smear Modge-Podge onto the top of the photo as it will smear the ink. Let dry.
In a well ventilated spot lay down newspapers or drop cloth (making sure to sit your board up off the paper a bit) and following the instructions on the can, began varnishing. I highly recommend spray varnish. I gave my mounted photo at least 10 light coats of varnish, waiting 20 minutes between coats.
Normally after varnishing I would lightly sand and apply one last coat of varnish. However, because I was afraid of scratching the photo, I didn't sand at all. There are a few areas that are slightly rough, but you can't see it. Only by rubbing your fingers over the surface would you know it's rough, and who's going to do that?
The end of my couch table was the perfect spot to put my mounted photo. See, how pretty!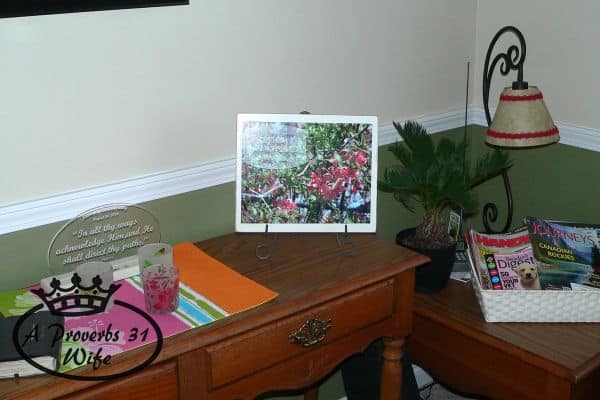 I love how nice it looks sitting there, and trust me, if I can do this, so can you. And I made all the mistakes, so you should be in the clear!  Hmmm, what do you think, should I make some mounted photos for gifts?