My mom was mean. Really mean. When I was a kid she made me clean my room! Oh yeah, and if I didn't do it right the first time, I had to go back and do it again!
As I got older, things got worse. Next thing I knew I had to help clean the rest of the house. The bathrooms, the kitchen, the laundry room. I even had to help clean her room sometimes! I had to dust everything, sweep all the floors and scrub the toilets. Sometimes I had to wash windows.
Two times a year I even had to help deep-clean the house. I would try and rush through the job and skip things. But that didn't work. My mom would come back, rub her finger over an area and find dust. "How can that be mom? I know I dusted there." So I had to go back and do it again. I tried to get out of it by taking forever and that didn't work either, because the next day the job would still be there.
Well, as it turns out, I know how to clean! I can clean fast and get the job done well the first time.
Another quirk of life is that I've started cleaning houses for an income. Do I like to clean? Not really. But it pays well, offers a way to earn a nice income and still have time at home as a wife.
Back to how mean my mom was. Turns out, maybe she wasn't so mean after all. Maybe she actually did me a huge favor. You see the people I clean for say sweet things like this: "I really like how you work, you get the job done right." "I don't think any-one has cleaned my house as thoroughly as you." "Everything just feels clean when you are done." I hear comments like that all the time. It makes me smile. It makes me think to myself, "Thanks Mom!"
Hehe! It's the crazy cleaning lady!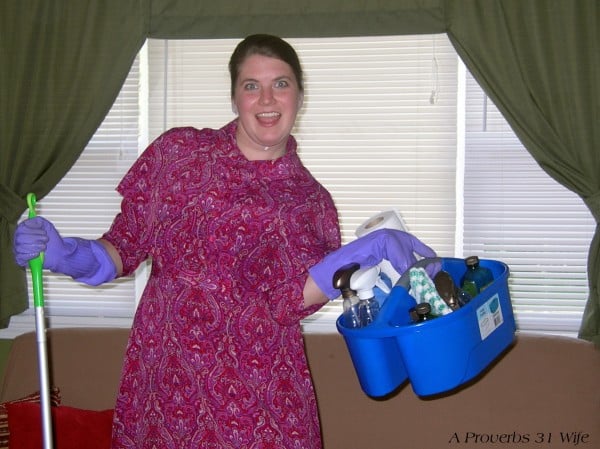 So yeah, I know I'm not very photogenic. But hey at least I made you smile!
So here is a little tip for you dear moms who have just about had it with that stubborn child. That one who refuses to do his chores right, who complains about how unfair you are, and if he isn't saying it, he's thinking it, "My mom is sooo mean!" Just put your mom hat on and stick to your guns. All the while chanting in your head, "you'll thank me someday, you'll thank me someday, you'll thank me someday"!
To my own dear mean mom. Thanks for being "mean" Thanks for sticking to your guns when I was a selfish little brat. And thanks for teaching me skills that are serving me well today.