My Set, My Chicago-Style Risotto
Have you ever wished you could customize a cookware set for the way you love to cook? Well now you can, with Your Set by Calphalon. I was lucky enough to receive two incredibly versatile pieces, and I used them for some of my favorite dishes.
See how I used the AccuCore Stainless Steel 3-quart Sauté Pan for My Set, My Chicago-Style Risotto.
Click here to read my post and enter for a chance to win one of 16 prizes worth $8,500! You can win a $1,000 cash gift card or one of 15 $500 Your Set by Calphalon gift cards so that you can build your own perfect set!
Click here to start customizing Your Set right now!
I was selected for this opportunity as a member of Clever Girls Collective, and the content and opinions expressed here are all my own.
In our house, risotto is a family favorite. I make it fairly often and change up my ingredients depending on the season and what I've got in the fridge.
This recipe was inspired by one of our hometown's most famous dishes—Chicago-style deep-dish pizza. If you've visited the windy city, you know we're famous for a decadent, cheesy, sausage and mushroom pie that can't be beat.

When I make risotto, I always use a nice, big pan with high edges. My go-to is my Calphalon Accucore 3-quart sauté pan. Not only is it the perfect size, it also has five layers of metal, including a copper core, ensuring even heating and temperature across the pan. (It's great for browning and searing meat and fish, too!)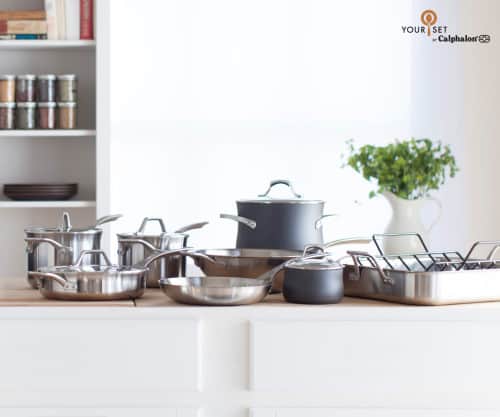 For this risotto, I made everything in the Accucore pan, but on occasion, I like to use my Calphalon Nonstick 10-inch Omelette Pan to sauté my veggies and meats and add into the risotto later. This pan is a nice, generous size and the non-stick surface works for anything! And of course, clean up is a breeze with the non-stick surface.
I know a lot of people who steer clear of making risotto and only order it in restaurants. No need! It's actually one of the simplest dishes in the world to make. But there is a catch—you can't walk away from it. It does require some stirring, but it's done in a half hour and the results are worth it—especially with this recipe!
How It's Made
As with any risotto, you've got to have chicken stock, Arborio rice and some olive oil to get started. I also used chopped onions, mushrooms, sausage, cheese and Italian tomatoes. Sound like a delicious pizza? It tastes like one, too! Except this one-dish wonder is fancy enough to serve to a houseful of guests and easy enough for a weeknight dinner.
Here are my ingredients with my Calphalon Accucore pan before I got cooking!
Want the complete recipe? Click here to get it!