Natural Treatment for Cradle Cap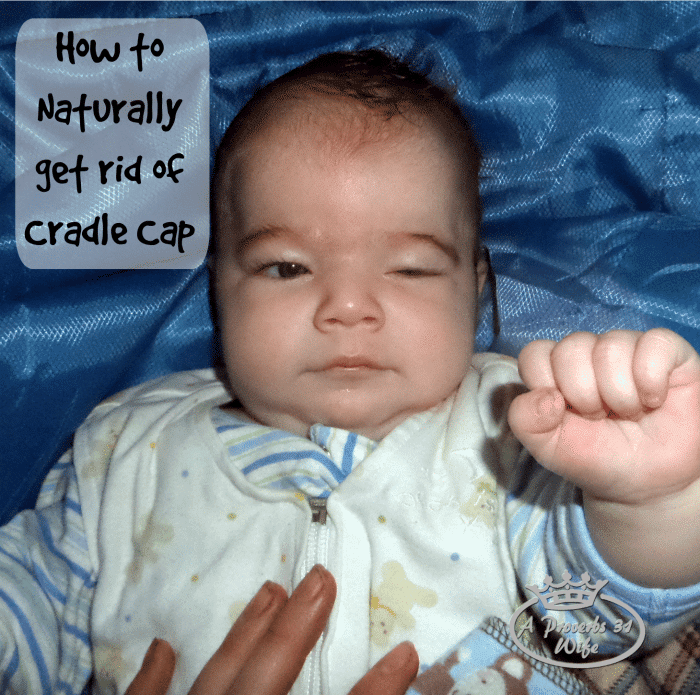 It's the bane of any mommy's existence. Especially if the baby has dark hair. I'm talking about that scaly, white flaky stuff that shows up on baby's head. Cradle Cap.
I wanted to share my natural treatment for cradle cap today. Little k ended up with it by 4 weeks and it took me awhile to figure out how to get rid of his cradle cap without those chemical laden baby shampoos.
I may be wrong, and I would love for you to chime in if you think I am, but I'm nearly positive that cradle cap is a result of hard water.  I asked my mom if her babies ever had cradle cap and she said that we all got a little bit every now and then. So I asked her what she did for it, she said "nothing", that it went away on it's own.
My mom has a water softener. But it runs out of salt on occasion. Jason and I on the other hand have city water. It's not horribly hard, but it's not as soft as what I was used to.  At 4 weeks there was one small patch of scaly stuff on little k's head.
Then we went to Oregon for a week. 4 showers in the hard water at my in-law's house and I cannot even begin to describe how bad it was.  His entire head was covered and a simple hair brushing made it look like snow.
I am certain that the hard water is what brought on his cradle cap.
The first natural treatment for cradle cap that some-one recommended to me was to rub oil into his scalp and let it sit for 15 minutes.  I used an organic olive oil and rubbed it in. Within a minute his head smelled horrible. Like rancid oil/filthy dirty body. I couldn't stand the smell and tried washing it out.
It took probably 5 shampooings to get the smell out, and now his poor little head was worse than ever!
I figured the oil would work but didn't want the smell so I tried something different.
My natural treatment for cradle cap:
Before little k was born, I made an herb infused shampoo/body-wash with organic baby Castile soap. The baby shampoo recipe calls for 1 teaspoon of jojoba oil.  I made a new batch of baby wash and instead of 1 teaspoon jojoba oil, I used 2 tablespoons of my herb infused baby oil.
Next time he got a bath I put the shampoo on his head, scrubbed it in a bit and let it sit while he played and rinsed it out at the end of his bath.  It took about 5 washings to get rid of it all, but once again my baby had a pretty head with non-flaky hair!
It seems to work like the straight oil soak, but there is no stink and it's easily done during bathtime.
This natural treatment for cradle cap really works well. I continued using the baby shampoo with extra oil in it and make sure to scrub his little head good each time. Every once in awhile I have to let it sit on his head a few extra moments to remove a little buildup, but usually just rubbing it in good does the trick.
Did your baby(s) ever get cradle cap? Do you have a natural treatment for cradle cap?