I am very excited to announce that I will be attending New York Comic Con–the biggest and most exciting popular culture convention on the East Coast! Happening this Thursday, October 11 through Sunday, October 14, I've been sorting through events and guests to decide what to do and who to see.
What Is New York Comic Con?

New York Comic Con is the East Coast's biggest and most exciting popular culture convention. Our show floor plays host to the latest and greatest in comics, graphic novels, anime, manga, video games, toys, movies, and television. Our panels and autograph sessions give fans a chance to interact with their favorite creators. Our screening rooms feature sneak peeks at films and television shows months before they hit either big or small screens. And with dedicated professional hours, New York Comic Con is a market place, bringing together the major players in the entertainment industry. New York Comic Con is the second largest pop culture convention in America and the only one that takes place in the comic book, publishing, media, and licensing capital of the world — Gotham City
I've found two great features on the New York Comic Con website–
On Sunday, the last day of New York Comic Con, they are hosting comic book and pop culture characters especially for kids. This includes none other than the very beloved ELMO! There will also be drawing workshops, super heroes, and meeting characters they love. This is the day you don't want to miss!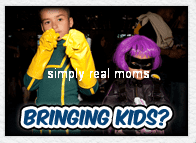 In the guide of How to Survive, the number one step is to download the NYCC 2012 free app, which I immediately did! All your questions can be answered on the Comic Con Answers to Fan Questions page.
If you're going, leave us a comment! Tell us what events your planning on going to and maybe you'll catch up with Simply Real Moms there!
You can follow the events of New York City Comic Con on Facebook and Twitter. Tweeting about the events, use the official hashtag of #NYCC.