No More Drama. Avoid the Scheduling Drama at Christmas time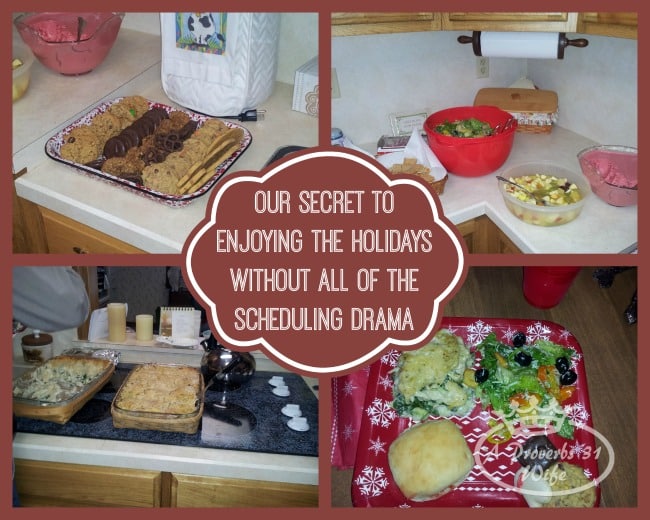 How about a year with no more drama? Or a Holiday season without the normal scheduling drama?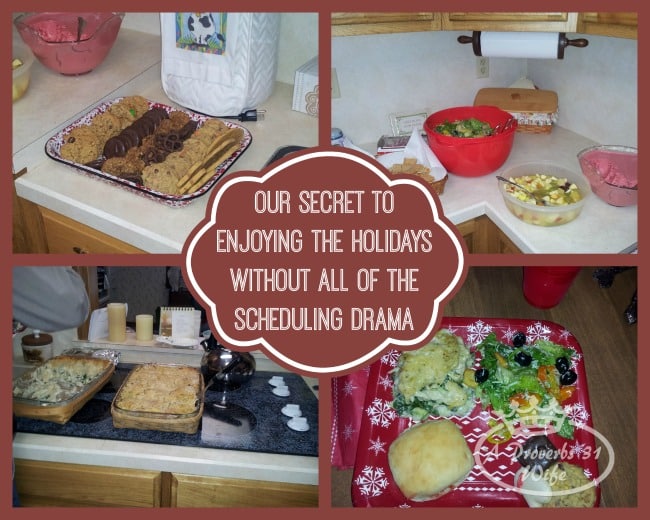 When I was growing up, it seemed that each year, the holidays brought drama, of the scheduling kind. My two grandparents traded off having the big family Christmas on Christmas eve and day. Whomever didn't have their Christmas on the day would often try and schedule theirs as closely as possible.
Of course this is what would happen; Mother's parents would have the family over on Christmas day and we'll just say that Christmas was on a Wednesday, then my dad's parents would have the families over on Saturday and Sunday. That all worked just fine as long as Christmas day actually fell on Tues. Wed. or Thurs. but that wasn't often the case and we would end up worn out and sick of the whole Christmas thing.
That was just two families, I haven't even mentioned the extended families who wanted us all to get-together on other weekends, and our own little family Christmas that got squished in where-ever.
As time went on things changed a bit and one set of Grandparents decided that we would have our family gathering the second Saturday of January. Always. If we made other plans, than we missed out. No more trying to find a date that suited every one each year.  That has worked out amazingly well.
When Jason and I got married we had a discussion about plans and families and we decided no more drama for us. We set a plan up that has worked great. Hopefully this plan will give you some ideas and help when you are planning your holidays.
Our "No More Drama" System:
First come first serve.  When we hear of a gathering it gets added to the calendar. Then that date is taken and if something else comes up we politely mention that we already have plans and decline the invite.
The Trump system. This one is simple: immediate family trumps extended family and family always trumps friends. So the closer related you are to us, the more likely you are that we will change our plans for you. 🙂  If my grandma asks for a date that Jason's grandma has already reserved, we revert to the first come first serve.
It's amazing how well this has worked for us. Both for holiday's and for anytime throughout the year.  And it's not set in stone. Every once in awhile, we ignore the system and have a discussion as to what is most important to us in a particular situation.
If you are in charge of holding a family get together each year, consider dates further away from Christmas. A family gathering where everyone is there and more rested even if it's a couple weeks before or after Christmas, is far better than a gathering closer to the time where every one is worn out, exhausted and grumpy. 🙂
As well, consider a set date. Jason and I have tried for years to get his grandparents to do that. It seems each year around November we have all these phone calls of "does this date work?" then, "okay that date didn't work for so-and-so, how about this date?" at least a dozen calls are made to us before a date is set. Far more frustrating for them than us I am sure.
Christmas time is a wonderful time to reconnect with family and spend time together, but it can also be full of drama. In the end the decision is up to you but when there is a plan, especially between husband and wife, it's easy to say "no more drama" and actually be able to enjoy the time with family.