Nontoxic Pillow and Lounger – Brentwood Home
Disclaimer: Brentwood Home provided me with the nontoxic pillow and lounger found in the Kids Bundle for free in exchange for a fair and honest review. All thoughts and opinions are my own.
For us, buying a new mattress or pillows has two HUGE drawbacks.
Number one is the cost, and number two is the fact that most mattresses contain toxic glues and adhesives, along with fire retardants and more. The Offgassing of these chemicals is a huge concern to me.
Our first(and current) mattress was a floor model, meaning it hadn't been in plastic for some time and thankfully had a chance to off-gas some in the store. However, I wonder how much of the fatigue and poor health I had after we were first married was directly related to an off-gassing mattress…
What Dirty Secret is Your Mattress Hiding?
Fire retardants, preservatives, glues/adhesives and more all go into the making of your mattress and they all have adverse affects on your health. Formaldehyde is a known human carcinogen found in most mattresses. Other known carcinogens commonly found are PBDEs (pre '04 mattresses), boric acid, TDCPP (also endocrine disruptors)  Decabromodiphenyl Oxide and more.
How can companies get by with stuff like this? Other than California's prop65 warning label that is required on products containing known carcinogens,  there is no system in place to protect consumers from stuff like this (read how feminine hygiene items don't even need to list ing. used here, and here). Basically it's up to the consumer to find companies committed to creating safe products and that is often a challenge.
At least 40 million Americans each year suffer from chronic, long-term sleep disorders each year, and an additional 20 million experience occasional sleeping problems. source
I must admit to being very curious if the toxic mattresses we sleep on are to blame in many of the above cases…
[clickToTweet tweet="Do the chemicals in our mattresses contribute to sleep issues? Check out this alternative!" quote="Do the chemicals in our mattresses contribute to sleep issues? Check out this alternative!"]
Within the next year or so we really hope to get a new mattress. Probably at that point, I will share a lot more info on the toxins found in mattresses and why we are choosing a natural latex bed. In the meantime, I have a giveaway for you!
Nontoxic Pillow and Lounger – Kid's Bundle Giveaway!
As a blogger, I get tons of emails with review requests. Most of them are irrelevant to me/this site/our lifestyle/whatever, but now and again, a really good one comes through.
Once such a request came through in November and I'll admit that I probably spent way too long on the Brentwood Home site researching their products (CAN you spend too much time researching???). The natural beds, and pillows I've been looking for, but without the insane price tag!
While they weren't going to send me a mattress to review (bummer right?!!), they offered their kid's bundle which contains a child's nontoxic pillow and lounger. Seeing this as a great way to view their workmanship and see/feel for myself the quality of their materials, I agreed to review the kid's bundle.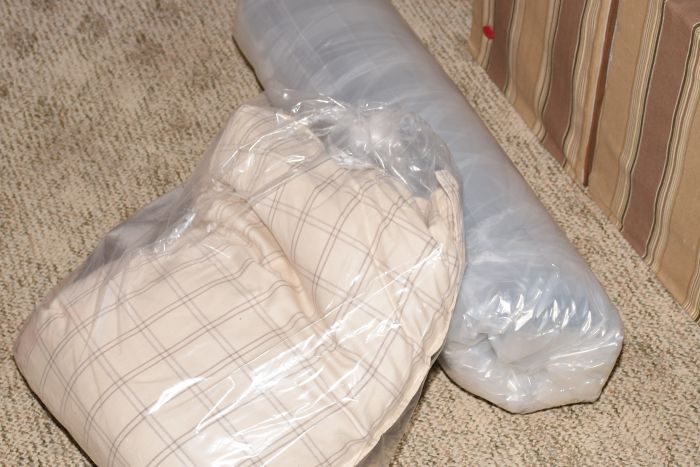 First off, this is a "bed in a box" type thing so the lounger comes and it's completely flattened and rolled. Pretty heavy roll too, I might add. So obviously, the first thing to do is unwrap, unroll and see what happens.
Wow is this thing flat!
Ky had all sorts of fun crawling all over it as it puffed up over the next 10-20 minutes. Eventually it was fluffy enough he couldn't crawl over it anymore. Then it was time to put it into it's machine washable slipcover and zip the bottom shut!
Quite frankly I'm thrilled with the quality of this lounger. It had a slight plastic smell right out of the box but it went away almost immediately.
As well, the workmanship is both strong and aesthetically pleasing. It hangs out in our living room and truly adds a nice, "classy" look to our otherwise very "kid-friendly" space. Best of all, this IS for the kids. 🙂
Kolton is a wild and crazy little chap and sometimes needs quiet time. We've always done books on the couch, but now he reads his books on the lounger. And… well sometimes only half on the lounger!!!
[clickToTweet tweet="Nontoxic lounger for kids… I'm going to enter the giveaway below to win one!" quote="Nontoxic lounger for kids… I'm going to enter the giveaway below to win one!"]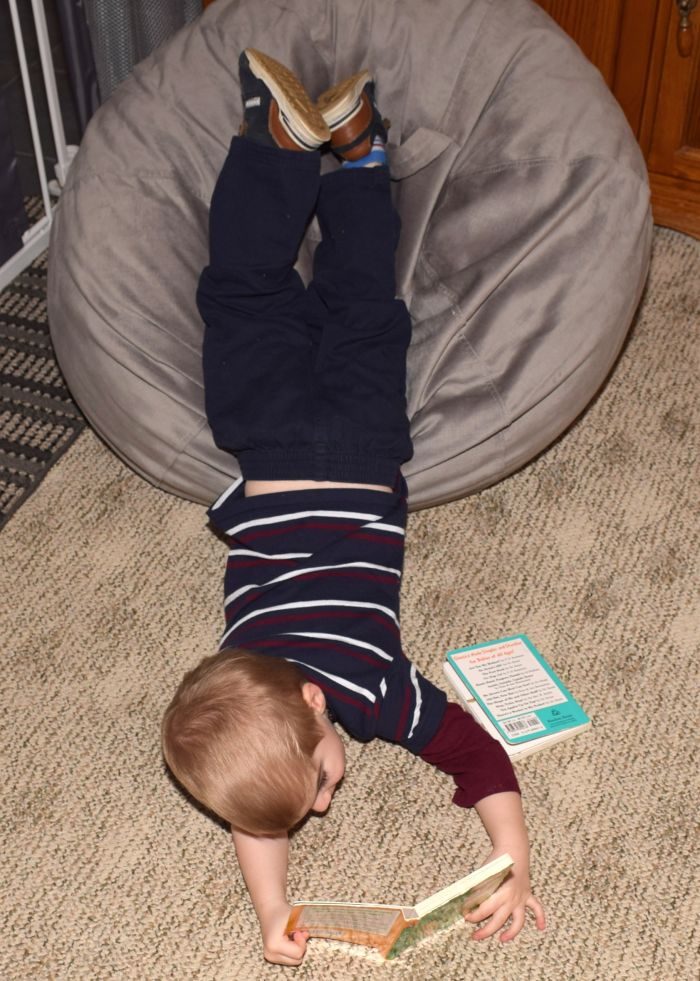 The lilypad pillow that is included in the kid's bundle is very soft and the perfect size for a small head. The cute plaid print is fun but I definitely add a pillowcase for extra protection.
Filled with a mixture of silky smooth kapok, with the texture of bouncy, all-natural latex the lounger is perfect for those wishing to avoid animal products or with allergies.
As much as I want to get ourselves a new mattress right now, Jason and I have decided that we really need to get mattresses for the boys first. Young children and babies are much more susceptible to issues from toxin exposure and we wish to limit that as much as possible.
So on our "we need to save for" list are 2 crib mattresses from Brentwood homes!