Over 30 Learn Through Play Ideas for your Preschooler or Toddler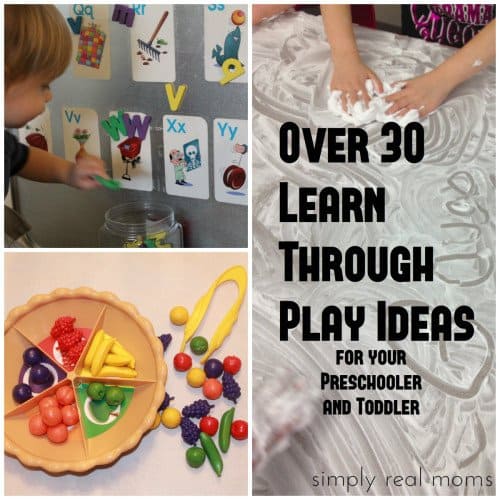 Children learn best through play and meaningful experiences. It's important to give your child opportunities throughout the day for independent play and play with others. Creating an environment rich in your child's interests is a key factor to learning through play. Read on for over 30 ways to learn everything from letters, numbers, sorting and more, through play with your preschooler or toddler.
Use large foam letters or write letters on pieces of paper. Place the letters around one floor of your house. Give your child directions such as, "Hop to the letter M." or "Walk backwards to the letter O."
Let your child sort clean dishes and silverware; bowls together, plates together, small plates together and then forks, knives and spoons in each of their places.
Build with letter blocks! Have blocks that don't have letters on them? Don't run out and buy new ones! You can use some of that colorful masking tape to build letters right on the blocks you already have. If you have a child already identifying letters and sounds, use letter blocks to begin building words such as their name!
Count the stairs as you walk up and down them.
Create a Magnetic Letter Board. Read HERE to see how it is done!
Sing rhyming songs and play rhyming games.
Go on a number hunt! See where you can find numbers around your home or neighborhood.
Read out loud together. Read to your child and let your child "read" to you, even if they can't read! It's important to let children make up their own stories related to the pictures in a book.
Create larger-than-life letters with masking tape (there are some awesome colors out there) on the floor in your child's room. Every week, make a new letter out of tape on the floor. If your child is old enough, have him or her create the letter!
Collect leaves. Sort leaves by size, shape or color. Try doing some leaf rubbings with crayons and paper to find patterns in the veins of the leaves.
Make up rhythm patterns. For example, tap your knees and clap your hands—tap, clap, tap, clap, tap, clap.
Play letter basketball! Set up a trash basket on one side of the room and stand several feet away with your child. Write letters on paper, hold them upsidedown and let your child chose one. After they identify the letter, they can crumple it up and take a shot.
Some of the first words children identify are words they see in their everyday environment: stop signs, H for the hospital sign, yield, etc. This is called environmental print. I like to make environmental print books and matching games.
Make patterns and sort snacks! Colorful snacks such as Fruity Cheerios or Rainbow Goldfish are easy to sort by color or make color patterns with.
Get a set of magnetic foam letters. These come with at least two uppercase and two lowercase letters of each letter. Play matching games where your child matches uppercase with uppercase, uppercase with lowercase and lowercase with lowercase.
Play dough! Build letters out of play dough or use play dough cookie cutters to create letters. Give your child play dough scissors to use. This is a prime time to let your child use scissors that won't cut their hair, clothes or anything else! You can even make your own play dough.
Find patterns in nature or around your house. For example, many flowers have patterns, bathroom tile or stripes on a carpet.
Make letter builders. These are great manipulatives children can use to actually build letters! See how to do it and read some awesome letter building activities!
Play board games together. Some of our favorites are matching games and Boggle Jr.
Create specific places for toys to be put away–blocks have a specific box, Legos have a specific place, animals have a place, and puzzles have another. When your child is putting away the toys, they are doing some sorting by what type of toy they are!
Put shaving cream, sand or flour on a tray and have your child write letters in it with their fingers. My kids LOVE this activity!
Provide opportunities for open ended play with things such as blocks, art supplies, and dress-up clothes-play where your child is in control of how to use the materials and there's no "right" or "wrong" way to use them.
Stay back, don't interfere and let your child play independently throughout the day. This is important like time you spend playing together!
Have your child help set the table (that helps encourage 1 to 1 correspondence with counting and sorting!).
Collect coins in a jar, then sort them by type of coin. Take them to the bank together and see how much there is!
Cook together! Cooking involves so many ways to learn-measuring, filling/emptying, reading recipes, working together and more! Read Cooking with Kids: French Bread Pizza and The Very Banana Caterpillar for two fun kitchen activities with kids.
Create letters out of sandpaper. Cut out the letters and glue them onto a piece of cardboard or scrapbook paper. Children are very tactile learners and enjoy being able to trace letters–especially when it's a new texture!
Play hopscotch!
Draw with sidewalk chalk. If you can't go outside, draw on paper with sidewalk chalk
Tie a loop of yarn or ribbon. Ask your child to use the yarn to make shapes on the floor.
Go on a letter search! Take a walk (or drive) to look for letters. While reading a book, ask your child, "Can you find all the letter Bs on this page?"
Provide opportunities for your child to be around other children. This could be arranged play dates or simply going to the play ground. Providing that time for uninterrupted play with others is key to developing social skills.
Create your own alphabet book! Take pictures of people in your family and everyday items in your child's life. Take each picture and print it with the words "A is for Abigail.", or whatever the picture may be of with the corresponding letter. I do this with the children in my class every year and do a little chant with the book. For each page, we say the letter, the name of the item twice and the sound the letter makes at the beginning of that word three times. Example, "A-Abigail, Abigail-aaa, aaa, aaa."
Read, read, read!
Letters, letters, everywhere! Get some foam letters for the bathtub and magnetic letters for the fridge. I love the LeapFrog Phonics Letters. This DIY Magna-Spell is the PERFECT way to teach your child to identify and spell their name! So easy and your child will love it!
Build a fort together.