Parents ~30 Days of Thanksgiving day 4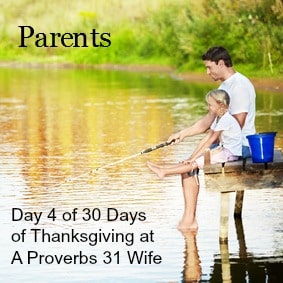 Yesterday we talked aobut grandparents, today we are talking about parents.
Proverbs 4:1,3 Hear, ye children, the instruction of a father, and attend to know understanding; For I was my father's son, tender and beloved in the sight of my mother.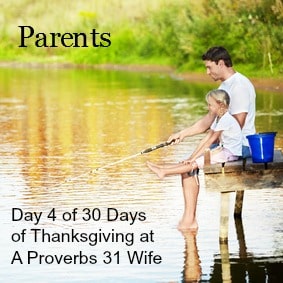 It took becoming a mom myself to truly understand how much my own mother loves me. The natural love that God puts into a parent's heart for their child is an amazing thing.
Our parents are not perfect. They are human and make many mistakes, but that doesn't lessen their love for us.
I think the love that parents have for their children is given to them by God. This fierce love that parents have is not a selfish love. It is a love that will put their children first even to the neglect of themselves.
Our parents gave us life and then somehow or the other managed to keep us alive. 🙂
Night-time feedings, changing dirty diapers, caring for us when we were sick, cleaning up our messes, teaching us so much of what we know today. Being a parent is hard work (I'm only beginning to figure that one out), it takes all that you have and then some. There were times when I knew I was being horrible as a child, and yet I still knew that my parents loved me.
Parents also give their children a view of who God is. Especially fathers. Growing up I never doubted that my daddy loved me, I knew he did and nothing could change that. However, in my teen years I learned that he wasn't perfect, he broke my trust in who he was and it broke my heart to an extent. I have forgiven him and our relationship is restored, and yet….
As an adult, I have never doubted God's love for me. I knew that he loved me in spite of all my imperfections. However, I struggle to trust God. I feel like if I give it over to God, he will let me down like my daddy did.
My point is this, while our parents are a wonderful gift of God, we need to remember that they are imperfect (just like us). They give us a glimpse of who he is when we are younger, but as we get older, we need to look towards him.
Much of who I am today was formed by my parents. I give them the credit for my practical aproach to life and the many skills that I posess. They love me in a way that no one else possibly can and that alone is a beautiful gift from God.
Is there one thing in particular that you are thankful for in your parents?