Perfect Flourless Protein Pumpkin Pancakes!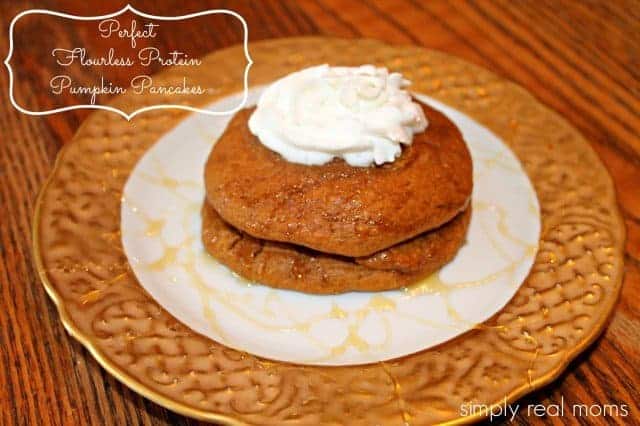 I love pancakes! That being said, I've also been trying to stay healthy, eat more protein, and have breakfasts that will give me the energy to get through the morning. Mornings at home with two kids as a single mom-then to school teaching 1st grade, I need all the help I can get from a good breakfast! That's why I love these protein-packed pancakes. I've made them a few times now, tweaking the recipe each time. I made the pancakes again this weekend and they were the best yet! Moist, filling, and full of flavor, these pancakes don't need syrup (and even are fine without the little dollop of whipped cream on top). I either put some honey on top or a little bit of butter and–voila–perfect!
These pumpkin pancakes take about 10 minutes to mix together and another 10-15 (depending on the thickness of your pancakes) to bake. When I make these pancakes, I make them dollar-sized (not full plate pancakes). Two fill me up for a morning and I am able to freeze the rest. One batch makes about 10-12 pancakes. 25 minutes of cooking can give you breakfast for 5 days! Just pop two in the toaster in the morning every morning!