A Prenatal Workout for Any Mom!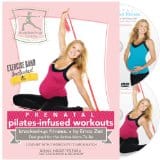 When I was pregnant with my daughter, I had the luxury of going to the gym every week day and taking a yoga class on Saturdays. This time around, I'm lucky if I am able to shower without my daughter underfoot, let alone go to the gym.
So I started searching for something I could do during her naptime—without leaving the house. I also didn't want to spend an hour working out. Sometimes I only have 10 minutes to spare, so I needed something quick, too.
I found the perfect workout video: Knocked Up Fitness Prenatal Pilates-Infused Workouts was exactly what I was looking for.
This DVD was created by Erica Ziel, mother of three, and one of southern California's most sought-after experts for fitness-infused Pilates and personal training. She created her Knocked-Up Fitness DVDs for women to stay fit and healthy during all stages of pregnancy. Her exercises focus on deep core muscles to prevent back pain and building up strength needed for delivery and recovery.
She is a very relaxed, non-intimidating instructor who makes the workout go by quickly and easily.
There are two segments in the video:
Core Cardio: This one is only 10 minutes. You can repeat it two or three times a day, or just squeeze it into the only 10 minutes you have.
It focuses on using an exercise ball with lots of stretching and rotations. You'll also do some lunges and other Pilates-style moves. Bonus: The seated ball exercises are great for releasing tension from the lower back.
Pilates Yoga: The workout is 20 minutes and requires a five- to six-foot light resistance band. It moves a little faster than the Core Cardio and takes you through advanced and beginner poses simultaneously, giving tips on screen while you are following the instructor's moves.
You'll still do lots of stretching, but also focus on legs and hip stretches as well as arms with the band in addition to the core.
Bonus! The DVD also includes a five-minute segment called "Understanding your Core." In this session, Erica talks about the keys to a faster delivery and recovery using deep core muscles—the pelvic floor muscles and transverse abdominals are explained as well as Kegel exercises.
If you want to learn more or purchase a DVD, visit knockedupfitness.com. There is also a post-baby workout DVD!
You should consult your doctor before beginning any workout program.