Did you know that 90 percent of all skin cancer is caused by excessive sun exposure, and one bad sunburn as a child doubles the chances of developing skin cancer later in life? Yikes! We all know the sun can be harmful, but protecting your children from the sun's rays in their early years is especially critical.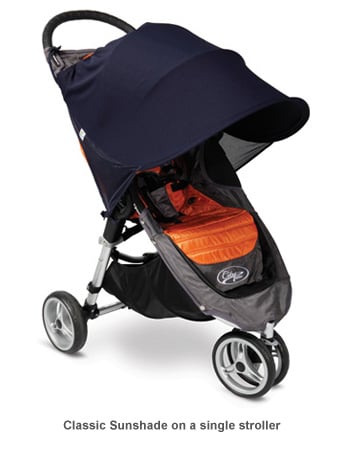 As an active mom always on the go, I like to spend a lot of time outdoors. The problem was that my son's stroller sunshade was inadequate; leaving half of his body still exposed to the sun. I was always worried about him getting burnt so we limited our time outdoors to avoid the harmful effects of the sun. That was, until I was introduced to the Protect-a-Bub Sunshade!
The Protect-a-Bub Sunshade has been a lifesaver for us in the summertime. Now, we can spend hours outside without having to worry about my son's fair skin burning. The shade covers his whole body, but it's also still thin enough to allow cool air in to keep him comfortable. The fabric is very breathable and my son can stay perfectly comfortable under the shade for hours at a time!
The Protect-a-Bub is made of durable, stretchable 100-percent polyester microfiber fabric that ties on easily to any stroller with a canopy.  Protect-a-Bub boasts their shade will stay put even on windy days. Since I live in the "Windy City" of Chicago, I was a little skeptical, but I was happily proven wrong. We have been out on several windy days and our sunshade stays put with no issues!
Not only does this innovative shade stay put, it can be folded right up with your stroller, so you don't have to constantly take it on and off.  It is always ready to go when you head out for your walk!
PRODUCT HIGHLIGHTS
Tested and rated UPF 50+
Fits all strollers and joggers with a canopy: Available in single and twin.
Protect-a-Bub Sunshades are made out of a specially woven polyester microfiber that is breathable and doesn't retain heat. Even the darker sunshades won't trap heat; your child will remain perfectly comfortable under them.
Protect-a-Bub's sunshades and covers are fully adjustable to fit all strollers and joggers with a canopy.
They are the largest canopy-style sunshades on the market and provide the most comprehensive coverage from the sun's harmful rays.
These sunshades are the only ones with mesh side panels, allowing for proper air circulation and better viewing for the child under the shade.
Protect-a-Bub uses a sturdier frame than other, flimsier sunshades, which keeps the shade from blowing up in the wind.
The sunshade can be folded up right along with your stroller when packing it away.
Machine washable
Includes carry bag
If you aren't ready to just take my word for it, Protect-a-Bub has been approved by the Melanoma International Foundation: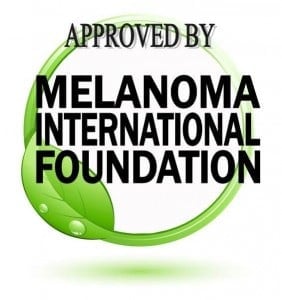 "Protect-a-Bub, the leader in sun and all-weather protection products for strollers, joggers, car seats and carriages, has been awarded the Seal of Approval by the Melanoma International Foundation. As experts in sun protection for babies, Protect-a-Bub products have been tested and proven by the Melanoma International Foundation to aid in decreasing the risk of skin cancer when properly used along with recommended practices of seeking shade, avoiding the sun during high-risk hours of exposure, among other sun safe behaviors. Through the use of exceptional fabrics and high quality construction, Protect-a-Bub provides parents with the essential tools to protect their children from the rays of the sun and thus reducing the risk for developed melanoma later in their life."
**Protect-a-Bub's Car Seat Sunshade was also recipient of the 2009 iParenting Media Award.  The innovative sunshade was named Outstanding Gear Product of 2009.
I am expecting my second baby in June and am so relieved I have this product! Babies under six months are not supposed to wear sunscreen, so the Protect-a-Bub sunshade will be a lifesaver for our active family. Not only will it protect my baby from the sun, it will also help create a dark environment for napping! Thank you Protect-a-Bub sunshade for keeping my family free of the sun's harmful rays!
Look how happy my cute little guy is under there! The sunshade does extend to cover his whole body, but I pulled it back so I could get a good picture of him. When it is fully extended, Reece is perfectly comfortable and happy; he can still see everything without being blinded by the sun!
Be sure to buy your sunshade before summer arrives—you don't want to miss any precious time outdoors! Protect-a-Bub also sells car seat sunshades, weather shields, deluxe 3-in-1 sunshades and rain covers. You can view all of their products at Protect-a-Bub. You can also find Protect-a-Bub on Facebook and Twitter, and be sure to subscribe to their blog for recent product news and updates.
*Disclosure: I received this product for review but these words are strictly my own.