Ready, Set, MobyGo! A Great Carrier For Everyday Use!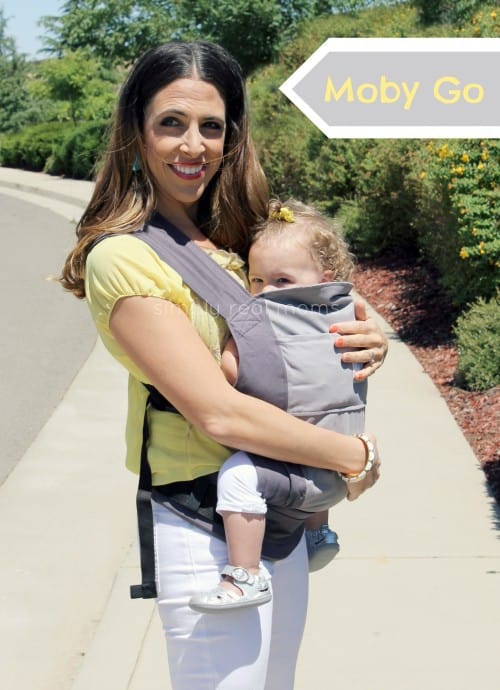 Last fall, Moby -the makers of the popular Moby Wrap- introduced the MobyGo, an ergonomic structured carrier designed to carry your baby or toddler all the way up to 45 pounds! We were fortunate to get the chance to test it out first hand to let you all know what we think!
Our momma model today is Tiffany with her 1year old baby G. She is not a regular baby carrier user but found the MobyGo VERY easy to put on. The included directions give you two options for getting the carrier on and placing baby in! After using it for a while, Tiffany said that it was very comfortable, and baby G seemed to cozy right in! What I love is that the MobyGo encourages correct support for your baby, holding them by their bottom rather than dangling them by their crotch. We here at Simply Real Moms really like to promote the correct carrier support!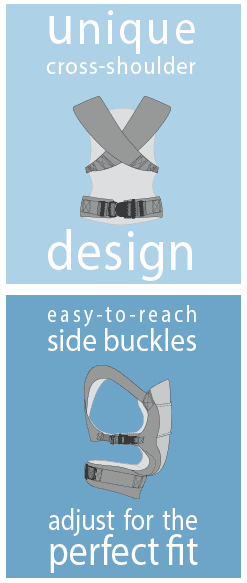 The way that the MobyGo is designed with all of the buckles located on the sides makes for simple on and off use, as well as easy to make it fit perfectly to any size or shape! The wide cross shoulder straps keep the carrier comfortable and sturdy, while the foam padded waist strap makes sure to keep the stress off of your back and shoulders!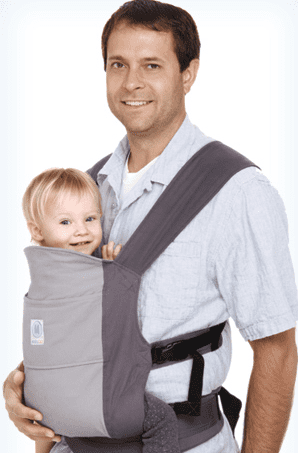 Another awesome feature of the MobyGo is the front pocket that has an attatched sleeping hood! This came in handy when it got a bit windy out, keeping the wind off of baby G! This is perfect for if baby falls asleep or if there is rain or wind or even too much sun to keep baby from the elements!
One complaint I have about the MobyGo is that it is only made for front carrying. With the back straps being crossed, you COULD do a back carry, but I can imagine it would hurt your breasts, especially if they are on the big side.
Another downside is that unlike other ergonomic structured carriers it does not have a newborn/infant insert addition. You could easily buy another brand's infant insert and use it inside, but Moby does not have one available. I like to be able to buy one carrier to use for my child from birth up, and I would love to see them offer an infant insert for the MobyGo!
Those two downsides are my only complaints about the MobyGo, and really they aren't going to keep me from recommending it! For an amazing price, you are getting great quality, comfort, and hands free baby wearing from a brand we have all come to love for their wraps!
The MobyGo is available in Gray, Black and an emroidered "Barberry" design, and is a great choice for an ergonomic structured carrier, and when it retails at just $79.99 (a whopping $40 less than some competitors!) it's an affordable choice as well!
*I received a MobyGo carrier for review purposes, but all opinions are my own.