Recipe for Cheddar Chowder Soup
 I'm honestly not a big fan of soup, most of the time I could take it or leave it. But there are a few I make a lot of just because it's easy and tasty. 🙂
A favorite is Cheddar Chowder. I will usually make this at least once or twice a month in the winter time. Besides, there is always leftovers and this soup is just as good the 4th and 5th time. 😉
Recipe for Cheddar Chowder Soup:
2c. Water
2c. Grated potatoes
1/2c. Grated carrots
1/2c. Sliced celery
1/2c. Diced onion
1 1/2 tsp. Salt
Ingredients for cheese sauce:
1/4 Butter
2c. Milk
1/4c Flour
1/4tsp Pepper
2c. Cheese
1c. Diced Ham
 Combine the first group of ingredients and simmer for 15-20 minutes covered. Or until the veggies are tender.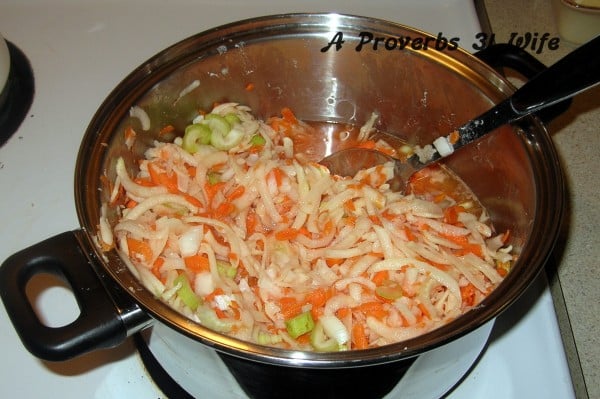 Dice your ham into 1/4in chunks. I buy, ham steaks when they are on sale, chop them and vacuum pack it. Much cheaper than buying the chopped ham, better tasting too.
Next, melt the butter and add the flour, once the flour has absorbed the butter add the milk, heat and stir until thickened. Once thick, add pepper and cheese. Stir until cheese is melted.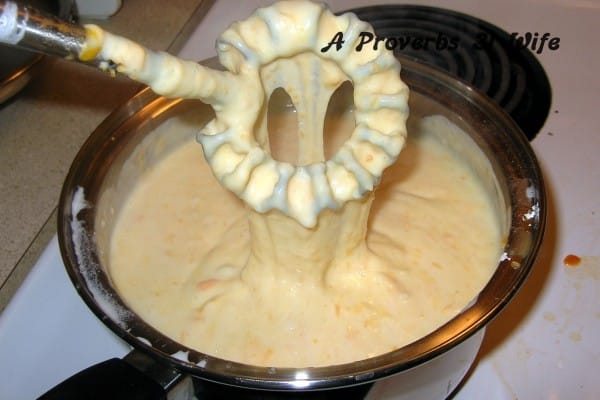 Pour your cheese sauce over the cooked veggies and stir well. Serve immediately!
I make a big pan of this, then for each meal I dip out only what we will eat, and heat that in another pan.  This soup scorches easy so reheating a large pan doesn't work well for me. 🙂
Do you have a favorite soup? Did you blog about it? Pin my recipe and leave a link to your soup and I will pin it too. Win-win right? 🙂