Recipe for Enchilada Sauce (Red Sauce)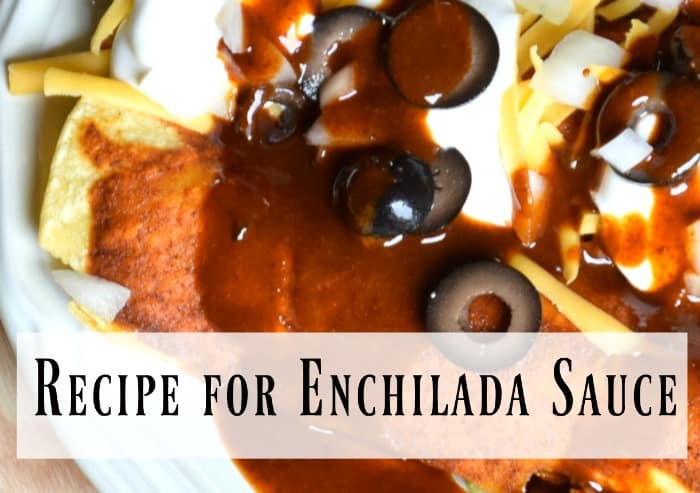 One thing that's hard for me is to go into the store and buy recipe ingredients that are full of msg, gmos and so much more. Sometimes I'm able to find an item that is good but typically not.
That leaves me pretending I don't know what's in it, doing without, or figuring out how to make the item. My recipe for enchilada sauce or red sauce is one of the last examples. It's easy to make and we actually like it better than the stuff in a can!
The recipe calls for chicken broth and that's good. However, the last time I made it I used bone broth and that was amazing!
Recipe for Enchilada Sauce
Recipe for Enchilada Sauce (Red Sauce)
A simple red sauce recipe that will rock your world! Enchilada's will taste like the real deal now!
Author:
Kendra ~A Proverbs 31 Wife
Ingredients
2 tablespoons butter
2 tablespoons flour
3-4 tablespoons chilli powder
½ teaspoon garlic powder
1 teaspoon salt
¼ teaspoon cumin
¼ teaspoon oregano
2 cups chicken broth
Instructions
Melt butter and stir in flour
Mix in all the spices and stir briskly
Pour in chicken broth and simmer for 10 minutes
Use right away or store in fridge up to 5 days.
Enchilada's are a favorite in our family and I typically make them with beef. However I did something a little different the other night and it was a huge win!
Chicken Enchiladas
8 corn tortillas
1 chicken breast – cooked and shredded
1 cup sour cream
2 cups cream corn
1 can black beans
1 can black olives – sliced
2 cups enchilada sauce
8oz cheddar cheese – shredded
Pour 1/2 cup red sauce on the bottom of an 8×8 dish. Layer in 4 tortillas. Top with shredded chicken, beans, corn and half of the olives.
Pour 1 cup of red sauce over the chicken, beans, corn and olives. Layer the 4 remaining tortillas over top.
Spread sour cream over top of the tortillas. Pour remaining red sauce over sour cream. Sprinkle with remaining olives and cover with cheese.
Bake 350 for 20-30 minutes.
This was very easy to make and we loved it! Hope you like it too 🙂