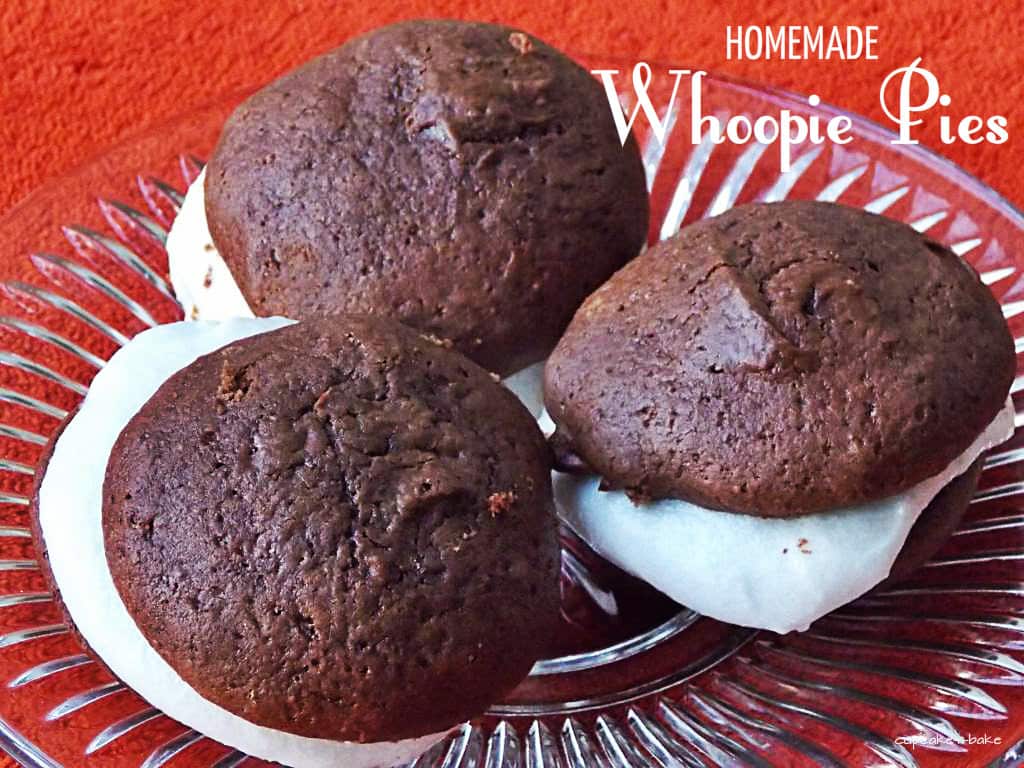 Today I am thrilled to have Renea from Cupcake and Bake here sharing her recipe for Whoopie Pies! I had never tried whoopie pies until I met hubby and his gran gave me one. I'm super excited to try making these!
Hello there! First, I'd like to say thanks to Kendra for sharing her space with me. Today, I'm sharing with you my Recipe for Whoopie Pies.
  This is the first time I've ever made Whoopie Pies, and I used my grandmother's recipe. She is really a wonderful cook, and I enjoy being able to share with you the types of foods I grew up with. You can print this recipe 
here
. This is a two-part recipe, so I'll start with the cookie part.
Cookie Ingredients:
1 cup of shortening
2 cups of granulated sugar
2 whole eggs
2 egg yolks (Set aside the egg whites, you'll need those!)
1 cup of cocoa
4 cups of self-rising flour
1 cup of sour milk (Don't worry, you can make sour milk!)
1 cup of hot water
  How to make sour milk:
To make sour milk, you'll need 1 tsp of vinegar. Pour this into a 2 cup glass measuring cup. Add just enough fresh milk to make 1 cup of total liquid. Stir the milk and the vinegar together, and let the mixture sit in room temperature for five minutes.
Cookie Directions:
Preheat your oven to 400.
In a large bowl, combine cocoa, flour, and sugar.
Add your eggs and shortening and cream the ingredients together until they are too dry to use the mixer.
Slowly add the milk and water, alternating between the two and mixing between additions.
Using a large spoon, drop cookie dough onto an ungreased cookie sheet. These don't have to be dropped too far apart, because these cookie will not spread as much as say chocolate chip cookies.
Bake at 400 for 5-8 minutes or until an inserted toothpick comes out clean. They should be a cake-like texture.
Let stand for about 5 minutes, then move to cooling racks.
  While you cookies are cooling, you can make the filling. This recipe is all mine, mostly because my grandmother's instructions didn't make sense. So, I just winged it and it worked!
Filling Ingredients:
2 egg whites (See, I told you you'd need those!)
1 tsp vanilla
4 tbsp flour
1 tbsp butter
4 tbsp milk
2 tbsp granulated sugar
4 cups of powdered sugar
1/2 cup of shortening
Filling Directions:
In a medium bowl, cream together egg whites, shortening, butter, and vanilla.
Add flour and granulated sugar. Don't forget to mix!
Begin adding powdered sugar, one cup at a time.
Add the milk after the second cup of powdered sugar.
Add the rest of the powdered sugar until the consistency is thick, but not too thick.
Make sure the cookies are cooled completely, then ice one side. Place the remaining side on top.
This recipe makes about 3 1/2 dozen cookies. My husband did a taste test, and he said they were fantastic.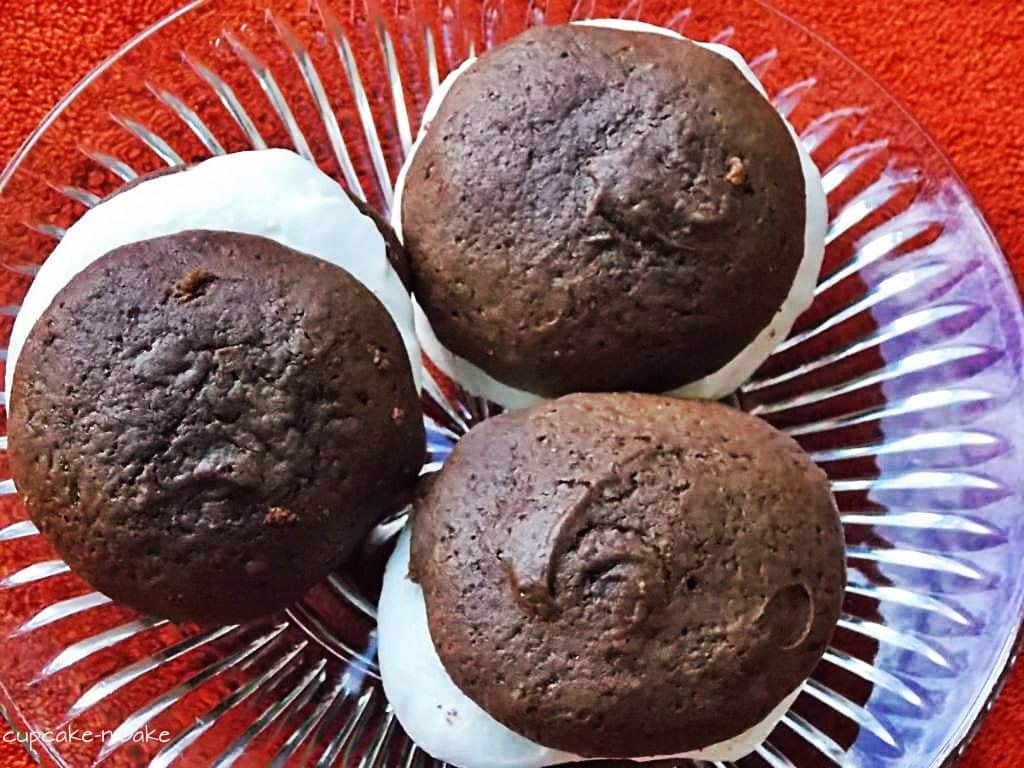 I hope you enjoyed this post, and give this recipe for Whoopie Pies a try. They are very tasty! If you'd like to see more of my stuff, you can find me at the following places : 
Blog
, 
Etsy
, 
Facebook
, and 
Twitter
.
Thanks again to Kendra, and I hope you all have a wonderful day!
Renea started blogging at Cupcake-n-Bake in April of 2012. She blogs mostly about baking, but crafts and other things also like to show up on her site.