Reducing the Appearance of Stretch Marks With StriVectin-SD
Throughout my entire pregnancy with my oldest I had zero stretch marks- ZERO! I thought I was the luckiest person alive. Little did I know that stretch marks could occur after you deliver. Yep. One morning, a couple weeks after having my son, I looked down at my stomach only to realize those dreadful marks had not only taken over my stomach, but my thighs as well. I understand this is usually a part of pregnancy and I should wear them proudly, but the fact was, they were there and it left me feeling very depressed. I immediately started doing some research and trying every product you can possibly think of, nothing worked. One day I was visiting my mom and she was talking about some amazing product she was putting on her face to reduce her dark circles under her eyes. She mentioned they had a stretch mark cream so I decided to head over to Macy's to get some. I assumed this would be just like every other lotion I had tried but boy was I wrong!

If you have never heard of StriVectin, they started as a stretch mark phenomenon, selling 6 million tubes of StriVectin-SD globally. Today, StriVectin is a clinically-proven, scientific skincare line, that offers comprehensive anti-aging solutions to women (and men) around the world.

Whether it's wrinkles, loss of firmness, skin damage, age spots or a complexion in need of brightening, they deliver. Only their formulas have their patented, proven NIA-114™ molecule (Niacin) that powers up skin to repair damage and fight off all visible signs of aging for a healthy-looking, ageless appearance.
Unfortunately for us, stretch marks are not preventable. No matter how many lotions, vitamin E, coco butter, etc you slather on, if you were meant to get them, you will— you can thank your genetics for that. However, I can't begin to tell you how in love I am with StriVectin and the results I have seen over time. I have told so many of my friends about StriVectin and they have all thanked me for sharing my secret to reducing the appearance of their stretch marks.
Here is my secret to getting the most out of reducing the appearance:
Before applying StriVectin, exfoliate the skin using a sugar scrub. You can make your own by combining 1/4 cup brown and 1/4 cup baking soda. Sugar contains glycolic acid, which repairs skin while baking soda polishes and cleans the skin. These ingredients work together to scrub away dead skin cells that linger and accumulate around stretch marks.
I will be completely honest, I still do have stretch marks but they look NOTHING like they used to and the fact that you have to be extremely close to me to even notice them, has shot my confidence level way up and has allowed me to feel comfortable in my skin again.
Since I used StriVectin for the first time, I have had another child. I am only a few weeks in, but I will be posting my before and after shots on our Facebook page in the next few weeks, so make sure you are following us to see my actual results.
StriVectin is sold in numerous Department Stores throughout the world (locations include: US, Canada, Middle East, Europe, Asia, South Africa, South America) or you can order it right from their website at: www.strivectin.com.
To stay up-to-date on the latest deals and information, follow them on Facebook.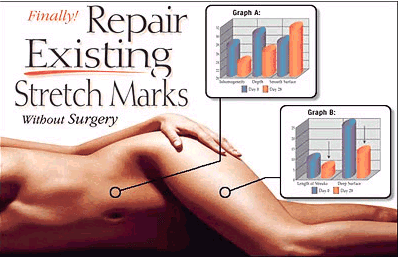 * I received a product to review in order to take my comparison shots this second time around. All opinions are my own!