Salad Bar Box ~Easy way to add fresh veggies to your diet.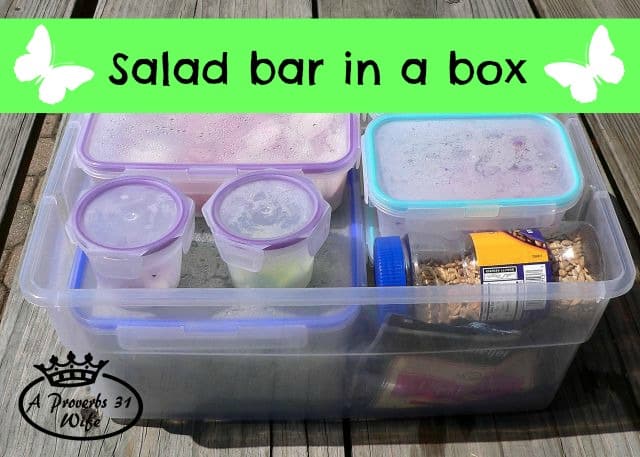 Want an easy way to add fresh veggies to your diet? make a salad bar box!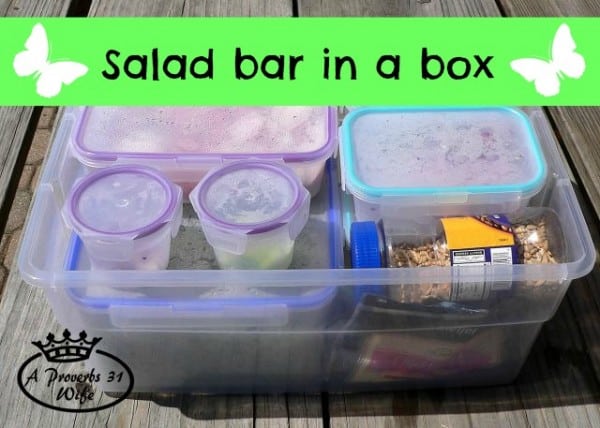 A Salad Bar box:
I found this idea over at Simply Smiles and knew it would be perfect for our family.
First step is to measure your fridge. Figure out where your salad bar box would fit the best and then go to the store (or look online) for a tub the right size. You will want to find a tub that is mostly square. Rounded corners make it hard to fit the smaller tubs inside.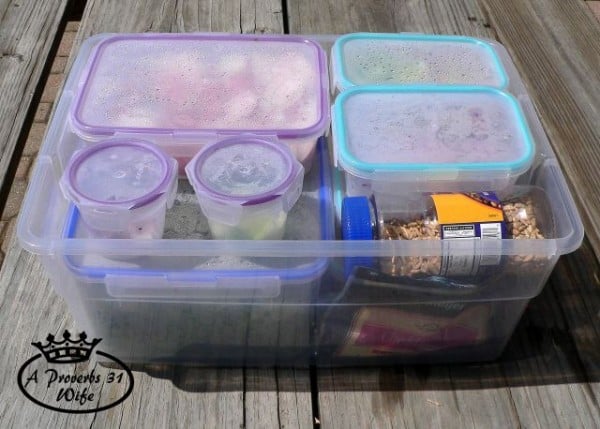 Once you have the main box chosen, then it's time to find smaller boxes to go inside. I chose to buy a couple packs of the Airtight Snapware, like what you see here: (ad) The size I used for my greens.
I just measured my main box, and then the Snapware to ensure a good fit. The result is amazing. I have seven different containers in my salad bar box, plus a bag of cheese and bottle of sunflower seeds.
That makes for a very yummy salad! What do we put in our boxes? Whatever is on sale at the store. One week it may be a garden salad bar, the next it may be more like a Cesar salad bar. As you can see, some veggies are not really cut at all. The carrots and celery are nicely cleaned and ready for whomever wants to munch on them. Hubby eats radishes plain and I love broccoli.
The best way to do this; when you get home from the grocery, promptly clean your veggies and pop them into your salad bar boxes. All done. This usually takes me less than 10 minutes!
And look how nicely it fits in my fridge! No lid, it wouldn't quite go on and I figured it would end up being in the way. And yes, I buy bread. I need to start making it again, but before I do that, I need to figure out who stole all my time. (yes dear blog, I may be talking about you. *wink*)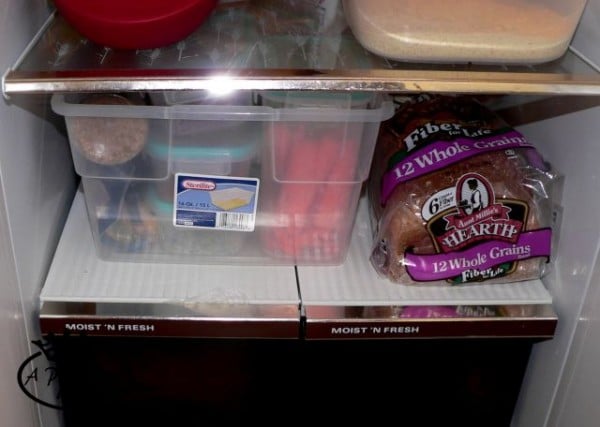 Are you considering a salad bar box now? Let me know if you make one!