Samsung Smart Camera, Capturing those Everyday Moments.
Capturing everyday moments with a Samsung Smart Camera. For every day moments, would you prefer compact cameras or something larger like a DSLR?
When I was 17, Daddy and Mother gave me a film camera. After about a year and a half I bought a digital and sold the film camera. My digital was smaller than the film, yes, but still pretty chunky. For its time, I would say it took decent photos. Most of them were edited to look better though.
Just this year I bought my mom's old one from her. It took far better photos than my old one. But that thing was huge! So big in fact that I found myself using my camera on my phone more often than not for capturing everyday moments. I just couldn't carry the big one around.
As a part of Collective Bias, I was given the opportunity to shop for a compact system camera. The Samsung  smart camera with Wi-Fi direct, to be exact.
Friday evening we went into Walmart and I found my camera. Goodness, but there were a lot to choose from. If I hadn't have had the exact model in mind, we would've been there all night!
There were 2 other cameras that had built in Wifi, a Sony and a Cannon.  Sony was the same price, Cannon a little cheaper. However, neither one of them had a very good zoom and they both looked a little harder to use. I know min has a touch screen but I still like buttons for some stuff.  The Sony and Cannon both had a higher resolution though, coming in a 16.1 and 16.2 mp, and mine has a 14.2 mp.  But from what I can tell,  neither the Sony or Cannon offer both full auto, or manual options, like the Samsung smart camera does.
As you can see, I didn't haul the big camera into town but instead relied on my phone. The results? A slightly blurry photo.  The pricing for my camera was really nice. Less that $200 even after tax, seemed to be a great deal!
Photos taken with my Samsung Smart Camera:
Fortunately when Saturday morning rolled around and we went to a cousin's wedding, I didn't have to rely on my phone and I didn't have to haul a large camera around!  I was watching a little sweetie that day (her momma was helping in the wedding) so I sat near the back, in case she became fussy.  Fussy didn't happen. 🙂 How sweet is she?
Sitting near the back, might mean poor photos from the ceremony for some, but with my 18x long zoom capabilities, I didn't have a problem!  Later, I was looking through some more of the camera's abilities and discovered I could edit photos right within the camera! So I applied a vignette filter to this photo.  This photo really captures the love in their eyes!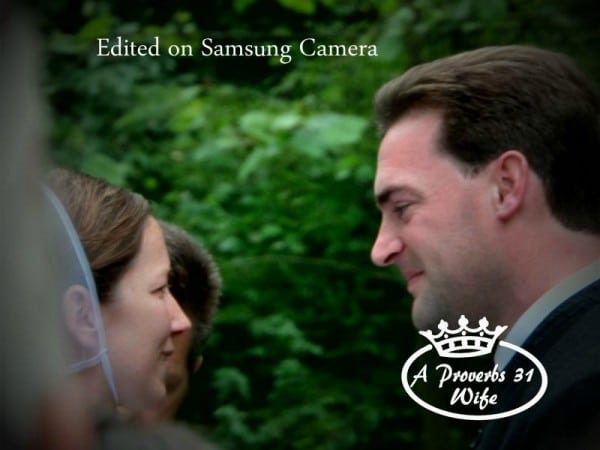 Once I got home, it was time to try out some things with my camera. Like experimenting with direct sunlight, shadows and close-ups.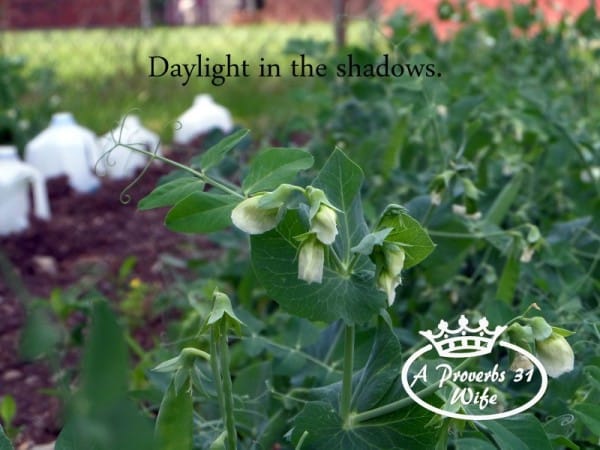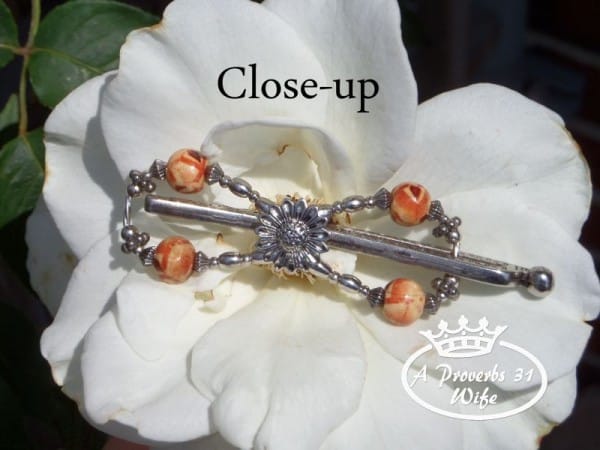 And even low light photography (indoors). The photo below was taken inside around dusk, with no flash!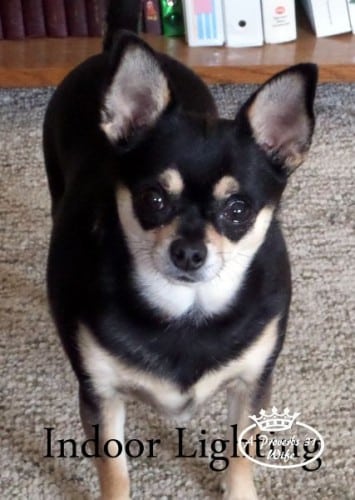 This camera is both fully automated and manual. All of the photos above (except for the pea blossom) were taken on auto which is pretty awesome. No messing with the settings for a good shot!  Both the battery pack and the memory card are stored in the same area making it very easy to access both. Another thing  that I am really thrilled with, is the fact that I can plug my camera into my phone charger. How nice will that be when traveling?
And what is the benefit of my Samsung smart camera? It has Wifi. What is the Wifi good for? Instant sharing and uploading to Facebook, Picasa and more. Most importantly, you can send your photos directly to your computer.  I find that exceptionally nice, because my computer don't have a card reader and one of the usb ports in the front is broken. Now when I want my photos, I make sure the computer is on and I push the wifi button on the camera and off my photos go to the computer.
If you are on Twitter, you may want to follow Samsung for great tips and tricks. Or you can follow them on Facebook!