19 Practical Tips on How To Save Money on Groceries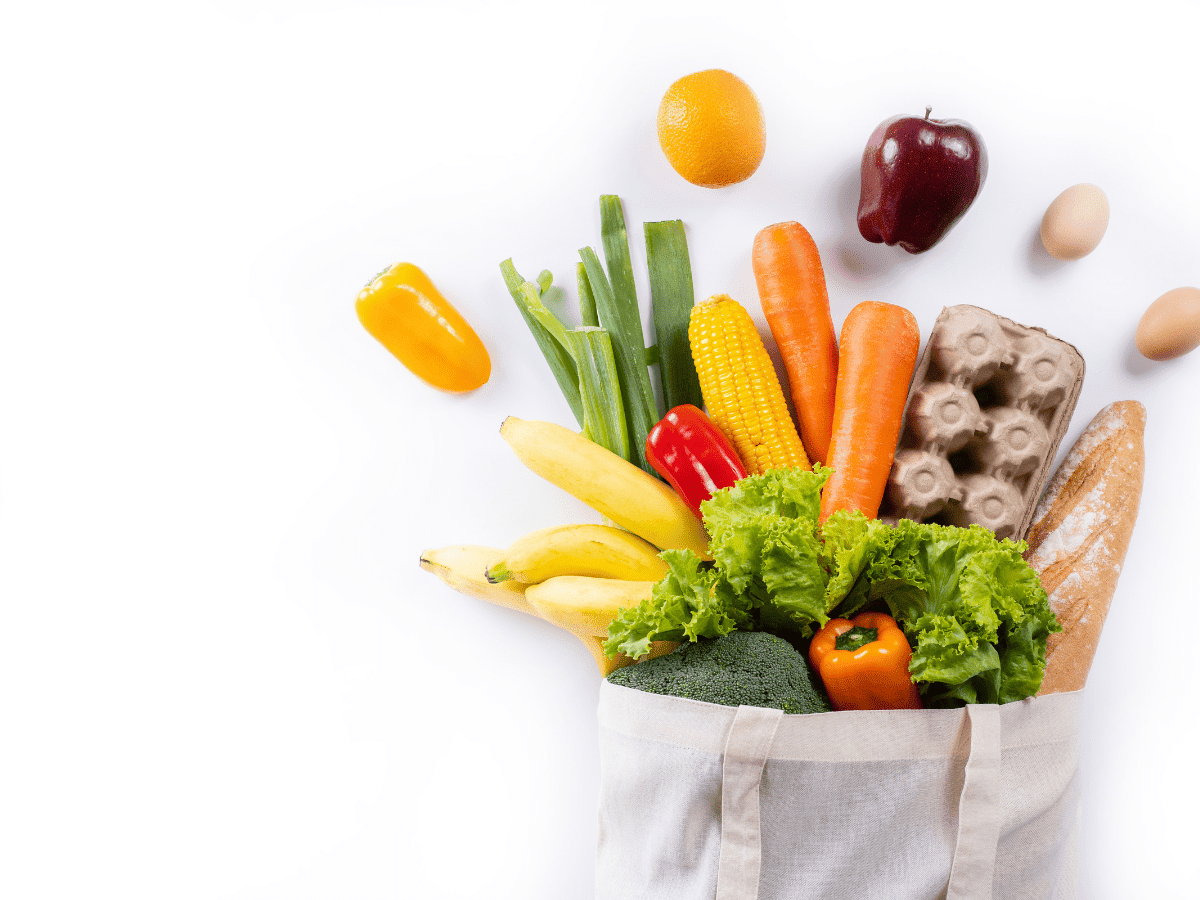 Food is a necessity for all of us, and it's no secret that groceries can be expensive. With inflation hitting its highest level in decades, food costs continue to rise. However, there are many ways to save money on your grocery bill without compromising on the quality of your food. This blog post will discuss 19 practical tips to help you save money on your next grocery bill!
How To Save Money on Groceries
1. Clip Coupons
One of the most popular ways to save money on groceries is to clip coupons. You can find coupons in various places, such as newspapers, magazines, and online. You can clip coupons the old-fashioned way, but it can be time-consuming. The easiest way to find coupons for groceries is to use one of the many money-saving apps. For example, sign up for online deal sites like Ibotta and Rakuten to take advantage of sale pricing at stores like Walmart, Walgreens, Kroger, Target, and others. 
2. Create a Meal Plan
Creating a meal plan for the week ensures that your days aren't spent planning your family's next meal and helps you ensure that you have all the necessary ingredients on hand when needed. As a result, meal planning will help you avoid buying unnecessary items and waste less food. When creating your meal plan, include some simple recipes that you can easily make with ingredients you already have on hand.
It's also good to have some quick and easy meals in your meal plan for those nights when you don't have time to cook.
3. Shop Your Pantry First
Before heading to the store, take inventory of what you already have on hand. Knowing what's in the pantry will help you avoid buying duplicates of items you already have and save money in the long run.
When looking through your pantry, also be sure to check the expiration dates of your food items and remove anything that has expired. Take a note of anything close to expiry and use those items first to avoid wasting food.
By shopping your pantry first, you can also get creative with your meals and use ingredients you already have, saving you time and money.
4. Create a Grocery List and Stick To It
Grocery stores design their stores to maximize purchases by placing staples at the back and encouraging impulse purchases on the way to the cash register. One of the best ways to save money at the grocery store is to create a list of items you need and stick to it. A shopping list will help you avoid buying impulse items that you don't need.
When creating your grocery list, include all the ingredients you need for your meals for the week. You can also add other items you need, such as toiletries and household items.
5. Store Your Food Properly
Another way to save money on groceries is to store your food correctly. Correctly storing your produce and meals will help your food last longer and avoid waste.
6. Don't Shop Hungry
One of the worst things you can do when grocery shopping is to go when you're hungry. Shopping on an empty stomach will likely result in you buying more food than you need and spending more money than necessary.
If possible, try to eat a light snack before heading to the store so that you're not as tempted to buy unhealthy or impulse foods.
7. Shop Alone
Another tip for avoiding overspending at the grocery store is to go alone. If you bring your kids or significant other with you, they may be more likely to ask for items, not on your list.
Shopping alone will also help you avoid distractions and stay focused on your list.
8. Buy Items on Sale
One of the best ways to save money on groceries is to buy items on sale. In addition to coupons, this can help you stretch your budget and get more for your money.
For example, purchase dry staples like instant coffee in bulk when on sale. Check your local store's weekly circular to see what's on sale and plan your meals around these items. You can also sign up for email newsletters from your favorite
9. Compare Prices Between Stores
Another great way to save money on groceries is to compare prices between stores. Price comparison will help you find the best deals on the items you need.
You can also use online tools, such as Google Shopping, to compare prices between different stores.
By comparing prices, you can ensure that you're getting the best deal possible on your groceries.
10. Don't Fall For the Product Placement
Besides impulse buys near the register, stores encourage the purchase of more expensive items by placing them at eye level and generic brand items elsewhere. One of the easiest ways to save money on groceries is to buy generic brands instead of name-brand items. Generic brands are often much cheaper than name-brand items and are often just as good in terms of quality.
11. Bring Your Bag
This won't save you a lot of money, but bringing your reusable bag will help you avoid paying for plastic or paper bags at the store. It is also good for the environment.
12. Prep Your Produce Instead of Buying Pre-cut / Pre-packaged Produce Items
Pre-cut or pre-packaged produce and pre-cooked food have some of the highest margins at grocery stores. We recommend preparing your food from fresh produce and meat. While it may take more time to prepare your produce, it will be worth it when you see how much you save. This can help you save a lot of money in the long run.
13. Grow Your Produce
It may seem radical, but growing your produce is a great way to save money on groceries. This can be a great way to get fresh fruits and vegetables without having to pay for them.
If you have the space, you can start a garden and grow your food. You can also look for community gardens in your area that you can join.
If it is intimidating to start growing your garden, start with countertop gardens and microgreens for homemade salads. Once you get the hang of it, you can move on to bigger fruits and vegetables.
14. Use a Credit Card That Rewards Grocery Shopping
If you use a credit card that offers rewards for grocery shopping, you can save even more money on your groceries.
Some credit cards offer cash-back or points that can be redeemed for free or discounted groceries. Many grocery chains also have loyalty cards that you can use to accumulate rewards on your groceries.
15. Change Where You Shop
One of the best ways to save money on groceries is to change where you shop. There are a number of different options for saving on groceries, including warehouse clubs, dollar stores, discounters, and big-box stores.
Each option has its pros and cons, so be sure to do your research before deciding. If you have a big family, you can buy in bulk at Sam's Club or Costco to save a considerable amount of money in the long run.
16. Go Meatless on Some Days of the Week
If you compare prices, you will find that meat is generally more expensive than vegetables and fruits. By going meatless on some days of the week, you can cut down your grocery bill.
Several delicious recipes are meatless so that you won't miss the meat.
17. Check the Clearance Rack
You'll find that there is usually at least a couple of racks of clearance items at each grocery store. This is a great place to find items that are discounted because they are about to expire.
You can often find great deals on produce, meat, and other items. Just be sure to use the items before they expire.
18. Use Pickup To Avoid Impulse Buys
If you're looking for a way to avoid impulse buys, you may want to consider using the pickup option at your local grocery store. With this option, you can order your groceries online and then pick them up at the store.
This can help you save money because you won't be tempted to buy things that you don't need when you're at the store.
19. Understand What's Worth Buying Organic
If you're looking to save money on groceries, it's important to understand what's worth buying organic. While organic food is often more expensive, there are some items that are worth the extra cost.
For example, organic produce is often less likely to be contaminated with pesticides. This can be especially important for pregnant women and young children.
Additionally, organic meat is often less likely to be contaminated with hormones and antibiotics.
By understanding what's worth buying organic, you can make sure that you're spending your money wisely on groceries. According to EWG research, there are some fruits and veggies that you don't need to buy organic because they have low levels of pesticide residue.
These include avocados, sweet corn, pineapple, onions, papaya, sweet peas (frozen), eggplant, asparagus, broccoli, cabbage, kiwi, cauliflower, mushrooms, honeydew melon, and cantaloupe.
Saving Money on Groceries Is Easier Than You Think
These are just a few of the many ways to save money on groceries. By following these tips, you can make sure that you're spending your money wisely on food. Additionally, you'll be able to eat healthy and delicious meals without breaking the bank.