Saving Money on Organic Foods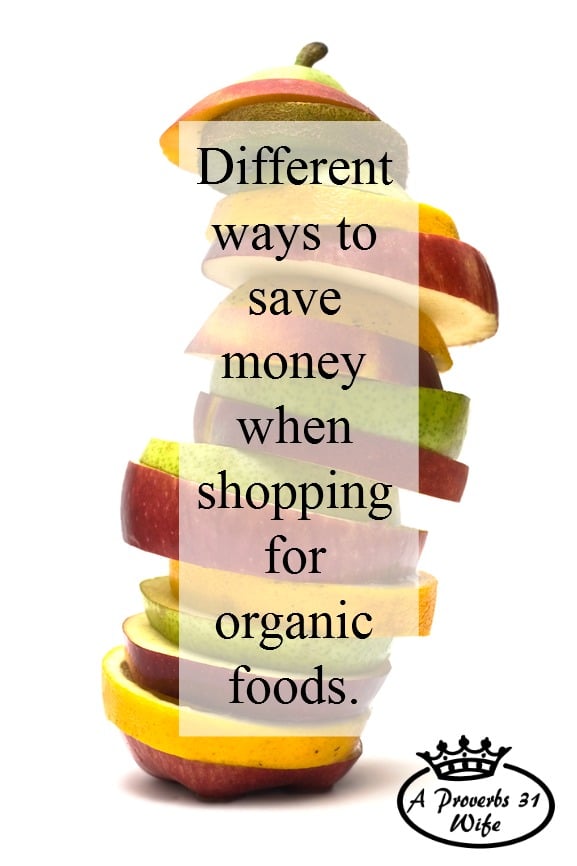 I don't know about you, but I like to feed my family organic or at the very least, non-gmo foods. However I don't like buying organic foods. Why? Have you seen the prices?!?!?! lol
Saving money on organic foods sounds like a good idea and I wanted to find some ways to do so.  Below I've listed some ideas I've found and stores who have started selling their own brand of organics that are often cheaper than the big names.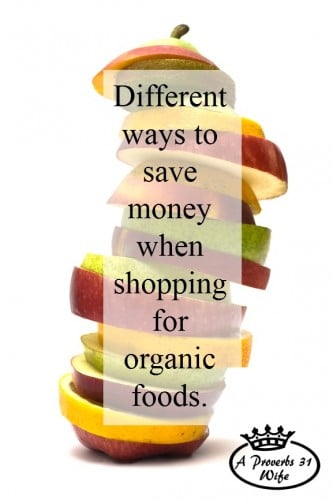 Saving Money on Organic Foods:
Meijer: Meijer is my go-to store. Mostly because it's within walking distance, but also because the prices are good and they have their own line of organic foods.  Actually they have Meijer Organics and Meijer Naturals. Depending on the prices and the item, I may buy the Naturals instead of the Organics.  They also carry some organic produce.
Kroger: Kroger has a line of natural and organic products called Simple Truth. They also carry a lot of of organic produce. The quality of their organic produce hasn't impressed me at the store we normally shop at, but I know other stores have really great quality organics.
Aldi: Aldi is also in the process of adding organics to their stores. Now, I'm not fond of Aldi because I don't carry cash around for groceries and I get annoyed at having to withdrawal cash for groceries like that. However, my mom is a huge fan of their organic produce and if it's a good enough deal I will get the cash out and go. 🙂
Trader Joe's: I've only been once since the nearest TJ is 35 minutes away, and like I said we can walk to Meijer. However, TJ really had great prices on a lot of the staples and we definitely stocked up.
Costco: We don't have one close by here, but I know that Costco carries organic foods.
Co-ops: You can find and join co-ops.  Being part of a co-op lets you get bulk pricing on items without having to buy in bulk. All the same, if it's a good price, be sure to stock up!  You can search this directory for a list of co-ops in your area.  My favorite co-op is Azure standard, you can search their site to see if there is a drop off location in your area.
Buy in Bulk: If you possibly can, buying in bulk is one of the best "saving money on organic foods" tip that I can offer.  I buy fruits in bulk while they are in season and then freeze them for winter. Sometimes I will dehydrate certain foods and store in mason jars; one of these foods would be mushrooms, they dry nice and rehydrate great for recipes.
Garden: I wrote a post this spring and laid out what we save by gardening. Even with a small yard and smaller garden, I figured up that we saved over $400 last year just buy growing some of our own foods.
Buy from Farmers:  My mom, siblings and I usually split a cow every year. We find a farmer that raises grass fed beef and then make arrangements for it to be butchered and packaged. It's still expensive, but far cheaper than what you would buy in store.  If you have the know how and the time, you will save even more by butchering and packaging your own meat.
Check out Local Harvest .org for farmers in your area.
Saving money on organic foods is possible. Yes you will still spend more than if you bought non organic, but for me, some things are worth spending more on.
For more tips and ideas for saving money on organic foods why not check out Frugal Secrets of Real Foodies. This book was in the bundle sale from this spring, so if you bought the bundle you have it. 🙂 Otherwise click the link above for more info. (That is an affiliate link btw)
A couple friends held a Google+ hangout and brainstormed ways for saving money on organic foods too. If you like you can listen to the recording here. As well, there is a printable grocery list there too.
Even more ideas found here.