Scripture Filled Home ~Creatively Bring God's Word to Life!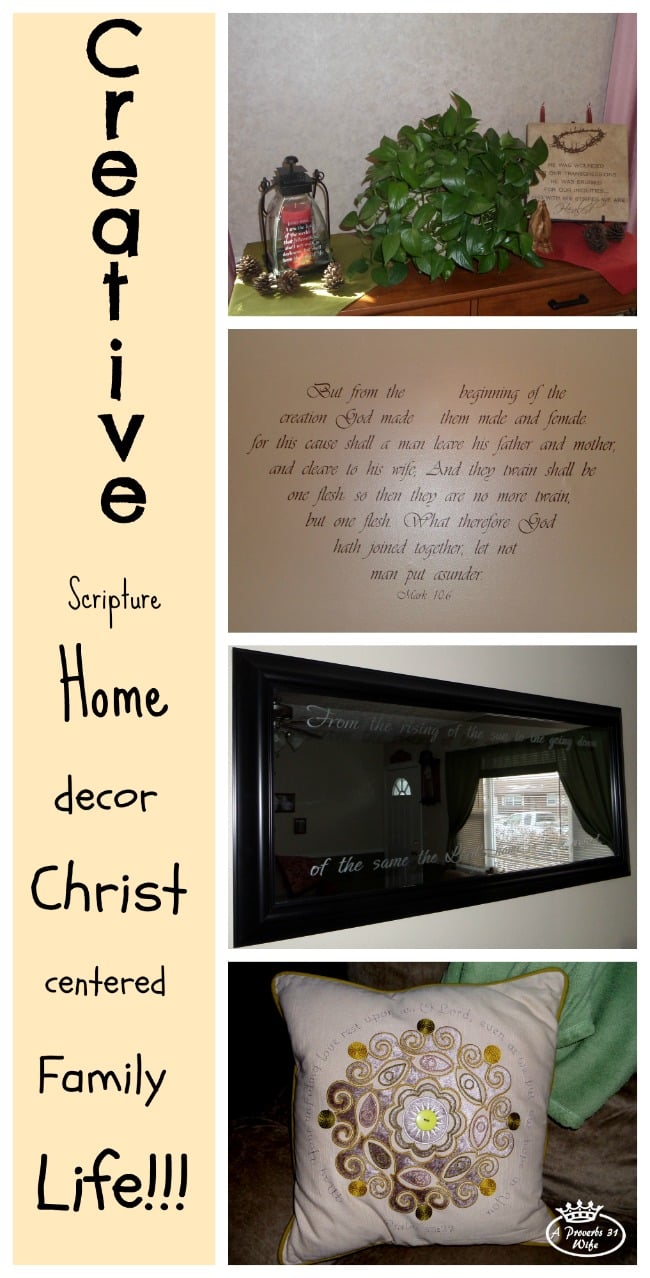 Is your home a scripture filled home? Yes, no? Personally, I like to see God's word in my home.
Deuteronomy commands us to write God's word upon our door posts and gates. Why do you suppose that is? Here's my guess: When scriptures are continually before our eyes; they become "written upon our hearts". Having bible verses, out where we can see them daily reminds us of his love, of what he wants from his children, of who he is, and so much more.
In many ways we have creatively brought God's word into our home.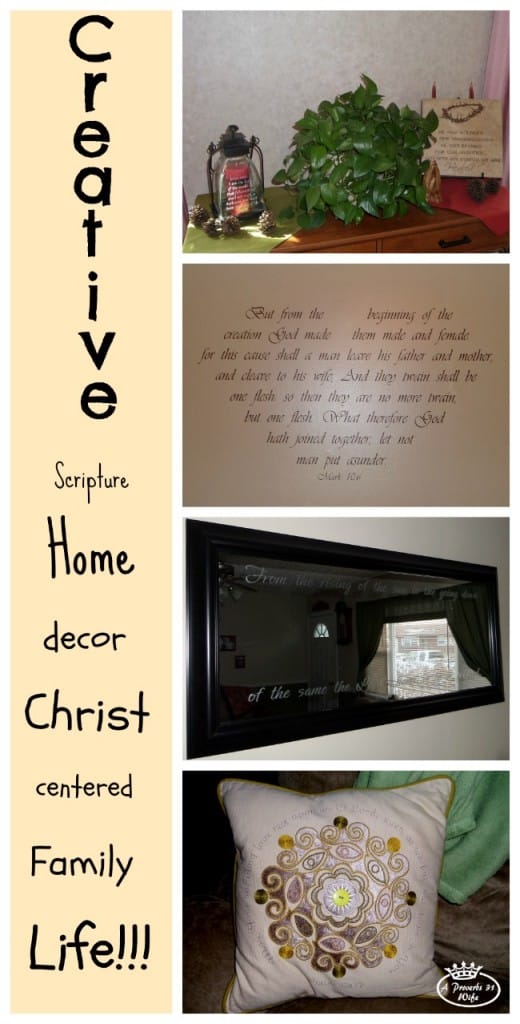 I personally love seeing my favorite verses, sprinkled throughout our house on different surfaces.
This mirror is in the middle of our living room wall. Scripture is etched on it and reminds us that God's name is to be praised always.
It's easy to add God's word to our home with vinyl wall words. Best of all they are great for rentals because they can be easily removed. This is in our bedroom.
I have several items from this company that are beautiful and functional ways I add to our scripture filled home. This pillow is my newest addition and I love it!!!
Putting scripture around our home brings God's word to life. I think it will also be great with children around, they can be surrounded by God's word (we even put a verse in our baby room!) and grow up associating God's word with the comfort of home.
How about something a little different now?  How about a bit of scripture that not only brings God's word to life, but the history of God's word to life? Last month I mentioned Biblical Reproductions as an interesting way to take a peep at the past. I was sent an item from their site to place in our home, and review here.
I was sent a reproduction of the 10 commandments scroll. Written in Hebrews, I cannot read it. Yet, it is a tangible reminder of God's word. Thousands of years ago, he gave these commandments to Moses on Mount Sinai. They were passed down through the ages and put in scrolls. Concealed in the dead sea jars, they survive for centuries.
Then in an age where God's word is being doubted and it's said that it couldn't have lasted this long without having been seriously changed. Then we find these jars. Jars that contain scrolls of scripture, and when translated, they carry the same message our bible does today. Isn't it amazing that God's word is still intact 1000's of years later!?! It's just a God thing!
Here is what I was sent. With a clear casing on either side and nice hooks to hang it with, this reproduction of the 10 commandments is my latest, greatest, creative-ist way to add to my scripture filled home!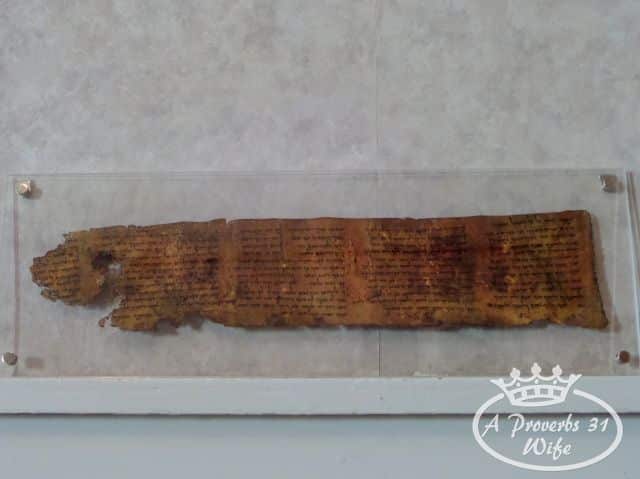 I cannot read the words, but there is a greater message I read when I see this. I read of God's consistency; yesterday, today, forever; and I am blessed. How wonderful it is to know that the God we serve, never changes and is always there for us!
With my authorized reproduction I was sent a certificate of authenticity. Front and back contain wonderful information about my piece of the 10 commandments scroll.  I am going to find a way to clearly display it beside my piece as well, so visitors can read about this wonderful reminder of God's presence always.
Would you like to add a product like this to your scripture filled home? I have a coupon code for you that I'm sure you will love!
There are 3 different pottery pieces that you could get for free! If you purchase any of the scroll reproductions on the Biblical Reproductions site, you can get 1 of the first three pottery pieces on this page for free! (valued $22.95).
Imagine, you purchase the 10 commandments scroll like I was sent, and then you could receive the reproduction of the dead sea jars! What a REAL way to teach your children a bit of history!
When you check out, put in this coupon code: KSCWA14 and in the "notes" field specify which $22.95 piece of pottery that you would like for free. Enjoy!
Disclaimer: I was sent an item from Biblical Productions with the understanding that I would post a review here. I was under no obligation to give a good review. I am a part of Christian Women Affiliates.