Seasons ~30 Days of Thanksgiving day 9
Originally this title was to be change. However I decided that seasons would be a better fit.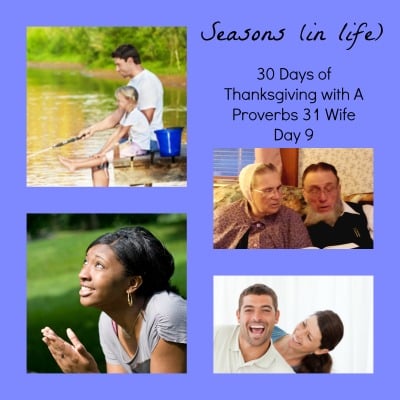 Ecclesiastes 3:1 To every thing there is a season, and a time to every purpose under the heavens.
Seasons mark the passing of time. I was doing a bit of searching for the word "season" in the bible and It seemed in many cases to be used synonymously with the word time.
Our lives have many seasons, and throughout those different seasons, we have different roles to fill as well.
Our childhood season passes quickly, but that is our time. A time when we answer to our parents; where we learn and grow. Childhood lays the foundation for life. Those who have had a rough childhood will know first hand how hard it is to overcome the obstacles that were placed in childhood.
The teenage years are a time for maturing and emotional growing. I remember being about 14 when I read that by the time I reached 20, I would have formed my life habits. Not that I couldn't make new habits or break old ones; but the habits I had at 20 would be those that stayed with me the strongest. This has proven to be true in many ways.
Marriage is a lifetime season. While death sometimes messes things up, it is important to go into marriage understanding that it is for life. Marriage again requires growth, it requires the ability to become part of a team. Marriage is meant to be a season of partnership that requires growing together.
Many times the season of marriage will result in a season of parenthood. Regardless of when or how one enters the season of parenthood, I think all will agree that it requires lots of growth. I'm not just talking about the growth one sees on the front of momma-to-be either! This growing takes place as you think you cannot possibly stay awake a minute longer while you go and feed your child again; as you feel like you've reached the end of your rope and yet somehow find just enough more to make it until bedtime. Parenthood requires growth.
If you want to read about times and seasons be sure to turn to Ecclesiastes and read chapter 3.
No matter what season of life you are in, you will find that it takes growth. The whole of life is a time of growing, and here is where I am most thankful. Growing hurts, but how wonderful it is that my savior is with me in every season!