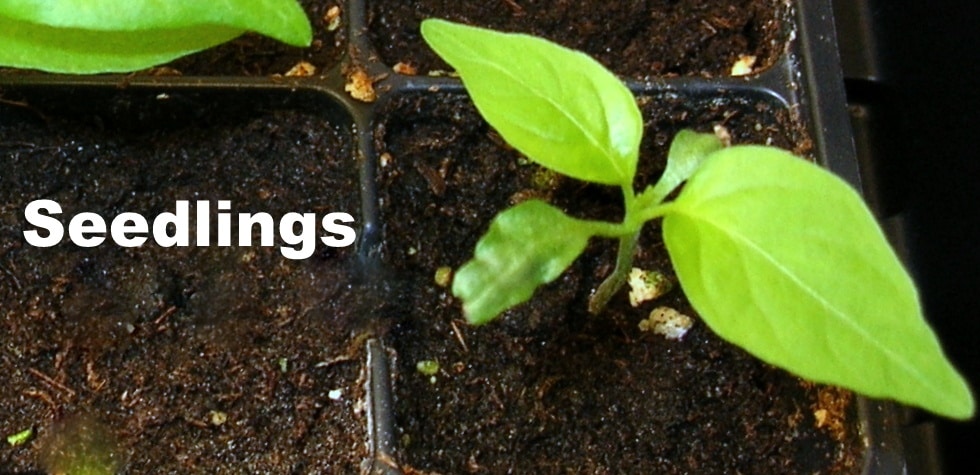 So, you're going to plant a garden, now what? Do you start plants indoors as seedlings or do you go to a garden center to buy all your plants?   Is it more cost effective to start seeds indoors or buy the plants?
If you want to start your own plants you will need a grow light, and a warmer mat. There are some inexpensive ones you can purchase that work great, but we didn't buy one.
*If you have a south facing window or a garden window, you likely won't need a light, just a warming mat.
Like most people we have a lot of junk sitting around in our garage. With some ingenuity on hubby's part,  a lot of useless things in our garage and a trip to the hardware store, we now have a stand with a grow light.  Not very pretty, but it works and we spent very little on it.
One thing to consider, the actual grow light bulbs can get rather pricey, so we have used regular bulbs for years with great results.
Ok, now that I have my plant stand what supplies should I have available?
Seeds – We look for organic or heirloom.

Potting soil – A seed starting mix is best.

Small containers – You don't have to buy these, look around at what you have, little yogurt containers work great!  Just make sure there are drain holes in the bottom of them.

A flat tray – These are very cheep and can be reused.

A misting bottle – You don't want to "wash away" your seeds.

Tweezers – Some seeds are very small.

Towel or newspapers – To protect your workspace and absorb excess water.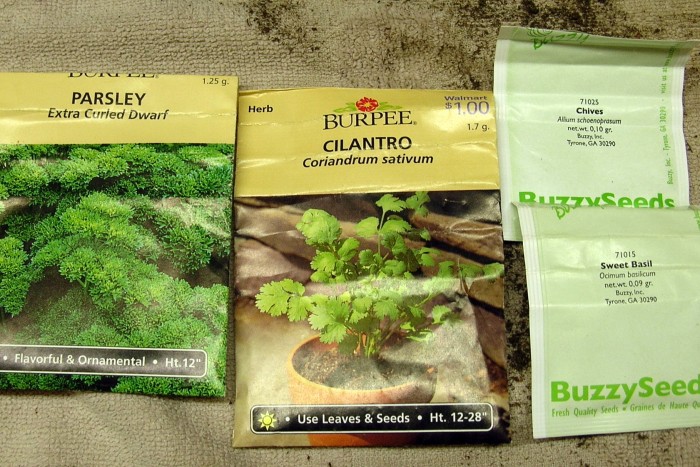 Hubby plants most things, but the herbs are my department.  I am getting ready to plant parsley, cilantro and sweet basil. ( I forgot I already have chives that are still growing from last year)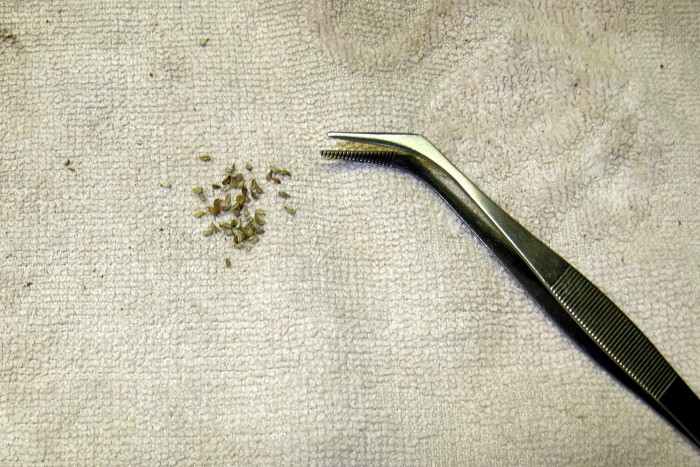 The parsley seeds… see why the tweezers are needed?
Using the tweezers I push the seeds in the proper depth. For most herbs the proper depth is  1/4 in.
Now that my seeds are planted I lightly tap down the potting soil and using the misting bottle I spray the soil until there is a small amount of water sitting on top. Because the soil was dry when I planted the seeds the water will soak up quickly.
Once the seeds are all planted I put almost an inch of water in the tray and sit the containers in there. To keep in the moisture I put plastic wrap over the top;  later when the seeds are coming up I put a clear dome over the top.
Then I put the tray under the light and let nature work 🙂 .
The hubs came up with a cool little system for making the plants (without those little plastic things),  by making snips in the containers and drawing  up a sharp little diagram as pictured.
So to answer the question: "Is it more cost effective to start your own seedlings?" The answer for us is yes!    We now have 45 plants started. If we were to go to a garden center, and buy that many plants our cost would be well over $100.
Do you start your plants indoors?  If you do or have any methods for how you start your seeds I would love to hear it.