Send a Card and Greetings with Hallmark Value Cards!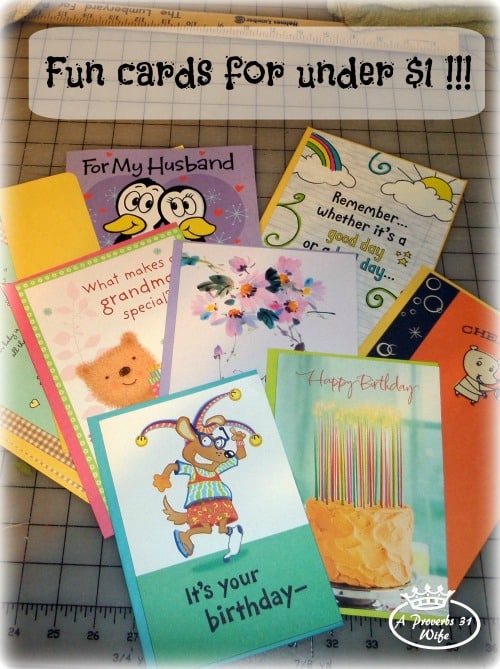 This post: Send a Card and Greetings with Hallmark Value Cards has been compensated by Collective Bias, Inc. and its advertiser. All opinions are mine alone. #KidsCards #ValueCards #CollectiveBias

It started last month when I found a card from my mom in the mail. It was a cute little card that simply stated "Motherhood is not for wimps". The inside contained an encouraging note from her. It made my day. 🙂
It also got me to thinking. Why is it that no one seems to send a card and greetings anymore?  (besides grandparents that is) That was a first for my mom to send me a "just because" card (and I hope it's not the last!), and I don't think I've ever done such a thing.
Cards can be rather pricy which definitely holds me back from sending them. I used to make cards, but don't seem to have the time anymore. However, I really wanted to send a couple cards for birthdays that are coming up, and I wanted to get some "just because" cards to send sometime, so I decided to check out the card isle at Walmart.
Let's see… In the next 2 months there are both of my parent's birthdays, two of my brother's birthdays, a couple baby showers, and our anniversary. Oh… boy, this could get expensive.
However, I was after the Hallmark Value cards. Cards that are priced at 0.47 and 0.97 each.  As long as I could find cute ones that would be fitting for the people and the occasion, I didn't see why I couldn't afford to buy what I needed.
To my surprise there were actually quite a lot of different value cards. Instead of trying to find one that worked, I instead had to find one that worked best! There were lots. 🙂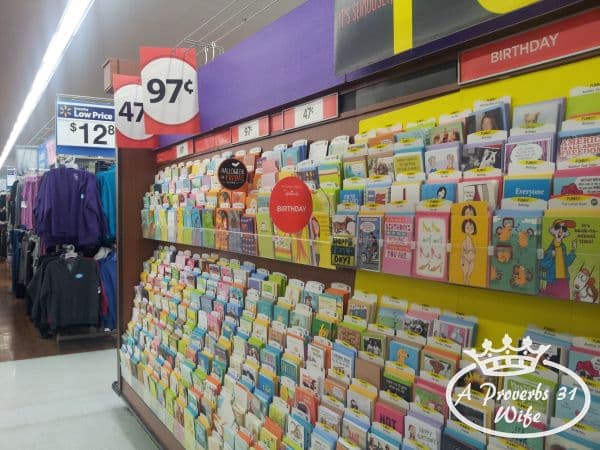 I ended up buying two for my mom. One is from Jason and I and the other will be from little k. It was such a cute grandma card that I couldn't resist. The outside says "What is so special about grandmas?" and the inside: "everything when that grandma is you!". Love it!
Since little k couldn't really sign his name, we signed it a little differently. 🙂
The baby shower cards were easy too. I actually bought the same card for both because it was perfect. A simple card for my dad and cool/funny cards for my brothers. Then a "just because" card for well, just because. 🙂
I don't have gifts for some of the people yet, but I do for Jason. We don't do anything fancy for gifts. We both tend to budget for and buy what we need, and if I expected something big from Jason I would be disappointed, so the small and simple seems to work best for both of us.
I just filled a box with some of his favorite snacks, and since I cannot eat much of or any of it, he won't even have to share. 😉 I'm going to take it along with us this weekend and give it to him while we are camping.
Something rather fun about Hallmark cards is a rewards program they have. Now, I'm a huge fan of rewards programs so I plan on making the most of it. For every 5 cards I buy, I get a reward. Well, I just bought 9 cards, so I only need one more and I will have 2 rewards!
Make sure you sign up for the Hallmark rewards program and check out great content by other bloggers! You can also join the conversation on Twitter with hashtag #ValueCards
Do you ever send a card and greetings "just because" or had someone do that for you?