Setting up a Baby Nursery ~Gender Neutral Yellow and Grey
I've been promising baby room pictures for over a month now. Yes, I know, I'm slow here. 😉 But it's finally looking like something and I'm excited to share how we're setting up a baby nursery with yellow and grey!
I painted the walls of that little room a cheery yellow over 5 years ago and it was wonderful for a playroom. Especially with some Winnie the Pooh pictures. But I was sick of Winnie the Pooh and wanted something a little different…. I also didn't want to repaint.
Grey seemed really classy with yellow and I thought it would be great for a baby room. I even found a cute bedding set on Etsy that was in greys and I was going to buy it.
But we realized that buying a bedding set for a small (portable) crib wouldn't be as easy as we thought. In addition, my mom nearly begged me to let her sew my baby stuff if I wasn't going to. I agreed, because after all, it would be pretty special for baby to have bedding that "Grandma" made!
On Black Friday we go shopping with plans of finding all these pretty grey prints and using them to make baby bedding. Plans don't always work out like we think they will. We found very little grey at all. Not the 4-5 different prints that I wanted for sure. Instead, we found the most adorable print with birds and branches on it. That print became the baby blanket, and the inspiration for our baby room.
Our new theme? Birds and branches.
My mom has a vinyl cutter that she uses to design wall words and do etching and all sorts of neat things like that. So I sorta figured I could go "all out" with what I wanted for the baby room walls.
First, she cut the verse below for me to put above the changing table. I had chosen that verse years ago for that wall and hadn't ever got it cut. I love having scripture in our baby's room like that.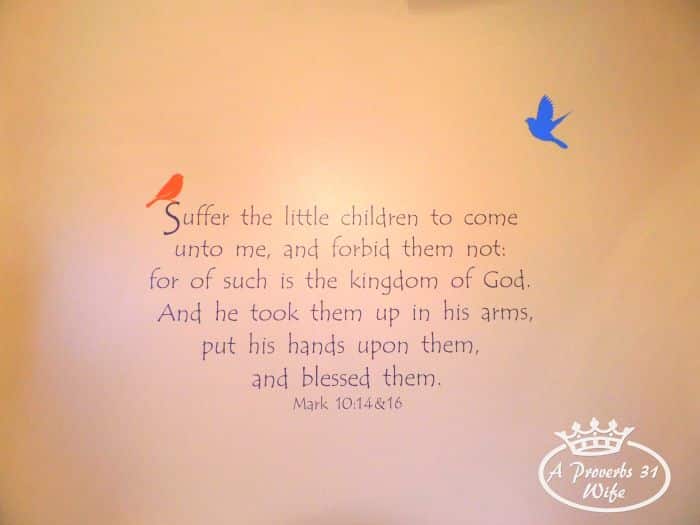 Then came the fun of the branch we put on the opposite wall. We cut the branch in dark grey, added some green leaves, and some blue birds. I made some pink flowers out of a cotton print and we glued them up there as well.
I found a darling bird cage and Jason cut some of the lower bars out. We painted it dark grey, and hung it on a hook to put the diapers in.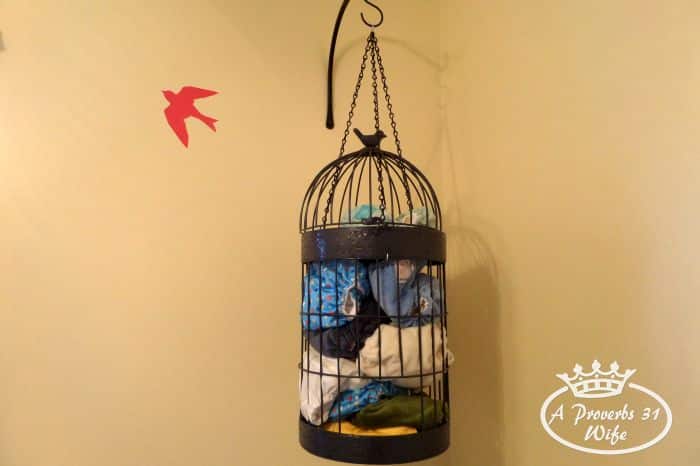 My little brothers grew gourds last summer and for Christmas they painted them and gave them to us older kids. I asked them to paint one in dark grey for me, and this is what we ended up with.
Curtains were a nightmare. I dislike traditional drapes and wanted some sheers to use as a swag. We couldn't find anything in dark grey that we liked. Until mother came across 2 dark grey scarves on clearance at Target. I sewed them together leaving the fringe hanging and I love the effect!
Because this room could potentially become a bedroom to more than one child and perhaps preschool age children, I wanted some hooks on the wall for their coats and stuff. This was made simple by going out behind the shed with a sawsaw and cutting two pieces off of an old pallet. A light sand job and to light coats of dark grey paint gave the impression of aged wood. Add hooks and hang. I love it!
All in all, I'm thrilled with our results from setting up a baby nursery. Perhaps I should go into interior design? One thing for sure though, I should NOT go into photography! I took photos at three different times of the day and still couldn't get good results. My walls are a butter-cream yellow and in these photos they look beige. Oh well 🙂
Here are a few more photos.
To the left, when you come into the room. The little stand beside my chair still needs a basket for the center shelf and I will put a lamp and few other things on the top and top shelf.
The wall to the right. On the right side of the changing table I plan on putting a clothes hamper. And on the shelves to the right I plan on placing two small baskets to hold diaper changing stuff. Mother is using the scraps from my bedding to make a pad for the top of my changing table as well.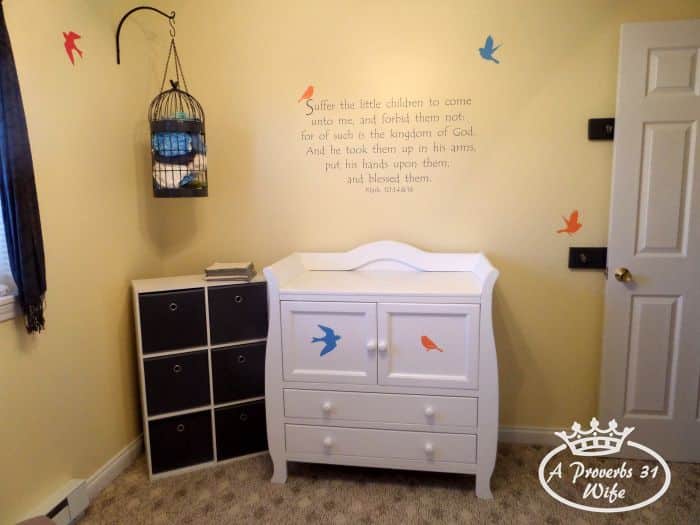 It is a small room, but I'm truly in love with our baby-room. I feel we made great use of the space and I'm so excited for the little one that's going to be sleeping in there!