Simple Menu for a Christmas Party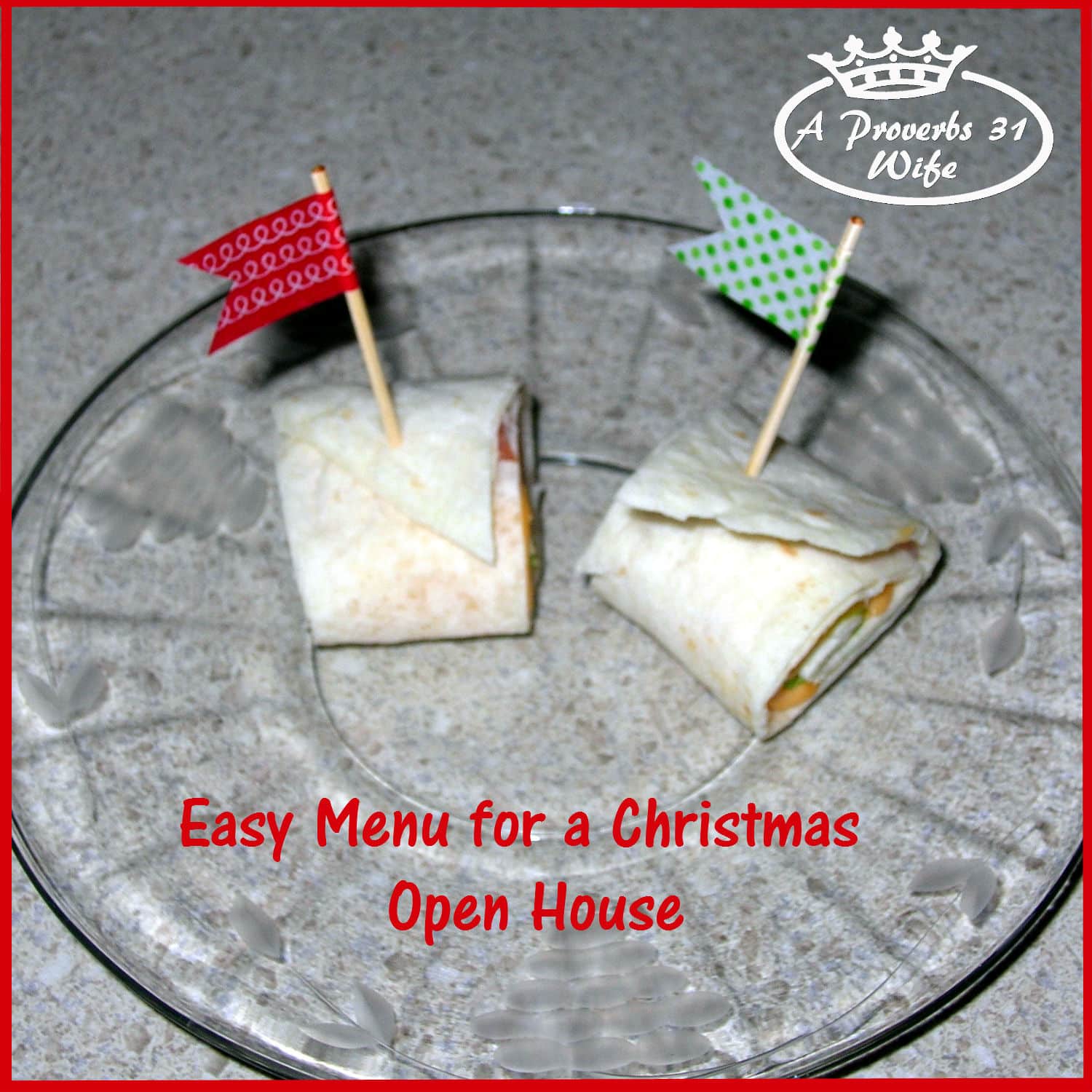 Last week I told you about the Christmas open house that we hosted for several of our friends. Today, I am sharing the menu for our Christmas Party. I'm sure you remember that I said it was kept simple. 🙂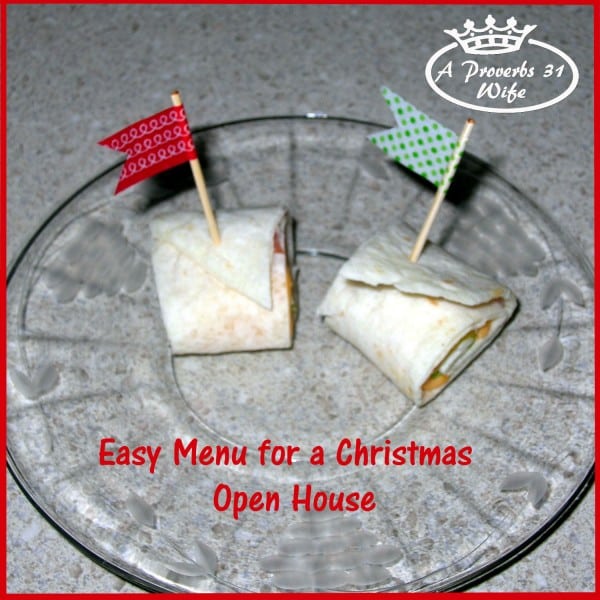 Simple Menu for a Christmas Party:
The main dish and the only "hot" dish was Cheddar Chowder soup.
This was very simple. We made the soup according to directions and then I put it in the crock pot on warm. It stayed nice and hot all evening.
Next we had a lettuce salad with little bowls of toppings our guests could add, and several different types of dressing.
We made little tortilla-lunch-meat wraps. Simply spread a little Mayo or Miracle Whip on a tortilla. Add four slices of ham, a slice of American cheese cut in half laying end to end, and a leaf or so of lettuce. Roll up tightly, poke with tooth picks to hold the wraps together and cut into smaller rolls.
Oh, and while you still have this photo in front of you. These tooth picks are simple toothpicks with washi tape wrapped around the top to make a flag. Super fun!
A cheese ball is always a must for holiday get-togethers. (At least I think so) Recipe for that coming tomorrow. Of course, I forgot to get a photo before every one had dug into it, but I guess I would say this is proof of it's yummy goodness!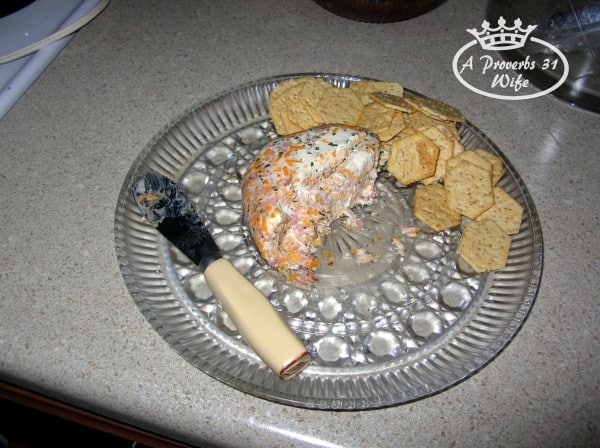 Fresh fruit is really easy to serve. Cut apples, bananas, and oranges. Roll the apples and bananas in the juice that is created by cutting the oranges. The citrus in the orange juice, keeps the apples and bananas looking nice all evening.
For deserts, I made bowl of chocolate pudding, and monster cookies. Seriously simple and yet they were big hits. The pudding disappeared and the cookies would've as well, but the term monster in their name also means monster batch! I will share a recipe for the cookies later.
The counters in our kitchen make a nice L shape. So I set up the food buffet style. The hot food first and then the rest after that. At the end I set up the drinks. I served, tea, hot chocolate, and coffee. For the tea and hot chocolate I had to keep a teapot on the stove. I need to get a carafe, you know, those cool little pitchers that keep your water or coffee hot.
I used paper plate, napkins and bowls that I had bought on clearance last year. I used regular silverware rather than plastic. After all, it's pretty easy to toss the silverware into the dishwasher and I knew I would have enough.
So there was my simple menu for a Christmas party. What are your favorite foods to serve at parties?