Simplify Your Bathroom Cleaning

Like the rest of our house, the bathroom is often quite dirty. However it looks nice and since we replaced the toilet seat, it smell nice. Today I thought I would share some tips to help you simplify your bathroom cleaning.
Just like with creating a welcoming home, and waking up to a clean house each morning, simplifying your bathroom cleaning just takes a few things every day.
I clean my bathroom 2-3 times a month. That's it. I'm a working (outside the home) mom and cleaning often comes last on the ever-present and growing list of things to-do.
I make my focus on keeping things tidy, and that's half the battle. By creating a couple daily habits, your bathroom will look great and you will simplify the actual task of cleaning by already having the clutter and unnecessary stuff out-of-the-way.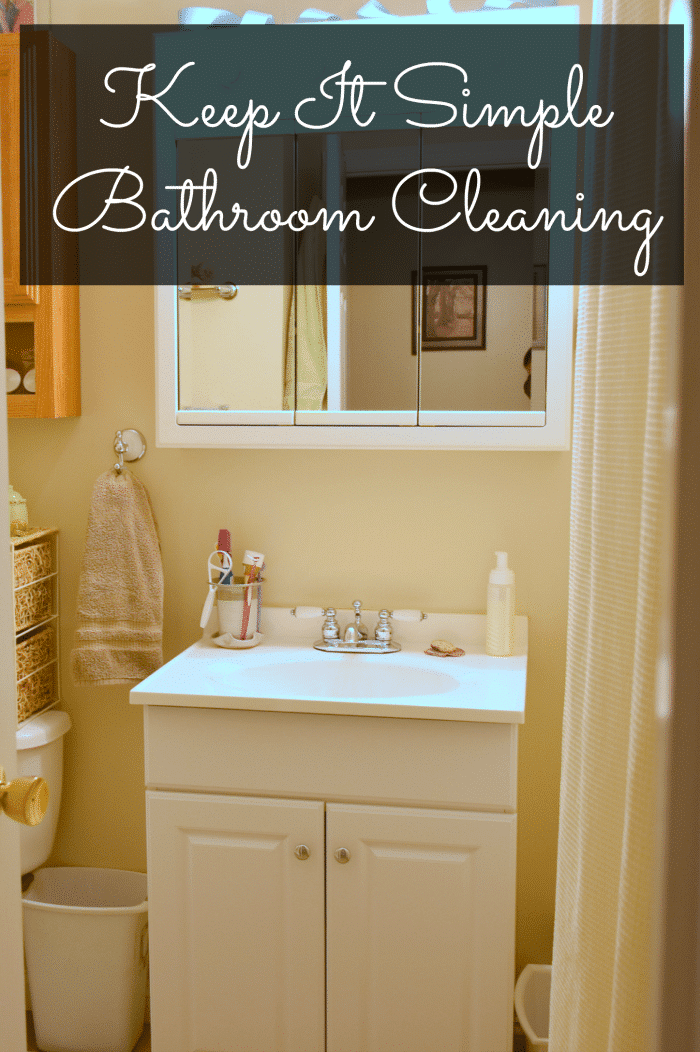 Simplify Your Bathroom Cleaning
Tip#1: Use a daily shower cleaner, I use a natural non-toxic cleaner from Melaleuca, but there are plenty others out there. Once I shower, I spray down the walls and plastic shower curtain with it. This cleaner helps prevent soap scum build-up and eliminates water spots.
Tip #2: Closing your shower curtain leaves the room looking nice and tidy. However, be sure to leave a 2″-4″ opening on one or both ends as it helps increase airflow to prevent mold.
Tip #3: Leave the bathroom with your clothes, don't leave them in a pile on the floor. If you have a hamper in the bathroom, make sure you place your clothes in it and not on top or on the floor. Piles of clothes collect dampness and makes the bathroom smell funky.
Tip #4: Keep the counter clear. Okay, I know this is easier said than done. But here are a few things can simplify this task.
Containers: think toothbrush holders, small plastic drawers, or mason jars. Store brushes, hair ties, bobby pins and more in these.
Proper places to hang things like straighteners, blow dryers and curling irons. Think inside a cupboard door, on the wall, or a basket on the counter to lay them in.
Stacks. If you need to store wash cloths or towels on the counter, a neatly folded stack will keep things looking nice and tidy.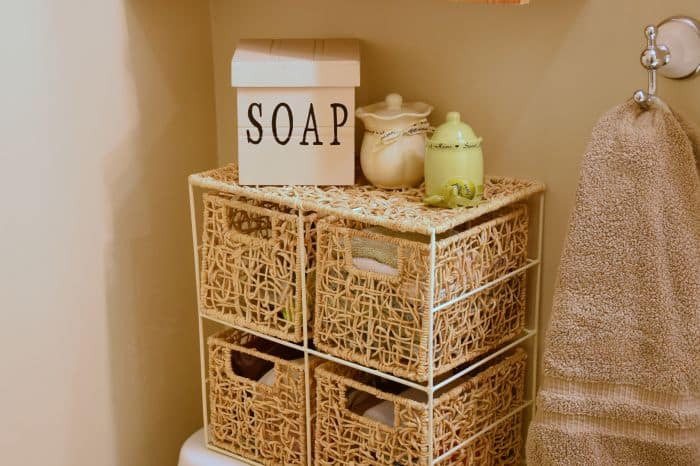 Tip #5: Rinse the sink. Seriously, just rinsing the sink makes a huge difference in how the entire bathroom looks. Especially if your sink is visible right from the door.
Disclaimer: I received the following product free and/or with monetary compensation in exchange for a fair and honest review. All thoughts and opinions are my own.
Tip #6: Store bath toys. Leaving the bath toys on the bottom of the tub, just looks messy and they are a pain to deal with when an adult wishes to bathe or shower. A simple net like the one below is perfect for this task.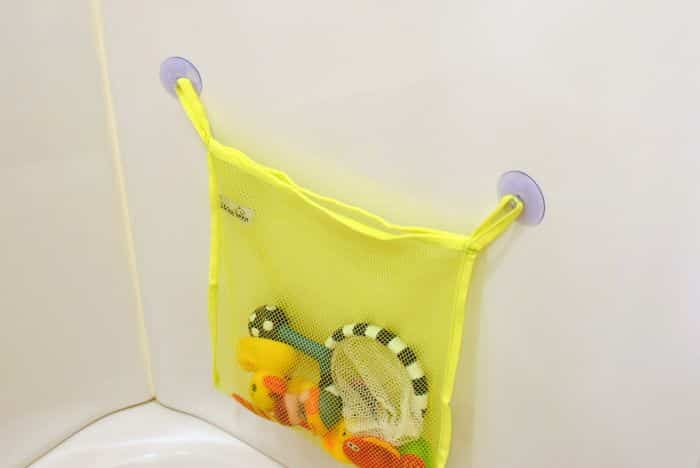 This mold resistant toy storage bag has two very strong suction cups that keep it attached to my shower, and if they didn't work, LilUnicorn also sends out two lever-action suction cups with their product which are especially great for textured tile.
We have a shower liner which is smooth and shiny. The cups attached to the toy net are more than strong enough. I pulled the net straight out hard enough to bow the liner out and the cups stayed attached. My son pulls down on the net to stand up and that doesn't budge the suction cups either.
I love that my son can enjoy bath toys, but I don't have to deal with drying them on towels or stepping over them. He can place them in the net when bath time is over and we're both happy!
Since I didn't need the lever-action hooks for the bath-toy net, I placed them inside my wooden cabinet to hold my cleaners.
How Do You Simplify Your Bathroom Cleaning?