Simply Made Sunday: Burlap Monogram
Welcome to Emily's Simply Made Series! Each post features a craft that looks cute or is practical but is easy enough for even the uncraftiest of people. Cute DIY things are NOT just for the pros! You can do it too!
Today, I will be sharing a project I have made a few times recently and thought you all may like for a simple yet meaningful personalized gift this holiday season!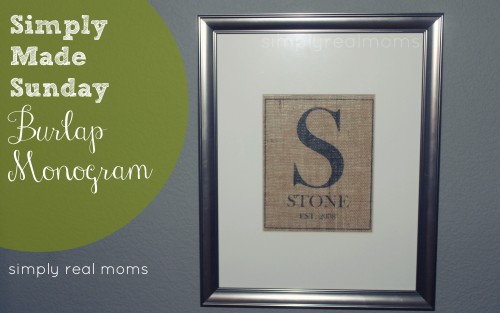 This cute framed burlap monogram looks great in any home, and will fit into every decor! It makes a perfect present for Christmas or even a wedding gift! You'll be shocked when I tell you just how simple it is, with basic skills!
First off, you'll need:
Burlap (1/4 is plenty)
Heat N Bond (Lite OR Ultra, doesn't matter for this project. Found in craft stores or at Walmart)
Scissors
InkJet Printer
Iron
Start by cutting your burlap to 8.5″ X 11″. To make sure you get an even cut, (which can be very hard with burlap) follow these simple instructions:
See the fibers on the end of your burlap?
Measure 8.5″, and pull the fiber that is at the 8.5″ mark. Pull the string all the way out.
Now, measure the 11″. Pull that fiber string too!
See the lines where I removed the fiber? Feel free to remove 2 or 3 fibers if it makes it easier to see.
Cut down the lines you have just created, and you will have an even cut!
After you have cut your burlap, cut your Heat N Bond to 8.5″ x 11″ as well. Iron it onto the burlap, shiny side towards the fabric.
Now, just follow the rest of the directions for
But when you print it out, don't remove the paper backing. Simply place it into the 8X10 frame of your choice (if you prefer 5X7, just print accordingly from your computer and cut to fit), and hang it up, or even better-wrap it up and give it to someone special!
We think imitation is the BEST form of flattery! If you make this or any of my Simply Made Sunday projects, come by and post a picture of it on our Facebook page! We want to see!