Simply Made: DIY No-Sew Curtains
Welcome to Emily's Simply Made Series! Each post features a craft that looks cute or is practical but is easy enough for even the uncraftiest of people. Cute DIY things are NOT just for the pros! You can do it too!
I have so so much fun decorating my house, you guys have no idea!
I picked colors, painted, found fun little trinkets for each room etc, but I could NOT find curtains for my living room/dining room area. Well, I could…but I didn't want to spend $150 per panel! yikes. There had to be a better way!

I looked at fabric, thinking I would sew my own, but I had an idea in my head and nothing was screaming "I BELONG ON YOUR WINDOWS!"
Then, I was at Target one day and found a Dwell Studios tablecloth for my table that I was all gaga over. It came in a long rectangle and a round (pictured)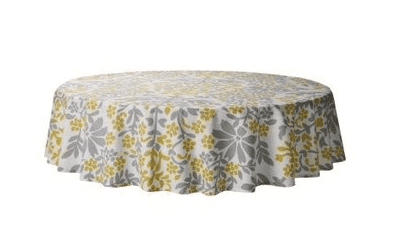 Isn't it gorgeous?! I wanna eat on this thing. It belonged on my table.
It was the perfect colors to go with my living room's palate, and it was cute and modern. YES! It's a start! Well, it was WAY too big to fit my tiny table and I was devastated. The pattern was perfect and I loved it too much to walk away.
Then it dawned on me…..
CURTAINS! These would look PERFECT on my windows! Each rectangular tablecloth was about the size of a curtain panel, and at $19.99 per tablecloth (and on clearance for $12), it could not be more perfect friends!
So I bought 4 Tablecloths, bought some curtain ring clips for $3.99 per pkg (found in the same aisle as curtain rods) and went on my way.
Here's the tutorial.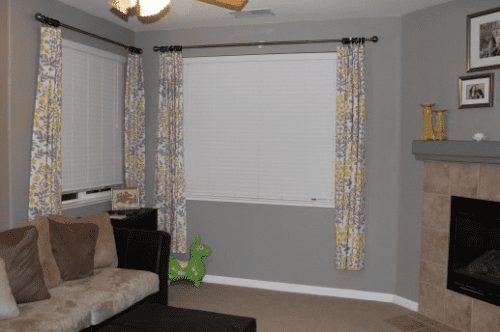 Are you ready?
1. Clip the rings onto the top of each tablecloth.
2. Hang Rings Onto Curtain Rod.

3. Done.
4. And Done.
If the tablecloths are too long for your taste, you can buy some Heat N Bond strips and Iron the bottom up to where you would like it, but I thought the length was even too short for my house, so I will eventually add a panel of white at the bottom. For now, I LOVE my curtains and get compliments all the time! People are always shocked when they hear that I have tablecloths up on my windows.
It was simple, which is needed when you're a busy mama! And pricewise, I spent $48 for the tablecloths and $16 for rings. So $64 for curtains for two big windows that look great? I'm much happier than I would have been with the $150 panels.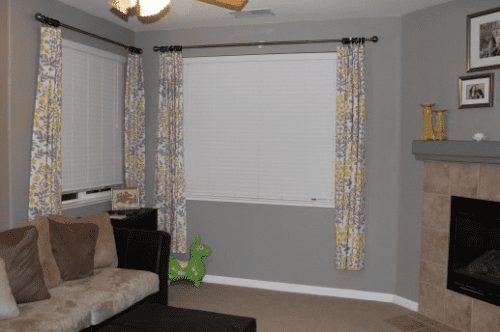 We think imitation is the BEST form of flattery! If you make this or any of my Simply Made Sunday projects, come by and post a picture of it on our Facebook page! We want to see!