Simply Made Sunday: DIY Silhouettes
Welcome to Emily's Simply Made Series! Each post features a craft that looks cute or is practical but is easy enough for even the uncraftiest of people. Cute DIY things are NOT just for the pros! You can do it too!
Today's project is a family of heads.
Ok, no…it's a family of Silhouettes.
A custom Silhouette can cost anwhere from $30 upwards to $150!! Which seems outrageous to me, when I spent…ZERO dollars.
Not everybody has all of the items needed just sitting around though. My best estimate for this project would be about $1.20 for the paper and photo printing for 3 silhouettes. The frame I have is an Ikea Ribba frame in black, and those cost $9.00.
Total estimate? $10.20
What you need (per 3 silhouettes):
1 sheet of black 12X12 scrapbook paper (or 2 of black construction paper)
2 sheets of white printer paper, each cut into 5X7 pieces
Photo paper
Pen
Scissors
Gluestick
Here's how:
Take pictures of each family member (about the same distance from the camera) from the side. This takes multiple shots to make sure you can get a good profile. I think we took 23 of Miles alone!
Print each one out on your printer. For a 5X7 frame, print out a 4X6 picture. If you don't want to buy photo paper, just print them at your local photo printer.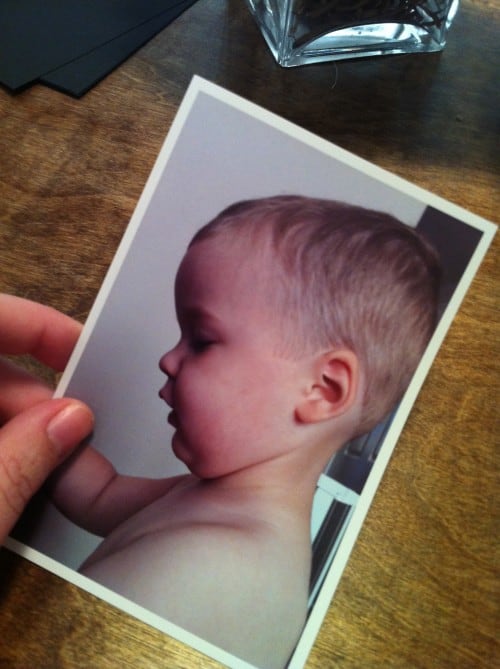 Cut out the profile, making sure to get each little bump & double chin cut precisely. Know that on your own silhouette, you are more than welcome to do a little nip-tuck with the scissors….
My printer cut off the backs of our heads, so I did have to compensate.
Next, trace the cut picture onto your black paper. Make sure that each is facing the same direction.
Now, cut out the profile on the black paper. Once again…make sure you get all those details!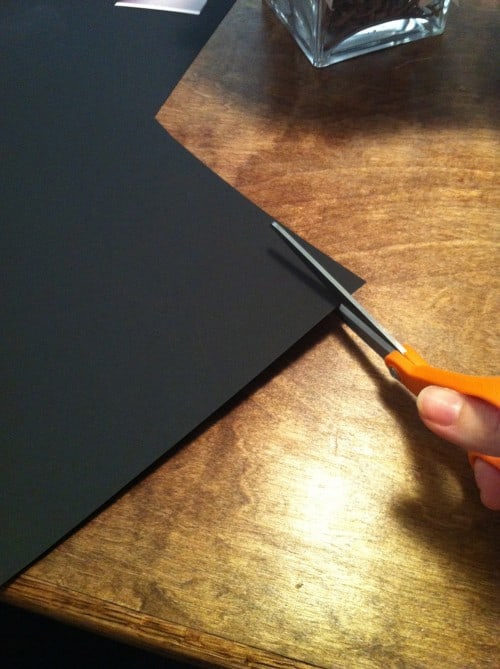 Smear glue all over the back of the silhouette (the side with the pen marks) and stick it onto your cut white paper.
Frame those bad boys up, and display where everyone can see your cute family of heads silhouettes!
Here's Hubby
I love how all my favorite features (his adam's apple esp.!!!) are there!
Here's Emily:
I had to add the bun since my hair was cut off in the picture.
And Bebe:
Don't you love that double chin?!?!?
A few ways you can do it differently:
When you first cut out the pictures, you can turn them over and either paint them black or color in with a black sharpie, rather than have to cut again
Frame each in an oval frame! Makes them look vintage…
We used ours in our hallway gallery wall, and it gets a lot of compliments! Easy to make, sure to impress.

Questions?? Leave me a comment!
We think imitation is the BEST form of flattery! If you make this or any of my Simply Made Sunday projects, come by and post a picture of it on our Facebook page! We want to see!