Simply Made Sunday: Fabric Book Slings
Welcome to Emily's Simply Made Series! Each post features a craft that looks cute or is practical but is easy enough for even the uncraftiest of people. Cute DIY things are NOT just for the pros! You can do it too!
Usually, Simply Made Sunday is an easy project anyone could make at any skill level, but this week I couldn't help but share this awesome sewing project I made from Pinterest inspiration!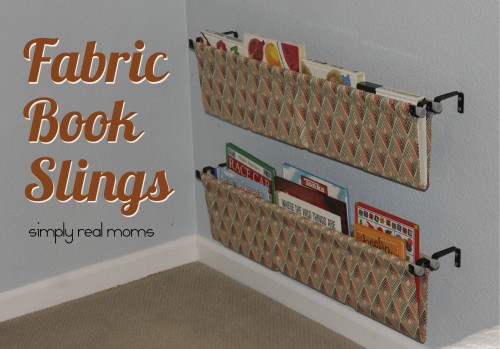 I wanted to share one of my pins from my "Miles's Room" pinboard that I loved and wanted to make:
 picture from Apartment Therapy
Here's the problem-when I clicked on the link, it just led me on a long journey to actually find the original tutorial! The link on my pinboard was just to a picture! So I am here to share with you all the ACTUAL link and to show you the book slings that I made from that pinspiration.
Here is the original link for the tutorial I found at Penny Carnival, which also links to the picture above that I loved so much!
So Cute! What a great idea to add some colorful custom designs into your kids' rooms or playroom! We featured these bookslings in our Modern Child's Bedroom Article.
Here's ours:
Now. This may be a sewing project, but it was very simple folks! A great starter project. Both slings took an hour *tops* to sew! Hanging them was a breeze (we found our hardware for cheap at ikea), and rather than hanging them into a stud, we used heavy duty anchors so that we could have the placement we wanted.
Happy Crafting!
 We think imitation is the BEST form of flattery! If you make this or any of my Simply Made Sunday projects, come by and post a picture of it on our Facebook page! We want to see!