Simply Made Sunday: Fabric Letters Holiday Wall Art
Welcome to Emily's Simply Made Series! Each post features a craft that looks cute or is practical but is easy enough for even the uncraftiest of people. Cute DIY things are NOT just for the pros! You can do it too!
Christmas is coming folks! Are you ready?
What about your decorations? Need a little something extra to give your home a little extra Christmas cheer without taking the cheer out of your wallet? How about a decoration that only costs Under $10?!
This fun Holiday decor is simple to make, and looks great because it's so customizeable! I have gotten many compliments on it too!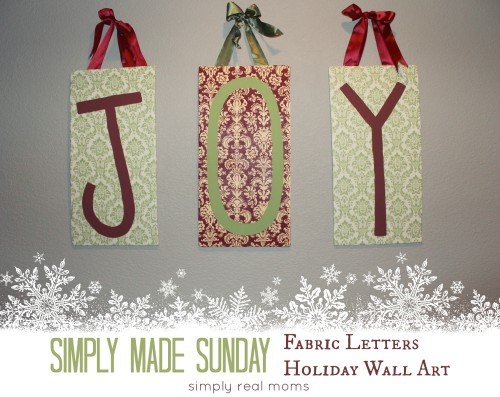 You'll need:
1 sheet of Foam Board ($2.99 in the posterboard aisle)
3/4 yard of green fabric ($2.45 on sale!)
3/8 yard of red fabric ($2.10 on sale!)
Red Paint (I used acrylic paint that I had at home, but that'll run about $1 each)
Green Paint
Red Ribbon
Green Ribbon
Mod Podge
Scissors
Hot Glue Gun
First, Cut your foamboard into three equal parts, and cut your green fabric in half.
Paint the front of one of your pieces of foamboard with a coat of Mod Podge,
and lay it down, Mod Podge side down onto the center back of one of your pieces of fabric (make sure that if there's a pattern, you try to line it up straight). Turn it over and smooth it out, getting rid of any bubbles and wrinkles.
Next, Paint the back of your piece of foamboard.
Bring up each of the corners and press them down onto the Mod Podge.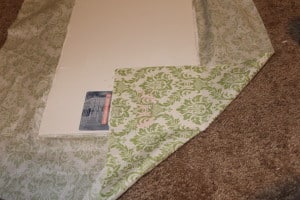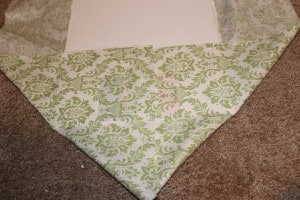 Paint another layer of Mod Podge over the fabric corners.
Bring up the bottom/top pieces of the fabric and press down.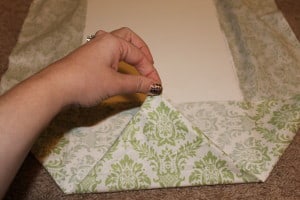 Bring up the two sides of the fabric and press down. Paint another layer of Mod Podge over the entire back to realy seal it in.
Repeat this with the other two pieces of foamboard and fabric.
Once the Mod Podge has dried (a few hours or overnight) Paint the front of each fabric covered foamboard with a layer of Mod Podge, and let dry completely. You need the Mod Podge on the front of the fabric so that when it dries you have a nice hard surface to paint on. Otherwise, it soaks into the fabric and the lines just aren't as clean.
Take your red paint, and paint a "J" and a "Y" onto the green fabrics, and paint an "O" onto the red fabric with the green paint. You will need a few coats of color.
Once you have the desired amount of coats you would like, let it dry.
Cut 24 inches worth of ribbon from your green ribbon, and 2 lengths of 24 inches from the red ribbon.
You can either hot glue each end of a piece of ribbon to the top two corners of each foamboard, making sure to twist the ribbon once for easy hanging
OR
You can tie a pretty bow (make sure to add some length when you cut each piece of ribbon to make a nice big bow. I did about 50 inches) at the ends of your ribbon, then cut the remaining ribbon piece in half. Hot glue each of those ends to either top corner of your foamboard.
Hang it up and admire your job well done!
These babies are big, too! Almost 2 feet high! A great way to take up some wall space. Feel free to make them smaller if you like, or use different words, like "Peace", "Merry", "Bright", "Cheer" or ANYTHING that reminds you of Christmas!
Happy Crafting!!
We think imitation is the BEST form of flattery! If you make this or any of my Simply Made Sunday projects, come by and post a picture of it on our Facebook page! We want to see!