Simply Made Sunday: Simple Felt Board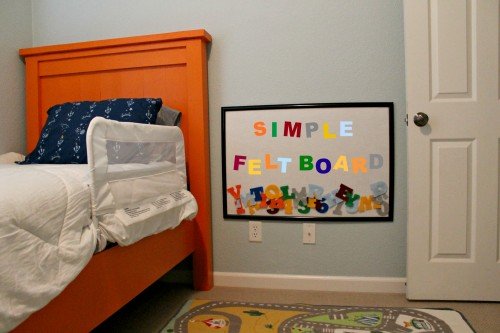 Welcome to Emily's Simply Made Series! Each post features a craft that looks cute or is practical, but is easy enough for even the least craftiest of us. Cute DIY things are NOT just for the pros! You can do it, too!

Hey guys! This week's Simply Made Craft is a craft-store aisle inspiration. I've been trying to find something to go on Miles's wall next to his bed (check out how my amazing husband made that cute bed

HERE

) because the big blank space was bothering me. As I was cruising the fabric aisles to look for some fabric for our master bedroom, I passed the felt. Then I passed it again, and thought about it. Then I thought some more. Then it hit me. Miles LOVES to play with letters and numbers, so why not make a felt board?! He can play around with being creative in his own room without me worrying about paint, chalk, or anything being ruined!

Did you know that felt sticks to felt?! It's perfect for a toddler's room (or a playroom)!

It was WAY too simple to make, and it didn't cost very much, either!

What you need:

• A poster frame with plastic "glass" (get a cheap one at Walmart, I had an old one we weren't using the print from anymore).

• Felt:  One yard of a background color, enough to cover your frame twice (mine was 72 inches wide off the bolt at the fabric store/$4.99 per yard).

• One or two small squares of each color you want (available in the kids' crafting area for about $0.29 per square).

• Adhesive: glue, Mod Podge or spray adhesive. I used Mod Podge.

• Scissors

• Letters printed from your computer and cut out as stencils

Any size frame you want is fine, too! Make it big or small.

You can buy bulk felt letters and numbers from teacher-supply stores pretty cheap, if you want to save a TON of cutting time. In that case, just buy the background felt, and skip the extra felt and printing the letters.

First, take the paper backing out of the poster frame. Next, lay the background felt out flat on the ground, and lay your "glass" on top of half of it. Cover the top of your "glass" with adhesive (if using glue or Mod Podge, smooth it out), then fold the felt down over it.

Smooth out any wrinkles or bubbles

Flip it over, pull the un-glued felt back and reapeat the adhesive step on the back of your "glass." Having it front and back really keeps it secure.

Let your felt covered "glass" dry flat.

Once dry, cut the excess felt off.

Place your felt-covered "glass" into your frame, then replace the back of the poster frame to secure it. This may be a little tricky since you've added to the size, but it will work!

Now, hang it on the wall and you're almost finished!

Trace out your letter stencils (I used the font "Rockwell Bold" because it was nice and thick) onto your remaining felt and cut them out. Like I mentioned before, it might be an easier option to buy the felt letters at your local or an online teacher supply store—you get a TON for a low price. I'm just showing you how to DIY! I like choosing my own fonts, and you can even make fun, custom shapes too.

Give all the shapes and letters to your little one and let them go nuts! We love to play games with it. I'll place a letter up, and Miles has to tell me what it is. OR I tell him what letter to put up and he needs to find it. We change it up for color, too. A great, fun way to learn for your little one, and a way to get creative with no mess!

Happy Crafting!

Did you make this craft? We think imitation is the best form of flattery, and we would be flattered if you come by and post a picture of YOUR sign on our

Facebook

 wall!