Simply Made Sunday: Toilet Paper Roll Art
Welcome to Emily's Simply Made Series! Each post features a craft that looks cute or is practical but is easy enough for even the uncraftiest of people. Cute DIY things are NOT just for the pros! You can do it too!
Yes, you read that correctly. Today, we will be crafting with TOILET PAPER ROLLS!!!
I can hear all of your thoughts right now …
"What are we, in Kindergarten?"
"I am NOT about to put that crap (pun intended) on my walls!"
No, really. Bear with me. By the end of this post, I will have your complete trust in my toilet paper roll dreams.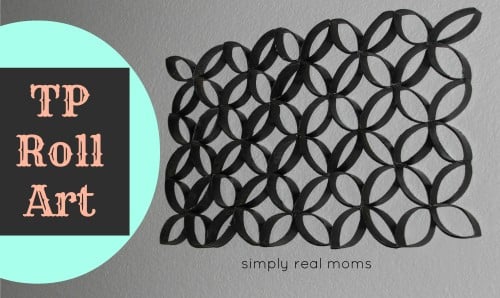 I have seen these all over the place, and really? I want to make them all.
But for me, I wanted a simple design. This project is a bit more time consuming than some, but a few nap times was time enough to finish.
You will need:
Toilet paper rolls (duh!). How many? Doesn't matter. At least 10. You can also use paper towel rolls.
Scissors
Hot glue gun/sticks (don't have one? Mine is a simple one I got for $3 at JoAnn because I don't hot glue too much.)
Spray paint in the color of your decor choice. I am using Rustoleum's Metallic paint in Dark Bronze.
Clothespins or similar clips.
Rubber Gloves (optional, but HIGHLY recommended. Trust.)
First. Flatten your rolls, then cut into 6 equal strips.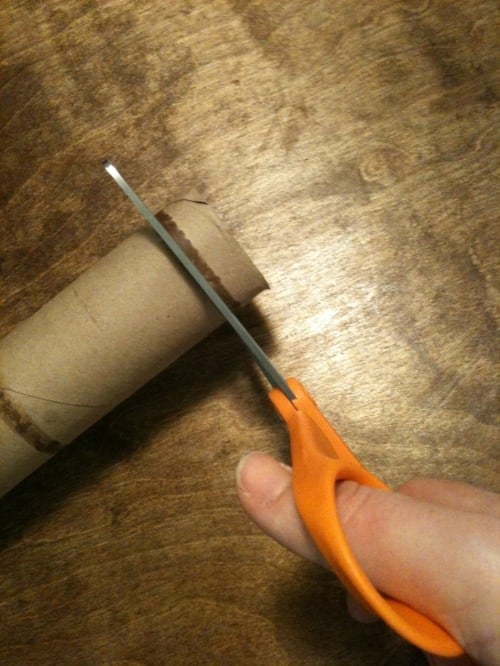 If you have paper towel rolls, cut strips the same size as your TP roll strips, or about 1″ wide.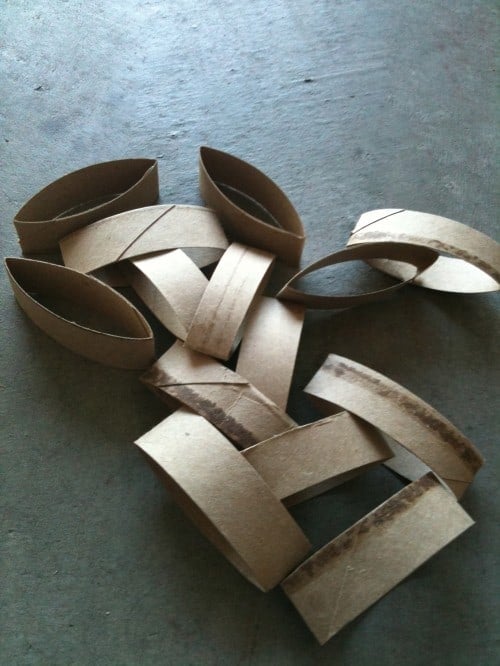 Now, lay out TONS of newspaper in your garage (or set out a cardboard box). Here's where the gloves come in handy.
These are great. Take a pair (or six or seven) the next time you're at the doctor. Heck, you pay that guy enough. The least he can give you is a pair of gloves with your uncomfortable exam, right? OR you can pick up a box at the hardware store. I suggest the latter because I don't condone stealing … ahem.
ANYWAY.
You can lay out all of the TP strips on the newspaper and just spray away, but I tried that. Those suckers flew all over the garage. So. My suggestion is to hold them in your hand and spray. You can line a few up on your fingers, but I did one at a time and it wasn't terribly time consuming. Plus, this can be your "me time"!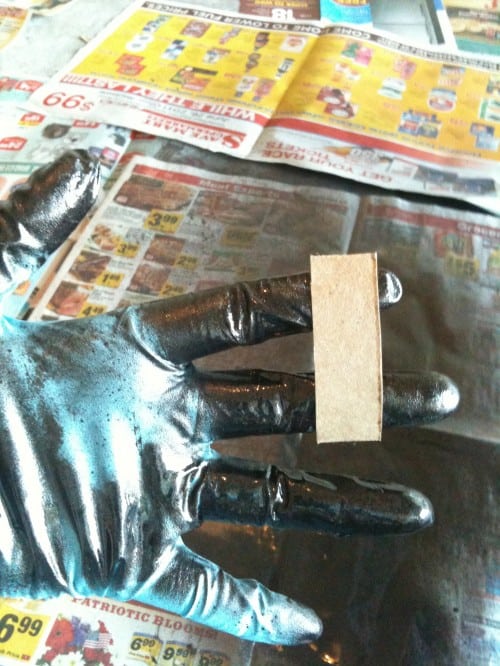 Spray it inside and out. Lay it on the paper so the flat side doesn't sit on the paper.
Let it dry for an hour (or heck, 15 hours, because let's be honest, we moms are not on anyone's schedule but our own) and re-spray. This second coat can be a mass spraying over the whole group of strips. Let them dry 24 hours (or so).
Once dry, start hot gluing the corners of two of the little "petals" together.
Then glue two more to it, creating an "X" with the four petals. Secure with clothespins on each touching side.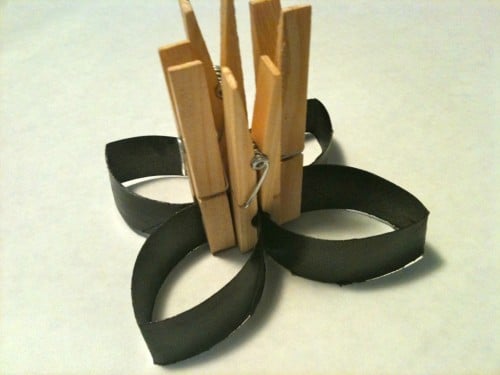 Once you have all of your petals grouped into pods of four, you'll want to start gluing the pods together, once again securing with clothespins as you go (If you don't have enough clothespins, wait until the pods are all dry, then move on to this step).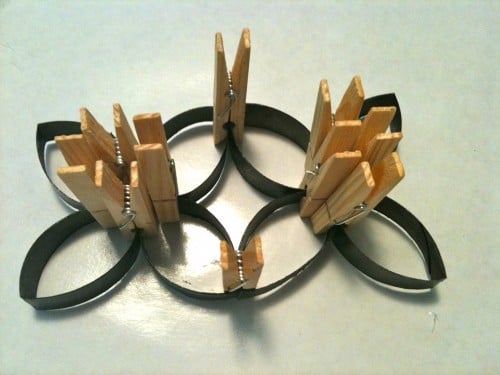 Keep gluing the pods together in a pattern you like. I did three pods tall, four pods long.
Admire your clothespin forest …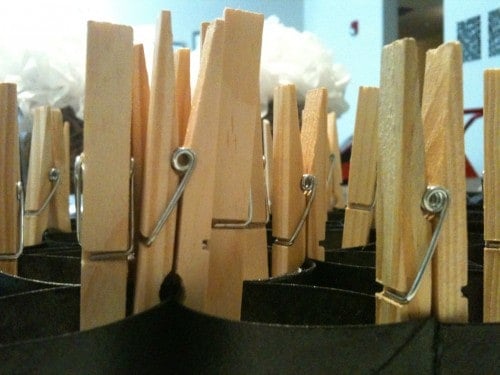 Once the glue is dry (an hour or so) it is ready to display!!! Take off those clothespins and hang that baby up! Impress (or gross out) your friends when you tell them how you made your new piece of art.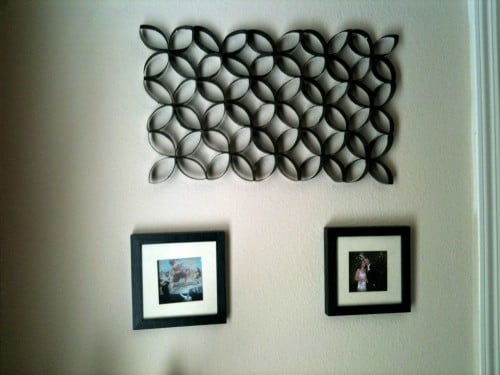 Cute, right?!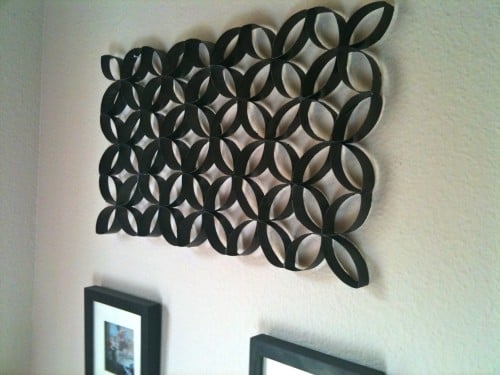 If you have any questions, leave me a comment.
We think imitation is the BEST form of flattery! If you make this or any of my Simply Made Sunday projects, come by and post a picture of it on our Facebook page! We want to see!