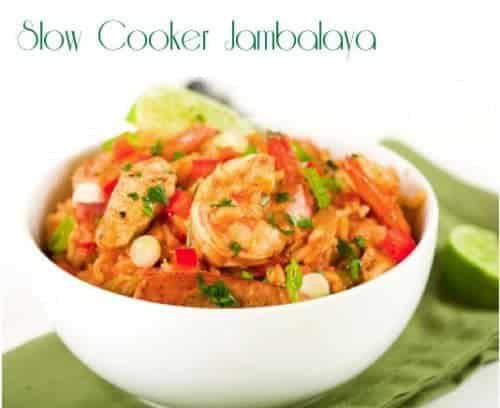 I have always wanted to visit New Orleans. My friends and family who have visited rave about the foods — the flavors are indescribable. Until I can get there, I will have to attempt my best to make it. Lately I have been trying to use my crockpot more and what better way to use it than to make some good ol fashioned Jambalaya.
Here is an incredibly easy recipe for Jambalya. All the flavors slow cooked really make this a dish you will come back to time and time again.
Ingredients:
1 1/2 lbs boneless, skinless chicken thighs, cut into 1-inch cubes
1 pound smoked sausage, sliced
1 large onion, chopped
1 large green bell pepper, seeded and chopped
1 cup chopped celery
1 (28 oz.) can diced tomatoes with juice
3 cloves garlic, chopped
2 cups chicken broth
1 tablespoon Cajun seasoning
1 teaspoon dried thyme
1 teaspoon dried oregano
1 pound extra large cooked shrimp, without tails
1 3/4 cups long-grain rice
2 teaspoons parsley
1 teaspoon salt
Directions:
Combine chicken, sausage, onion, green pepper, celery, tomatoes, garlic, chicken broth, spice mix, thyme and oregano in a large (5-quart) slow cooker. Cook on low for eight hours or high for five hours.
Towards last half hour, cook rice.
Add shrimp and rice; raise heat to high and cook for 30 minutes more. Sprinkle with chopped parsley, if desired.