Small Space Garden Ideas ~Making the Most of Your Space
Living on a small lot, means having a small garden. While I would love to have a huge garden and grow everything we need, I am super thankful for the ability to have even a small garden.
Today I'm talking about how to make the most of a small garden.
Small Space Garden Ideas:
Our garden measures approx. 20′ by 10′ and one end of it is under a walnut tree. 🙁 Walnut trees drip a type of toxic (to plants) sap and the roots are also toxic. So we are very limited in what we can grow under there.
In a small garden it's best to consider which plants take up the least amount of room. Corn, and most types of squash take up a lot of space so we do not plant them. We do plant cucumbers on the chain length fence with decent results though.
Below is a list of the plants we tend to grow in our garden.
Tomatoes
Peppers
Cabbage
Green Beans
Peas
Summer squash
Salad Greens
Onions
Turnips
Radishes
And here are some other things we grow, but not in the garden:
Herbs
Strawberries
Raspberries
Potatoes
These small space garden ideas are simply things that work for us.
For instance: Because I cook lots of ethnic Mexican and Italian, we go through more tomatoes that you could imagine.  So the best part of our garden is dedicated to growing tomatoes. We cannot really rotate because they will only grow well in one spot. That means we are left with making sure the soil always has the proper nutrients for tomatoes.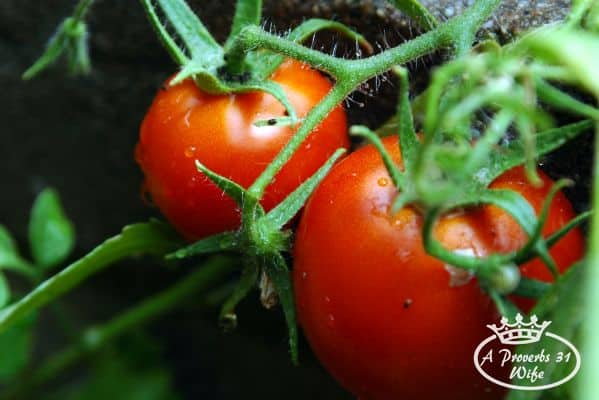 Peppers are next. Neither Jason or I really like raw pepper, but we put them in all sorts of dishes. So I try to grow plenty of peppers and freeze them for the winter. As well, we use lots of peppers in our canned salsa.
Green beans. It would actually take up the remainder of our garden to grow enough green beans to get us through the winter. However we still wanted other stuff so we plant a small amount of green beans, put up the extra and then buy through a farmer's market to get the rest that we need.
Cabbage. We love sauerkraut so I like to have 5-6 cabbage plants. We don't grow anymore than that because I haven't figured out a way to preserve sauerkraut besides storing in the fridge.  Canning it destroys the natural enzymes, and freezing takes away from the texture.
Peas. Last year I planted two short rows of peas. One row of sugar peas and another row of snap peas. Each row produced enough for one meal.  It's not very profitable to grow peas to put up, so we grow just enough to eat on and share with the neighbors in the spring.  Once they quit blooming I turn the plants under the soil and plant the summer squash there.
Summer squash. Zucchini and the Yellow kind are what we like. They grow quickly and produce a lot. We do have to be proactive with bug control or a worm will eat into the main stem and suck the life out. 2-3 plants of each are plenty. There is no real good way to preserve them, so we eat them as they are ready.
Salad greens, radishes, and onions all grow in the same area. I don't make rows of them but rather large patches 2 ft square. It seems to be the best use of space.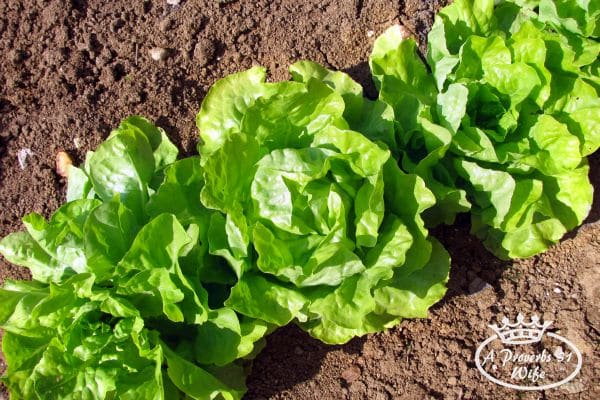 Turnips are planted late summer where the salad greens were.
I wanted a warm sunny spot for our strawberries so I actually turned a flower bed up next to our house into a a strawberry patch.  Right up next to a brick wall on the south side of our house is the perfect spot for strawberries. Again, it's a small space so I usually don't get any to freeze, we tend to eat them all.
I turned one side of our shed into a spot for my raspberries as you can see here. We do get some to freeze because of their long bloom time and the fact that they produce lots.
Potatoes get planted in large pots that we hide behind the shed. Since even organic potatoes aren't horribly expensive around here we generally just plant enough for a couple months.  Russets are our favorites.
Herbs…. I generally grow cilantro and basil and both of them get stuck in a flower bed. E In one corner of our lot it is really hard to mow and I have a clump of mint growing there. Since mint is very aggressive we keep it under control by mowing where we can and leaving the rest.
Someday we will have a couple of acres, and when that happens, the garden will be amazing. But until then, we have a small garden and we make it work for us.
Other ideas that I have seen include verical gardening, but we have decided against that for now because you would almost need a watering system, just to keep the plants from drying up in heat of summer.   More gardening ideas can be found on my Pinterest board.
Hopefully my small space garden ideas can help you decide how to make your small garden work for you!