Speak No Evil ~Why do We Tear Each Other Down?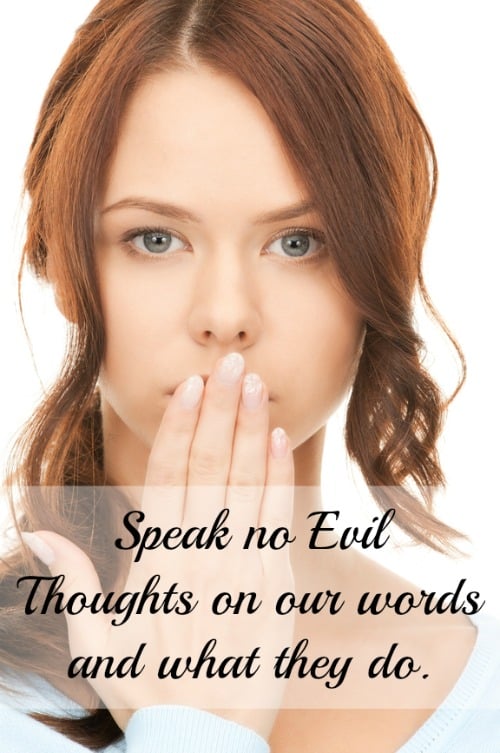 Why is it that we as a culture and especially us women tear each other down? It's like this huge contest of who is right and who is wrong. No more do we "prefer one another" it's every man for himself; in thoughts, words, and actions.
I want to challenge myself and you readers to "speak no evil".
Remember the 3 monkeys? The ones that say "Hear no evil" "See no evil" and "Speak no evil"?  In this day and age, evil is all around us. We cannot even drive on interstate without seeing some form of evil, think billboards for instance. It is equally hard to hear no evil, just a trip to the grocery store can expose you to cursing and foul words from other shoppers.
But, you CAN speak no evil. The seeing and hearing happens; yes, you can look away and choose not to listen but it's still there. However, NO ONE makes you speak. You alone are in charge of what comes out of your mouth.
Something I've noticed among women, and I'm not exempt from this, is the tendency to look down on those who don't believe quite like we do.  This feeling of superiority that we feel over others and it comes out in our words.  Sure, we don't say it to their faces, but later it comes out like "I really cannot believe she did that", "they need to control their kids better, that one child was out of control"… and on it goes.
I am so guilty of this. I get caught up in the gossip train and before I know it, I'm "speaking evil".  We do not always know the situation behind circumstances and jumping to conclusions is just plain wrong.
I want so badly to be the one who has only positive an encouraging things to say about others. I want to pass that on to my children. Talking or gossiping about those around us is not Christ like at all.
Whatever happened to esteeming others higher than ourselves? Can I remind myself that in God's eyes we are all the same the next time I am tempted to speak evil of another person? Can I remember that I do not know the whole story and keep from passing judgement on them?
I remember my mother saying "if you don't have anything nice to say, keep your mouth shut!" and there is quite a bit of truth to that. Whether I'm talking about my husband, my family, my friends, the people I work for or the random person on the street, I truly want to speak no evil.
If my words are not positive, if they are not kind, if they have an attitude of pride behind them, they should not come out of my mouth. And the attitude of pride could very well be the driving force behind my words. So maybe it's time to work on my attitude as well.
Will you join me? Will you stand up with me and with God's help speak no evil?