Spending Quality Time While Doing the Ordinary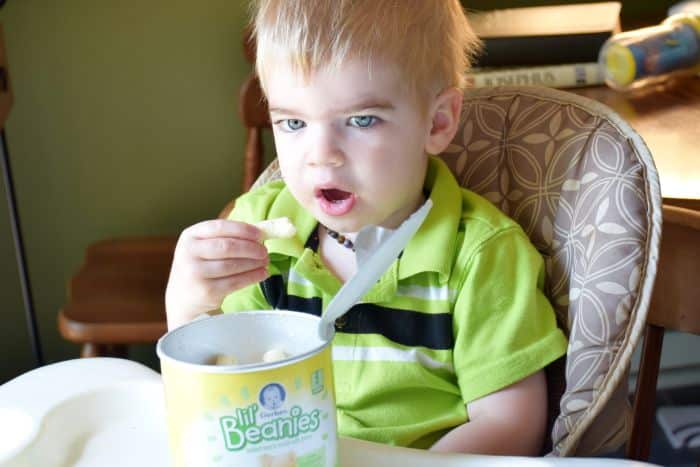 Spending quality time with each of my babies is important. But it's often hard. And I only have 2 kids. Malachi is easy enough, he needs my constant care so he gets lots of "mommy time", but it's a little harder with the toddler.
Problem is, I cannot always do anything special with just my toddler. We read books, but baby is taking most of the attention. We take walks, but baby faces mommy, and toddler faces forward.
I know Kolton misses his "Kolton/Mommy time" and he turns whiney and needy as a result. I've been trying to find ways to spend time with just him when baby doesn't need me and like most problems, the solution was staring me right in the face.
Spending Quality Time with My Toddler
Grocery trips with kids in tow, isn't my idea of fun so I typically wait for a night that Jason gets home at a decent time and I leave him with the boys while I enjoy a leisurely stroll through the grocery store.
However, I was assigned a sponsored post for Gerber and part of it included my going to Kroger to find and buy Gerber's new "lil' beanies" toddler snacks. This was for Kolton so I decided to bring him with me.
It was SO much FUN! Made me think of the Little Critters book "Just My Mommy and Me".
I put him in the cart, and he held my list for me, helped me decide which dog treats to buy for Ted, passed groceries to the back of the cart, and pulled things off the shelf at my command.
Honestly, it was a lot of fun! He's at an age where he can actually be helpful, and without the baby along, I had the ability to give him the attention he needs while still accomplishing what needed done.
Since the lil' beanies were for him, I let him hang onto them and he tried his best to open them right there in the store. To be honest, if I had given him just a few more minutes, he would've had them open!
This child of mine isn't a fan of broccoli, but after seeing him eat the broccoli lil' beanies with gusto, I'm guessing it's the texture of broccoli that he didn't like.
A bit of information on Lil' Beanies. 
Made from Navy beans, these snacks contain 2 grams of protein and 1 gram of fiber per serving. Best of all this is a snack free of genetically engineered ingredients which is something we try very hard to avoid eating.
Since my son needs to eat wheat free, snack times are a bit of a challenge. Especially since he is a late teether and just got all his 1yr molars in at 22 months. I love that the Gerber Lil' Beanies are easy for him to eat.
I'm also guessing that they are very filling. He eats a regular serving size of them and is satisfied. Naturally, that makes me pretty happy too!
Besides chocolate (don't judge! lol) his new favorite snack is "mop-morn". And with a texture similar to popped corn, it's not a surprise that's what he calls them.
Our little trip to Kroger was a good lesson for me. Spending quality time with my toddler doesn't require us doing something special together. It just requires us doing something, even the ordinary together.
How do you spend quality time with your kids? (and have you tried the Lil' Beanies yet?)