7 Ways to Spice Things up and Light the Flames this Holiday Season +linkup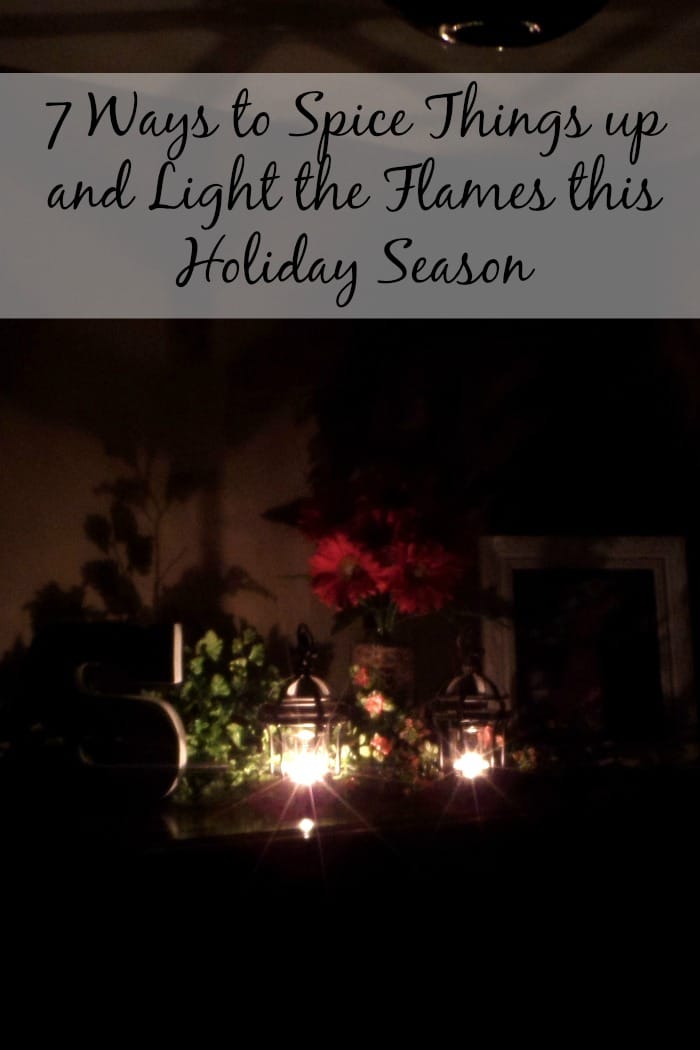 This post: 7 Ways to Spice Things up and Light the Flames this Holiday Season has been compensated by Collective Bias, Inc. and its advertiser. All opinions are mine alone.  #CollectiveBias #Yoursand#YoursandMine

Why is it that our marriages seem to get put last? I'm just as guilty of this as anyone, especially with a new baby. Our evenings revolve around caring for him, and keeping him happy and content. Once he's in bed, we then try to do everything that we couldn't earlier. Everything that is, but connect with each other and nurture our marriage.
But: just because we have a baby, and are busier than ever with the holidays coming up; we no have excuse to neglect our marriage. Jason deserves a good marriage, I deserve a good marriage, and the only way that's going to happen, is if we work on it.
7 Ways to Spice Things up and Light the Flames this Holiday Season:
#1 Stay Connected
Intimacy is more than just sexual, it is also emotional. Take the time to leave a little note, give him a kiss when you pass, talk about more than your holiday plans (or baby). Remember to have fun together. Keep (or create) your inside jokes alive and going.
Jason and I have this thing where I will ask him for his man card, right before I ask him to hold my purse while I use a public restroom. He will reach in his pocket and hand me nothing. 🙂 After I return and retrieve my purse, I hand nothing back to him.  People give us some pretty odd looks, but it's funny all the same!
I will often ask for his "man card" right before asking him to do something he don't like doing, as well.  It's just our way of bringing a bit of fun to the mundane.
#2 Create a Safe Place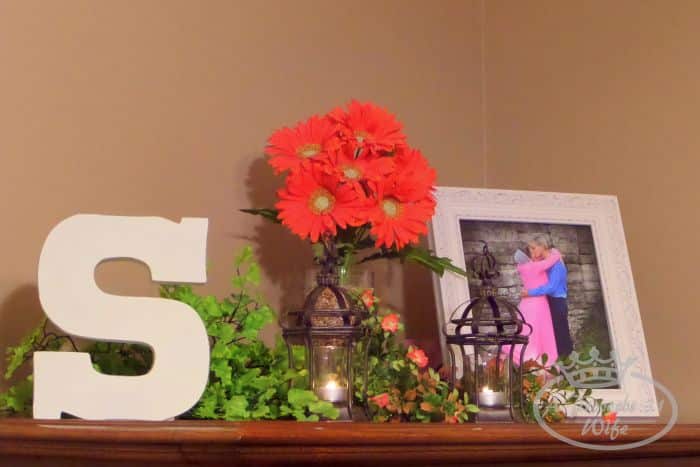 In a small home it's far too easy to use the bedroom for storage, or to let the laundry pile up in the corner. I try to keep our bedroom pleasing and inviting. There may be piles of laundry in the laundry room or office area, but our bedroom is mostly clean. I also try to keep things from piling up on the dresser.
Let your bedroom be a sanctuary, a retreat from the craziness of life.
#3 Clean Sheets
I know there are people who are absolutely amazing at getting laundry done and bedding washed. If so, You Rock!
For the rest of us… 🙂  Clean sheets feel amazing, we all love to snuggle down into soft clean smelling sheets. Just like having a clean room, helps make it a safe place; clean sheets can help make the bed an inviting place, especially if the one you love is waiting there for you.
#4 Plan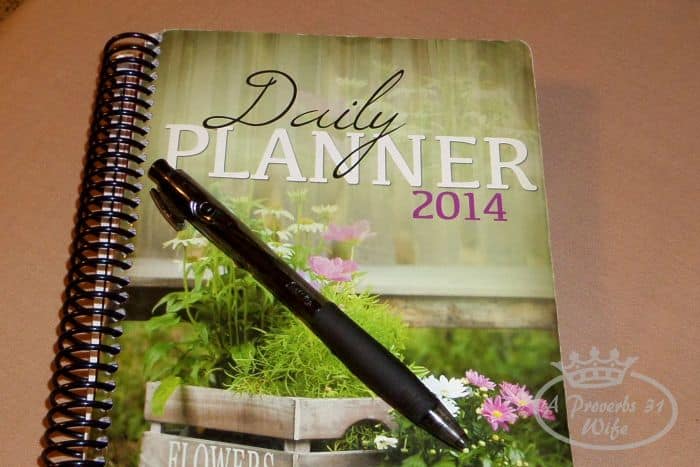 Okay, I will admit that planning intimacy sounds like, well the most unromantic thing ever.
Seriously, in my mind it ranks right up there with trying for a baby, and yet….   At our particular time in life and especially around the holidays, we have to plan everything. So if our marriage is important, we need to plan for it and make time for each other.
#5 Light the Flames (literally)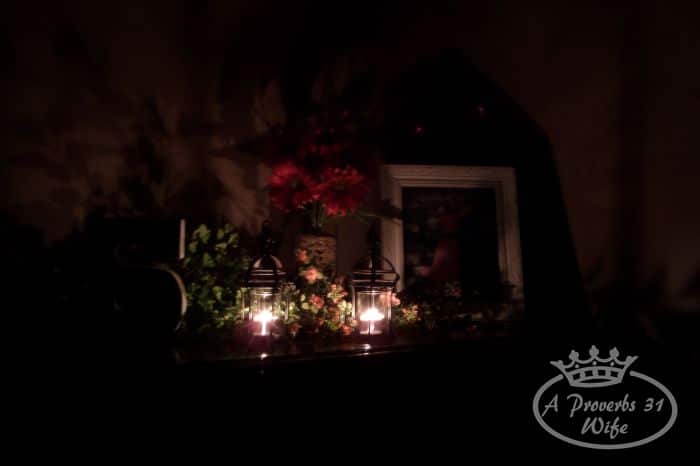 If you feel like planning takes out the romance, try lighting a few candles. Tea lights are perfect, and in the little lanterns I keep on the dresser, they are also very safe. The flickering flames add a touch of romance and intimacy to the room.
#6 Excite the Senses
Essential oils… Ah yes, you had to know I would mention them right? 🙂
There are a handful of essential oils that are sensual and work with the senses to bring you close to your spouse.  Ylang Ylang, Rose, Jasmine, Sandalwood, and Patchouli, have all been used for their sensual, and relaxing properties.  We like to both diffuse and wear different essential oils like this.
#7 Try Something New and Different
Sometimes just adding a little something different to your routine can really spice things up.  When Jason and I were married, someone bought KY®  Yours+Mine for us and gave it to us as we were leaving on our honeymoon. We used it, but had never bought anymore.
When I was considering writing this post, I mentioned to Jason that it could be a bit awkward to make such an intimate purchase in a public setting. His response cracked me up. He said "hun, don't you know? You can buy anything, as long as you buy a birthday card with it"!  I totally lost it!
Now… I didn't buy a birthday card, but I did visit our local Walmart at 7am and didn't see a single soul other than the greeter. Nicely tucked in with the family planning section, is where I found what I was looking for. 🙂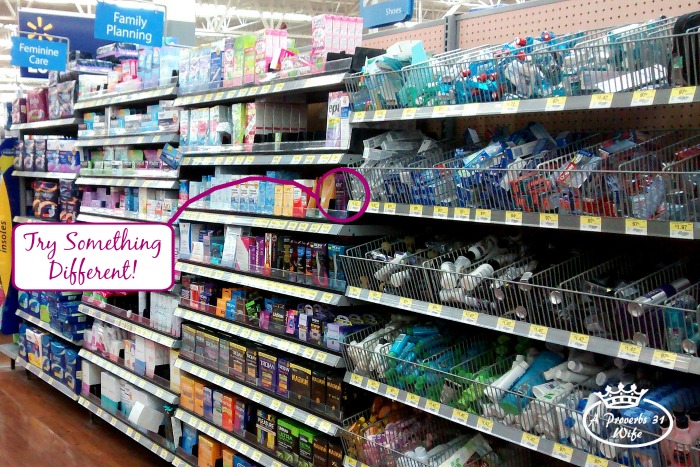 If you don't want to visit the store at dark-30, or don't think you can pull off the purchase, even with a birthday card; you can also buy online at Walmart.com.  Be on a lookout for specially marked packages that contain $50 worth of K-Y® DATE NIGHT coupons! A VUDU movie credit that will stream a movie to your home, and a free meal for 2 from PEACHDISH.com for a night of cooking together.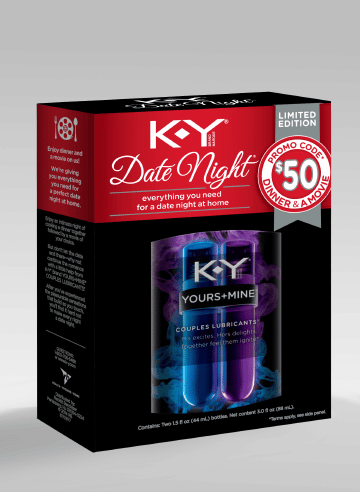 For more tips on ways to spice things up and light the flames, visit K-Y.com.
If you care to share, what are your tips to spice things up and light the flames around the holidays?