Spring Clean in Easy Steps ~It's not that hard!
Disclaimer: This post may contain affiliate links.
How to spring clean in easy steps. My house is usually tidy, but I hate to think of the smudged windows and dusty corners. So this month, my focus around here (my house) is going to be spring cleaning. It needs done baby!
I thought I would share how to spring clean in easy steps, after all, it looks like a big job! There are two ways to do this.
A. You can clean one room at a time, or
B. You can accomplish one chore at a time.
This year I am going with one chore at a time. I don't have many full days at home, so the idea of having several smaller jobs to do, verses one huge job at a time, sounds much better.  I'm making a check list (did you know that you can print this page? look at the bottom for a green button) of each job and plan to share once a week how things are coming.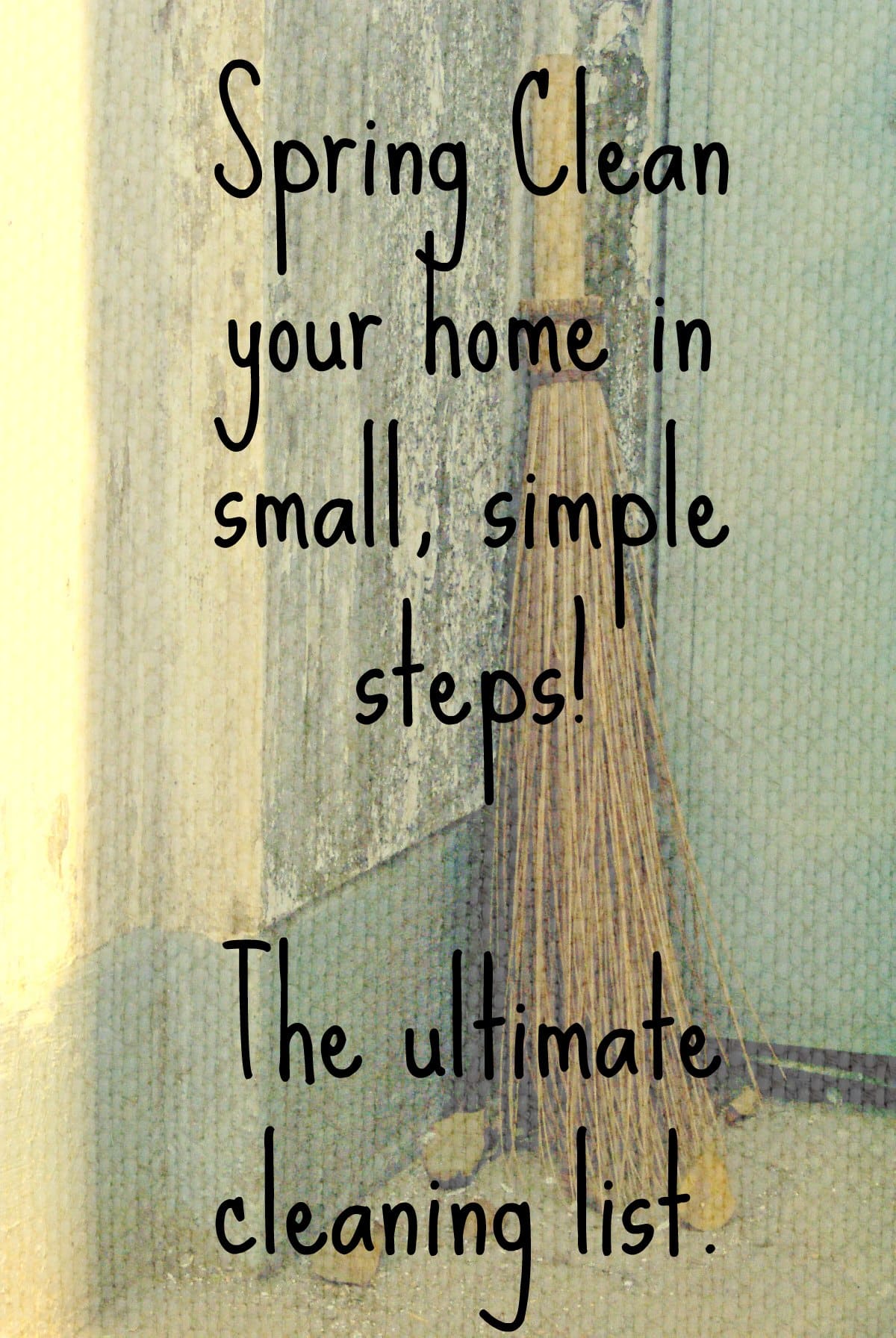 How to spring clean in easy steps:
Find a large box or two, three, four, how many-ever you think you will need. These are your donate/garage sale boxes. Trust me, you will need them!
Clean out all closets. They tend to be the worst and it feels really good to see open areas in formerly full closets. Stop by next week and I will talk a little more about cleaning out closets.
Clean all light fixtures and ceiling fans. Unless you have a crazy huge chandelier this is a fairly quick job and clean lights make the room much brighter.
Take down all washable curtains and window hangings. If they are not washable, consider a dry cleaner, hanging them on a line, or putting in the dryer to fluff. (no heat) If your window treatments are too big/heavy to take down, put a soft brush on your sweeper hose and gently sweep. Always read the care tags on window treatments.
Wash your windows and dust or wipe down any blinds or shades you may have hanging. A soft brush on your sweeper hose works great for this as well. Once your windows are clean, even more light can come in and it's just makes the house look great!
Dust your walls. This is fast and simple with a dusting swiffer that you use on your hard floors. Use this time to dust all hanging wall decor, photos, paintings, etc.
Furniture. Sweep couches, dust headboards, desks, entertainment centers, bookcases, end tables. Wipe down your kitchen table and chairs as well as the formal dining table if you have one. Use this time to organize your desk. If you have a crafting center, organize it as well. If you have bed-skirts, use this time to wash them (always read care tags first!) and also sweep your mattress. Your mattress can hold a lot of dirt and dust.
Kitchen: clean out refrigerator, stove, sinks and dishwasher. Pull everything off counters and wipe them and the back splash down with soapy water.
Clean out kitchen cupboards. For me, this is a huge job. Probably a day by itself. But they are very dirty, (big job remember?) so they will get done. One at a time, everything comes out, the inside is wiped down and everything goes back in. At the end all cabinet fronts get washed down, with soapy water. My pantry gets included in on this job.  If you have a space above your top cupboards take everything down and clean the tops as well.
Floors: If you can, pull out furniture and sweep behind it. Use a hose and sweep around the edges of the room.
Bathrooms: Tub, shower, sink, toilet and cupboards. Use this time to go through your medicine cabinet and  throw out all expired medications. Here is a wonderful detailed list for cleaning your bathroom.
Laundry area: Wipe off tops of washer and dryer, use a vacuum and sweep out your dryer vent and behind both washer and dryer if possible.
Keep in mind while you are cleaning, if you find something you forgot you had, toss it into one of your boxes; if you forgot you had it, you won't miss it!
Toys, Let the the kids help with this one. Mom kept and still keeps for the younger ones, a box for donate items. Explain to your kids that some children don't have any toys to play with. Let them go through and pull out items they no longer play with, to donate.
And it's springtime. Time to pull out those summer clothes, try to find some that actually fit, (lol) and put the winter ones up. Make this fall's job easier by donating clothes you no longer wear. For kids, chances are, they won't be able to wear the stuff this fall, so store for another kid or get rid of them.
Finally, gather all your boxes up and deliver to the nearest GW, or thrift store.
It's still a big job. And considering the time I have, it will likely take me all month. But being able to spring clean in easy steps rather than seeing a huge job, always helps me stay motivated. That and I really like checking things off my list! 🙂
Do you spring clean in easy steps? Or do you like to tackle all-day jobs?