St. Patrick's Day Craft ~ Shamrock Prints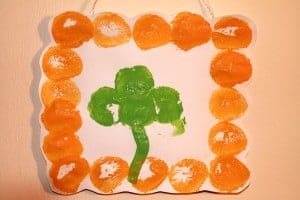 Looking for something simple, yet cute, you can do with your child of any age for St. Patrick's Day? Try making shamrock prints! This activity is sure to be enjoyed by toddlers through tweens. Enjoy this bright, St. Patrick's Day decoration for your home!
Materials:
Small potato, cut in half (I used a red potato)
Paints
Paint brush
Paper
Glitter (optional)
Ribbon (optional)
Scissors
Step 1:
Paint the inside half of the potato green. You use the potato like you would a stamp; placing it paint side down on the paper. That makes a print! Each print creates the clover of your shamrock. Use the green print to make three (or four!) clovers for your shamrock. Then, make another print to fill the middle. And finally, use a paintbrush to paint the stem. Your shamrock is finished!
Step 2:
Sprinkle glitter on your shamrock to give it that extra shine!
Step 3:
Use the other half of your potato, paint it a color of your choice and create a frame around your shamrock. Add glitter! Cut your masterpiece out around the frame.
Step 4:
Attach ribbon to the back of your shamrock print and hang it on your wall.