Kid Craft Alert! Stained Glass Flower Pot
Mother's Day is only days away and your children haven't made anything for their mom or grandma? Never fear! Making this cute stained glass flower pot is easy for children of all ages! And don't worry about the seeds not being flowers by Mother's Day—I have covered that with a sweet Mother's Day poem about seeds in the ground! I did this activity with both my one-and-a-half-year-old toddler and my class of four and five-year-olds this year. Although, be warned, my son thinks this is now his flower pot. So I'm not sure his grandma will get to keep it!
Here's what you need: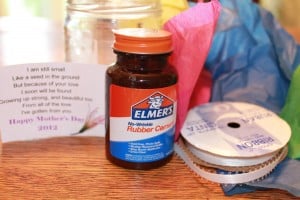 Empty jar
Tissue paper (recycle old tissue paper from gift bags if you have it!)
Glue (with younger children, I've found rubber cement works best)
Ribbon
Soil
Seeds
Mother's Day Poem
Step 1
Tear or cut up the tissue paper into small pieces. Letting preschool-age children tear up the tissue paper is a great way to practice fine motor skills and they love it!
Step 2
Depending on the age of your child, either cover the empty jar in glue (for younger children) or use a plate of glue for dipping tissue paper in (for older children).
Step 3
Cover the jar in tissue paper. Don't be afraid to let your child get messy!
Step 4
Use ribbon to line the top of the cup. This step is optional, but it gives the project a more polished look.
Step 5
Glue on a Mother's Day poem. This is the poem I chose because it relates the child to being a seed. I found it especially appropriate since the flowers my son and class planted will not be flowers by Mother's Day.
I am still small
Like a seed in the ground
But because of your love
I soon will be found
Growing up strong and beautiful too
From all the love
I've gotten from you
Another option for this Mother's Day project is to use plastic cups to make the flower pots—perfect if you don't have a glass jar handy! Here's how one from my class looked this year.