Steak House Salad With Green Goddess Dressing
One of the most memorable things we tried while at Michael Mina's Bourbon Steak restaurant (read Emily's awesome review here), besides the steak of course, was their twist on the classic steak house salad. It used to be popular to serve an iceberg wedge salad with blue cheese dressing. While that will always be a classic, this salad was definitely a welcome departure from the tried and true. It's simple but classy, and the Green Goddess dressing was absolutely amazing! I recreated this recipe for you in a way that you can easily make at home to capture the flavors without leaving your dining room. Now you can have a taste of Bourbon Steak, even if you can't make the trip to San Francisco.
The salad it's self is simple. All you need for 4 servings is:
1 head of butter lettuce
1 pint of cherry tomatoes, halved
1/2 red onion, sliced very thinly
2 hard boiled eggs, halved
4 slices of bacon, cooked and crumbled
1 avocado, quartered
Starting with the lettuce, layer the leaves on 4 salad plates and divide the remaining ingredients over each salad plate. Finish off with the Green Goddess dressing recipe below.
Normally, Green Goddess has anchovies in it, but I wanted to spare you from having to buy anchovies and waste what you don't use for the recipe. I found Worcestershire sauce to be an excellent replacement. It sounds strange to add to that to dressing, but it gives a salty tang that you will absolutely miss if you don't use it! If you decide to try anchovies instead, use 2 anchovy fillets instead of the Worcestershire in the recipe.

Green Goddess Dressing
Ingredients
1 Tablespoon worcestershire sauce
1 garlic clove, crushed
½ cup flat leaf parsley
¼ cup fresh basil leaves (do no use dried!)
5 green onions, roughly chopped
Juice of half a large lemon
2 Tablespoons white wine vinegar
½ cup mayonaise
¼ cup sour cream
1 pinch salt and pepper to taste
Milk to thin while blending
Instructions
Pour all ingredients in the base of a blender or food processor. Blend until well combined and all herbs are finely chopped, adding small amounts of milk as needed to thin to desired consistency.
Refrigerate for at least one hour before serving. Will thicken slightly.
In case you weren't hungry yet, here's a close-up!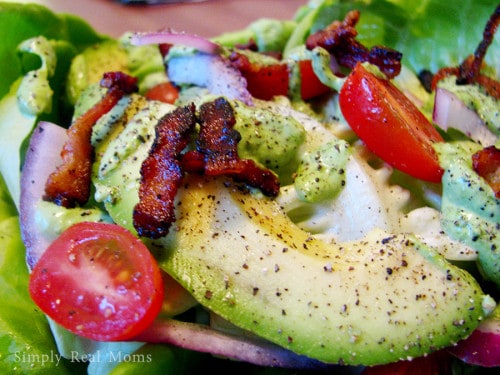 I hope you enjoy this simple, but delicious take on steak house salad!