Summer ~30 days of Thanksgiving day 11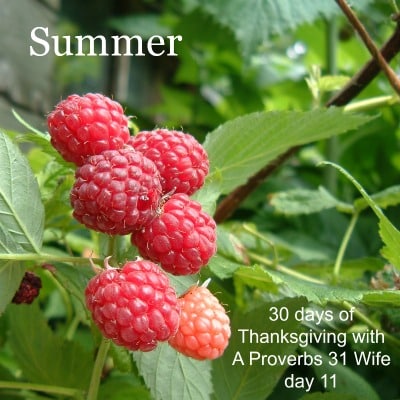 Summer is a time for growing.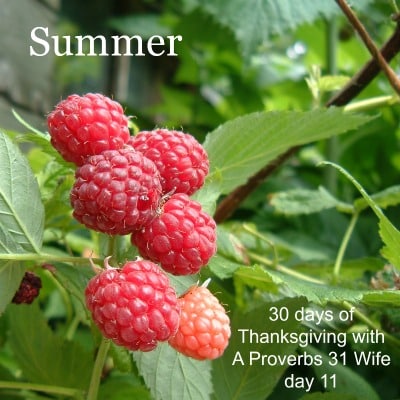 Psalms 74:16-17 The day [is] thine, the night also [is] thine: thou hast prepared the light and the sun. Thou hast set all the borders of the earth: thou hast made summer and winter.
What comes to your mind when you hear the word summer?
hot sunny days
picnics
swimming
gardening
storms
If spring is a time for cultivating and planting, then summer is a time for growing. By mid summer there is already a harvest of some variety to be gathered, while the fall's harvest is showing great promise.
In our lives, summer is the time of work. This would be our 20's up to our 60's or so. This is our time that God has blessed us with; our time to grow and work and sometimes play just a little. Our harvest will be the work of our hands by the strength of God, and the children we are raising.
At this point in our lives, we will already be harvesting some of the seed that has been planted in our lives, but God is still planting seeds in us and we are still growing.
The summer is hot, and it can be very dry at times depending on where you live. In our spiritual lives it can be the same; we are so busy that we forget to quench ourselves with the word of God, and without this needed moisture, we cannot grow well, and our harvest will not be full.
In our locality, summer storms are common. Some of them sweep in loud and threatening and your knees shake with fear, but in the end, little damage is done. Other times these storms can be devastating. Just like one would hide in the basement during a twister, we need to fall on our knees and seek refuge in God.
I am thankful for summer. For the time of growing food for our physical bodies and for the preparation and growing of our spiritual harvest.
What is one thing you love about summer?