Sweet Sweet Smile ~Or What Made My Day…
How a sweet sweet smile woke me up and made my day.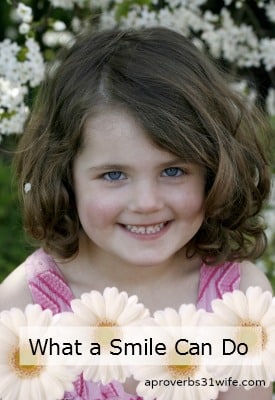 It had been a busy day. Nay, it had been a busy week and she was tired. A nap sounded sooo good but that list of things to do, just kept growing.
Now, here it is, almost dinner time and she's rushing through the store trying to find everything on her shopping list and get out of there. Problem is, every one else was doing the same thing.
So she rushed along, trying to avoid her fellow shoppers and if eye contact was made, the person was only acknowledged by a slight nod of the head, and a tight upturning of the lips that didn't reach her tired eyes.
Suddenly, there she was. A bright blue eyed wisp of a thing, all decked out in pink, with flyaway hair that seemed to defy any type of hair tie.
She hung on her momma's cart and with a sweet sweet smile and sparkling eyes, met the eyes of the tired and busy woman. Like a mirror, the face of the woman began to reflect that smile. Tight lips loosened to a full smile, and tired eyes began to sparkle back.
It was over in a second. The woman's cart rolled on and the little girl returned to talking with her sister, but the smile remained. That sweet sweet smile, had made it's way to the face of the woman and began shining on those around her.
Suddenly that to-do list didn't seem so long, the fog lifted from her head, and the world was a pleasant place again.
Do YOU know what your smile can do? Are you out there shedding joy with a smile, or are you a bit like I was that day; in need of a smile?